Top 10 Metal Songs to Listen to First
Metal_Treasure This list isn't about the best metal songs or bands although some of them are among the best.

This list is about metal songs that are good to listen to first because they are more accessible but they are also very good.
And these songs represent the elements of metal very well (typical vox, solos, riffs, lyrics, etc) so you quickly understand what metal is about and you wouldn't confuse metal with other music genres in the future.

Goes without saying that heavy songs with rap, hip hop, funk, and the like, can't be on this list. Why? Because no matter how heavy such songs sound, they are most probably not metal songs.
The Top Ten
1
Holy Diver - Dio
This song was actually the first metal song I have listened to. It introduced me into really cool metal vocals and the riffs are absolutely amazing. I would totally recommend bands like Dio for beginners. - UltraLunalaX
This song basically introduces you to the awesome metal vocals (Stargazer does it, too, but Stargazer has many other accents).
A melodic mid-tempo song with cool riffs and galloping rhythm.
I think all these things make it accessible and enjoyable. - Metal_Treasure
2
Stargazer - Rainbow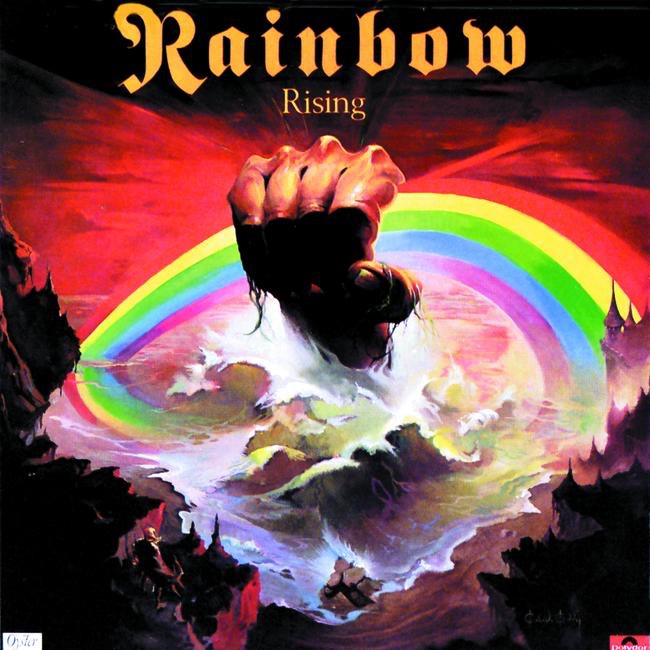 This song is not very fast and not very heavy but it's still one of the most intense metal songs in existence. Intensity is one of the things that characterize metal music. So get ready.
Stargazer is an epic song that is perfectly composed and perfectly performed so you can't go wrong with this one. Great vocals, guitar riffs and solos, drumming, lyrics, transitions,... Everything. - Metal_Treasure
Thanks Metal this list was helpful I've been trying to get into metal music but couldn't find anything good - BreakFastBeast2005
3
Master of Puppets - Metallica

I didn't add this song though I love it. Because I can picture the shock of somebody who listened to pop, jazz or hip hop until yesterday... "Is this even music?! " - Metal_Treasure
4
Highway Star - Deep Purple

@Userguy44 - yes, this is a great song to listen to first. Written in 1971, it has all essential metal elements that were further developed my metal bands like Rainbow, Iron Maiden and Judas Priest.
1) it uses Bach-like chord sequences and this classical inspiration was revolutionary, as it became the main feature of metal, making metal sound different than hard rock that was blues inspired
2) the guitar solo was the first true metal guitar solo - fast and long solo featuring distinctive neo-classical descending runs; Ritchie Blackmore first used tremolo picking that was later used in extreme metal
3) it has metal vocals, including controlled screams
4) the speed of the song is one of the things that became essential to metal
5) Blackmore created the idea of opening two strings and making metal riffs by it - Metal_Treasure
I wish this was my first one. - Userguy44
5
Cowboys from Hell - Pantera

I think this might be too heavy for beginner metalheads. - Userguy44
6
Hallowed Be Thy Name - Iron Maiden

Great song but I think it would be too much for a metal virgin...
The song is too long and has no chorus (current popular music has hooks every 8-9 seconds so imagine how hard this song would be - not even a chorus for whole 7 minutes! )
Besides, the speed, high pitched vox, long solos, etc. Too much. - Metal_Treasure
7
One - Metallica

The first half of the song is soft and slow and it prepares you very well for the 2nd half with those crazy riffs, drumming and solo.
This song is a masterpiece but I put it lower because its 2nd half is pure thrash metal which is kind of extreme. But I think this is the most suitable song to introduce somebody to thrash metal. - Metal_Treasure
This sort of got me into Metallica and Trash Metal. - Userguy44
8
Beyond the Realms of Death - Judas Priest

Half of the song is soft and slow but you have to get used to the high pitched vocals and intensity in the heavier parts. And the darkness of the lyrics.
A perfect song though. With perfect vocals, solos, melodies. - Metal_Treasure
9
Melancholy (Holy Martyr) - Iced Earth

A pretty catchy song with moderate tempo and heaviness. However, get ready for the powerful metal vocals! (play the sample).
Good metal vocals are the powerful ones. Mewing vox are not valued in metal. - Metal_Treasure
10
The Trooper - Iron Maiden

The Contenders
11
Land of the Free - Gamma Ray

One of the catchiest power metal songs ever. Great for beginners. - Metal_Treasure
12
Crazy Train - Ozzy Osbourne

13
Defenders of the Crown - Edguy

A relatively fast song but it's very melodic (power metal). Not heavy and not complex at all. The rhythm, melodies and vocals are great. - Metal_Treasure
14
Heaven and Hell - Black Sabbath

A very suitable song for new fans. Great song. Maybe my favorite metal song by Black Sabbath. - Metal_Treasure
15
Don't Talk to Strangers - Dio

Yes, very good for beginners. - Metal_Treasure
16
Run to the Hills - Iron Maiden

Perhaps not the best Iron Maiden song but it's more accessible than their usual stuff. Although the song is very fast all the time. But if you can tolerate that tempo, you are gonna enjoy the chorus. Vocals are top metal vocals - powerful and aggressive. - Metal_Treasure
When I think metal, I think Run to the Hills. It really epitomises metal to me. - truckturner
17
Crimson King - Demons & Wizards

This song is a great example of non-extreme modern metal (2005).

Gorgeous and powerful vocals; amazing riffs, drumming, tempo, melodies, transitions from heavy to soft parts, and so on. - Metal_Treasure
18
I Am - Theocracy

It's melodic and not heavy but it's a bit more complex and longer. - Metal_Treasure
19
Tear Down the Wall - Demons & Wizards

A song with both soft and heavy, slow and fast parts. And vocals are sheer metal badassery. - Metal_Treasure
20
Iron Man - Black Sabbath

First metal song I ever listened to. No regrets there. - tgbhj
21
A Question of Heaven - Iced Earth

It's like a power ballad so it's OK for beginners - Metal_Treasure
22
Walk - Pantera

I've grown out of a lot more groove oriented metal bands but I always had a soft spot for these guys because Walk was probably the first metal song I enjoyed, way back when I started to get into music. - cjWriter1997
23
Enter Sandman - Metallica

This was the first metal song I listened. - Userguy44
24
Tears of a Mandrake - Edguy

The hook of this song is so amazing. After listening there is no denying that it's gonna get stuck in your head. A good example of metal being fun and catchy - cjWriter1997
CjWriter1997, thanks for adding it. I love it, too. And I agree with what you said about this song.
It's a bit lengthy (over 7 minutes) but this wouldn't be a problem for prog rock fans or just rock fans who are OK with more "epic" stuff. - Metal_Treasure
25
Strike - Primal Fear

Awesome song of 2012, great dueling solos on twin guitars - Metal_Treasure
26
Nailed to the Wheel - Edguy

Great vox, great chorus (play the sample for the vox) - Metal_Treasure
27
Martyr - Theocracy

A melodic, mid-tempo song with interesting riffs - I guess it would be OK for new fans. - Metal_Treasure
28
Diabolus - Primal Fear

Not very fast which is good for new metal fans. A perfectly written and performed epic song. - Metal_Treasure
29
Anthem - Iced Earth

Highly recommended - Metal_Treasure
30
Hall of the Mountain King - Savatage

An obscure song of highest quality. One of the best metal riffs and vocals. - Metal_Treasure
31
Handful of Rain - Savatage

A softer ballad-esque song that is accessible. Vocals are great. - Metal_Treasure
32
Liar - Yngwie Malmsteen

Fast but not heavy. Great vox. - Metal_Treasure
33
Father Time - Stratovarius

On the whole, power metal is good to start with, especially this type of power metal (standard power metal). - Metal_Treasure
34
Last Before the Storm - Gamma Ray

Pretty catchy so I think it's good for beginners - Metal_Treasure
35
War Pigs - Black Sabbath

Fo sho
36
King for a Day - Primal Fear

A good and accessible song - Metal_Treasure
37
Children of the Sea - Black Sabbath

38
Come What May - Iced Earth

Recommended. - Metal_Treasure
39
N.I.B. - Black Sabbath

40
Rock You Like a Hurricane - Scorpions

Hard rock, not metal. - Metal_Treasure
41
Breaking the Law - Judas Priest

42
Ace of Spades - Motörhead

BAdd New Item