Top 10 Funniest Metal Bands
They are just too funny. I'm including real bands and YouTube comedy bands!

The Top Ten

1 Alestorm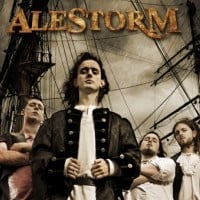 Alestorm is a heavy metal band originally from Perth, Scotland. Their music is characterized by a pirate theme, and as a result they have been dubbed a "pirate metal" band by many critics and their fanbase.
Their songs are great and funny at the same time.
Doesn't get better than Alestorm
2
Abbath

He's so ridiculous! I love him! Funniest live performer of the modern day! In and out of Immortal! Who else would call themselves Donal Duck when introducing themselves in an interview?!?!?
Even if he plays the most serious genre of all, he still makes everyone laugh
Lol, black metal vocalist do makes funny faces
3
The Black Dahlia Murder

The Black Dahlia Murder is an American melodic death metal band from Waterford, Michigan, formed in 2001. Their name is derived from the 1947 unsolved murder of Elizabeth Short, often referred to as Black Dahlia.
When sober, they're funny. When stoned they're funny! Just watch Majesty and Fool Em' All and every interview, they are hilarious. Music may be serious, but those guys never are!
Trevor is absolutely hilarious in interviews
4
Dethklok

Dethklok is both a virtual band featured in the Adult Swim animated program Metalocalypse and a real band created to perform the band's melodic death metal music in live shows. Both bands were created by Brendon Small and Tommy Blacha. ...read more.
Just watch metalocalypse, you'll know what I'm talking about!
Brutal.-DarkBoi-X
5
Infant Annihilator

Infant Annihilator are an English/American deathcore band based in Hull, East Yorkshire. The band was formed in 2012 by drummer Aaron Kitcher and guitarist Eddie Pickard.
I like this funny band, also I like Ninja Sex Party
Who else would dry hump eachother in the woods?
6
GWAR

Gwar, often styled as GWAR, is an American heavy metal band formed in Richmond, Virginia, United States, in 1984, composed of and operated by a frequently rotating line-up of musicians, artists and filmmakers collectively known as Slave Pit Inc.
Their costumes are very strange!
7
Cannabis Corpse

Cannabis Corpse is a marijuana-themed death metal band, formed in Virginia in 2006. Their band name is a parody of Cannibal Corpse. Cannabis Corpse songs are fully original but their album and song titles are parodies of many death metal bands' album and song titles (e.g. "Tube of the Resinated" vs ...read more.
Blunted at birth
They play true death metal but here are some of their (parody) song titles:
I C** Bud, Reefer Stashed Place, Mummified in Bong Water, Addicted to Hash in a Tin, Skull Full of Bong Hits, I Will Smoke You, Gallery of Stupid High, Blaze of Torment, Dead by Bong
8
Trollfest
Folk metal from Norway - almost all songs are funny. Check out my list: Top 10 TrollfesT Songs
9
Tenacious D

Tenacious D is an American comedy rock duo that was formed in Los Angeles, California in 1994. Composed of lead vocalist and guitarist Jack Black and lead guitarist and vocalist Kyle Gass, the band has released three albums – Tenacious D, The Pick of Destiny and Rize of the Fenix.
10
Avenged Sevenfold

Avenged Sevenfold is an American heavy metal band, that was formed 1999 in California. Their longest lineup of members was M. Shadows (Vocals), Synyster Gates (Lead Guitar), Zacky Vengeance (Rhythm Guitar), Johnny Christ (Bass Guitar), and The Rev (Drums). ...read more.
Especially Syn and The Rev when they were at a bar!
The Contenders
11
Steel Panther

Steel Panther is an American comedy glam metal band from Los Angeles, California, mostly known for their profane and humorous lyrics, as well as their exaggerated on-stage personae that parody the stereotypical 1980s "glam metal" lifestyle.
12
Unearth

Unearth is an American heavy metal band from Boston, Massachusetts. Formed in 1998, the group has released six studio albums.
Although all of unearth is funny, Buz, BUZ! OH MY GOODNESS!
13
Tankard

Tankard is a thrash metal band from Frankfurt am Main, Germany, founded in 1982. Along with the bands Kreator, Destruction and Sodom, Tankard is often considered one of the "The Big Teutonic Four" of Teutonic thrash metal.
German thrash metal band but almost all lyrics are about drinking, especially beer.
Songs: Rules For Fools, Die With A Beer in Your Hand, Need money for beer, Medley (Alcohol, Puke, Mon Cheri, Wonderful Life), R.I.B. (Rest In Beer), The Morning After,...
Love this band so much! When other bands are too serious, tankard is just casual and do it for fun, it's awesome!
14
Korpiklaani

15
Pantera

Pantera was an American Heavy Metal band formed in 1981 by guitarist Dimebag Darrell and drummer Vinnie Paul. The band started out as a Glam Metal act in the 1980s with little success. After discarding their original lead vocalist and enlisting Phil Anselmo, the band signed a major record deal with ...read more.
Pantera Home Videos, Hell Yeah!
16
Pinkly Smooth

Syn and The Rev From A7X formed this band with such great and to be honest cheesy music, just look at their photos!
17
Hevisaurus

The best band of 21st century for all children of the world.
An actual heavy metal band for children!
18
Devin Townsend Project

Devin Townsend Project was a Canadian progressive metal band founded in 2008 and another venture of Devin Townsend, considered separate from the material released as Devin Townsend.
Someone needs to move him wayyy higher!
Lucky Animals!
19
Terasbetoni

Teräsbetoni is a Finnish power metal band formed in 2002. They got their first recording contract thanks to a petition, started by excited fans who wanted a recording contract for the band and sent it to several record companies. In 2008 Teräsbetoni represented Finland at the Eurovision Song Contest ...read more.
Power/heavy metal from Finland. Not a parody band but some videos are funny - Missä Miehet Ratsastaa, Metalliolut
20
Avatar

Avatar is a melodic death metal band from Gothenburg, Sweden, formed in 2001 by drummer John Alfredsson and guitarist Jonas Jarlsby, with bassist Hendrik Sandelin and vocalist Johannes Eckerstrom joining soon after. guitarist Tim Ohrstrom joined the band in 2010, after the departure of Simon Andersson. ...read more.
21
Okilly Dokilly

22
Anal C***

Anal C*** was an American grindcore band founded by vocalist Seth Putnam in 1988 in Newton, Massachusetts. The band is known for their highly offensive lyrics which included themes of misogyny, homophobia, racism, Nazism, antisemitism, and schadenfreude (ridicule of the unfortunate). Their music has ...read more.
Seth was pretty much a pre-internet troll (it's best to not feed them either).
Think it like the metal Pink Guy or Filthy Frank!
23
XavlegbmaofffassssitimiwoamndutroabcwapwaeiippohfffX

This is my second favorite band.
They make me laugh a lot and make my ears melt with their slamming brutal sound
Their name is just crazy, but aside from that, not that funny.
24
Anthrax

Anthrax is an American thrash metal band from New York City, formed in 1981 by guitarist Scott Ian and bassist Dan Lilker.
I'm the Man. Gung-Ho. N.F.B. Looking Down the Barrel of a Gun. Bud E. love Bomb and Satan's Lounge Band.
25
Slayer

Slayer is an American thrash metal band from Huntington Park, California, formed in 1981 by guitarists Jeff Hanneman and Kerry King. They rose to fame with their 1986 album Reign in Blood, and is credited as one of the big four of thrash metal bands, the others being Metallica, Megadeth, and Anthrax. ...read more.
Slayer isn't funny *-*
Kerry: Goodnight tom.

Tom: Goodnight Dave.

Dave: Goodnight Tom, Goodnight Jeff, Goodnight Kerry, Goodni...

Jeff: DAVE STFU!

Dave: GOODNIGHT!
Living proof
PSearch List