Top 10 Tenors In Metal Music
The Top Ten
1
Bruce Dickinson - Iron Maiden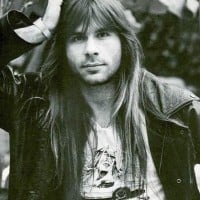 Paul Bruce Dickinson, known professionally as Bruce Dickinson, is an English musician, airline pilot, and broadcaster. He is most well known for being the lead singer in heavy metal band Iron Maiden and his solo career.
Voice type: Hallowed Be Thy Tenor
2
Rob Halford - Judas Priest

Robert John Arthur "Rob" Halford is an English singer and songwriter, who is best known as the lead vocalist for the Grammy Award-winning heavy metal band Judas Priest and famed for his powerful wide ranging operatic voice.
@visitor RE "No questions asked, Jeff tate is not on this list? ".
I guess you mean Geoff Tate.
He is widely considered a high baritone and not a tenor so he is at #1 on the list 'Top 10 Baritones In Metal Music'. Great singer, great vocal technique in his prime.
No questions asked, Jeff tate is not on this list?
Voice type: British Steel Tenor
3
Michael Kiske - Helloween, Unisonic, Avantasia
Voice type: Oh My God Tenor
4
Tobias Sammet - Edguy, Avantasia
Voice type: Effortless Multifunctional Tenor
5
Russell Allen - Symphony X
Voice type: X Dramatic Powerhouse Tenor
6
King Diamond - Mercyful Fate, King Diamond
Voice type: Kicked In The Balls Tenor.
(My comment isn't supposed to be offensive, just his voice is so high that most tenors would get those high notes only when kicked in the balls. Steve Terreberry also said something similar is his video about power metal: "If you can't hit those high notes, just squeeze your testiculars".
7
Devin Townsend - Strapping Young Lad

Devin Garret Townsend is a Canadian musician, songwriter and record producer. He was the founder, songwriter, vocalist, and guitarist in extreme metal band Strapping Young Lad from 1994 to 2007 and has an extensive career as a solo artist.
Voice type: Wild Extreme Metal Tenor
Devin is a very unique singer - from operatic singing to growls, and everything in between.
And a 5 octave vocal range! Only several singers in all music have it. Even Mariah Carey's range is smaller than his range.
8
Tim 'Ripper' Owens - Judas Priest, Iced Earth

Timothy S. "Ripper" Owens is an American heavy metal singer who first gained attention as the lead singer of Judas Priest, and then Iced Earth. He took the nickname "Ripper" from the Judas Priest song "The Ripper" during his time in the tribute band "British Steel". He currently performs with Beyond ...read more.
Voice type: Devil In Disguise Tenor
9
Jarkko Ahola - Teräsbetoni, Northern Kings, Ahola

Jarkko Kalevi Ahola is a Finnish performing artist, composer and singer, best known as a metal singer. He is the vocalist, bass player and one of the three songwriters of the metal band Teräsbetoni. He also started a solo career as Ahola, a metal band.
Voice type: Pavarotti of Rock
Voice type: Viking Power Tenor
10
André Matos - Angra, Avantasia, Shaman
Voice type: Technical Beast Tenor
The Contenders
11
Fabio Lione - Rhapsody
Great Baritenor with solid operatic skills and vast low range.
His voice is pure magic!
Amazing vocals.
Voice type: DragonFlame Italian Tenor
12
Timo Kotipelto - Stratovarius, Kotipelto
Voice type: Northern High Skies Tenor
13
Daniel Heiman - Lost Horizon, Heed

Daniel Heiman (born June 11, 1974) is a Swedish power metal singer. He is most famous for his time in Lost Horizon. After leaving Lost Horizon, he recorded an album with the band Crystal Eyes, and later founded the band Heed.
Slaughters everyone on this list. I'd argue the greatest vocalist to ever live.
Voice type: Belty Bald Tenor
Some really crazy vocal skills this guy. Try: Lost Horizon - Highlander.
14
James LaBrie - Dream Theater
Voice type: Progressive Tenor Pt.3-8
15
Kai Hansen - Gamma Ray, Helloween
Voice type: Tenor On A Mission In Dreamland
16
Matt Smith - Theocracy

17
Jonathan Antoine

Jonathan Antoine is a classically trained English tenor. He rose to fame after appearing on the sixth series of Britain's Got Talent in 2012 as one half of the classical duo Jonathan and Charlotte.
Amazing Tenor Voice born in Essex. Has a passion for Heavy Metal 💝💝
18
Myles Kennedy

Myles Richard Kennedy is an American musician, singer and songwriter best known as the lead vocalist and rhythm guitarist of the rock band Alter Bridge, and as the lead vocalist in Slash's current band: Slash featuring Myles Kennedy and The Conspirators.
Lead vocals Alter Bridge, lead vocals Slash, Myles Kennedy & the conspirators. Solo release Year of the Tiger. Very talented, amazing voice.
I like him be he is NOT metal.
Great Baritenor...
19
Kyo - Dir En Grey

Kyo is a Japanese musician, singer, lyricist and poet. He is best known as the vocalist of the metal band Dir en grey. He has been with the band since its inception in 1997 and was formerly in La:Sadie's.
20
Joey Belladonna

Joey Belladonna is the American Thrash Metal singer, best known for leading the band Anthrax. He also sings and drums for the cover band Chief Big Way.
21
Einar Solberg - Leprous
Voice type: Bilateral Tenor
22
Chuck Schuldiner - Death

Charles Michael "Chuck" Schuldiner (1967-2001) was an American singer, songwriter, and guitarist, best known as the founder and vocalist, guitarist and bassist of the American heavy metal band Death. He is considered the most influential figure in Death Metal, with some publications referring to Chuck ...read more.
Voice type: Crystal MounTenor (lmao)
23
Marco Hietala

Marko Tapani "Marco" Hietala is a Finnish heavy metal vocalist, bass guitarist and songwriter (Nightwish, Tarot).
BAdd New Item