Top Ten Modern Metal Vocalists
Since this is the list for Modern Metal Vocalists, I've excluded some honorable names like Bruce Dickinson, Robert Plant, Rob Halford, Tim "Ripper" Owens, James Hetfield, Dave Mustaine, etc.
The Top Ten
1
M. Shadows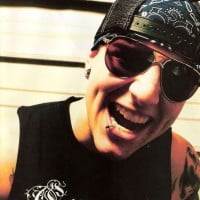 Matthew Charles Sanders, better known by his stage name M. Shadows, is an American musician, best known as the lead vocalist, songwriter and founding member of the American metalcore/alternative metal band Avenged Sevenfold.
Not overrated at all. He made a big way came from Metalcore to revive old school heavy metal comeback to the glorious along with David Draiman on modern day. You must thanks to him because metal can still compete with pop music on the bilboard.
A7X made a right choice come to heavy metal, because is way more versatile style than in their metalcore day.
Matt Shadows IS the best metal vocalist. He can sing soft songs like dear god and warmness on the soul as well as typical metal songs like we come out at night and unholy confessions. A7X foREVer...
He wasn't the best for a long time he wasn't that good. A great screamer but not a good singer city of evil was where he found his start of he was still weak on high notes He became a great singer on after life but it was nightmare and hail to the king that he became the best around today
He has an amusing voice. It's a treat to watch him do stage stage shows. He has sung many songs and has already got the award for the BEST METAL VOCALIST.
2
David Draiman

David Michael Draiman is an American songwriter and the vocalist for the band Disturbed as well as for the band Device.
Learn to accept facts and stop voting based on looks and popularity. M Shadows is superb. He is talented and really cool. David Draiman is the best. Draiman comes behind only Sully Erna and James Hetfield M Shadows is slightly overrated. Draiman is far more creative and skilled. His voice is powerful and really melodious to listen to. He has a greater vocal range.
His voice can be really powerful and then suddenly really melodic. I love him!
Not even worth a debate. David is a classically trained vocalist who put Melodic, true heavy metal back on the map. Nobody in the 90's and nobody since has come close to the classic metal sounds. Listen to the entire Believe album and the debate ends. That was truly a classic sounding Heavy Metal album. Probably the beat since Iron Maidens Peace of Mind.
Not only is he the best modern metal vocalist, but also the best modern vocalist in total and one of the best vocalists of all time. In that category I would place him only behind Freddie Mercury, Axl Rose and Eddie Vedder.
3
Mikael Åkerfeldt

Lars Mikael Åkerfeldt is a Swedish musician, prominently known as the lead vocalist, guitarist, and primary songwriter of progressive death metal band Opeth, as well as being the former vocalist of death metal supergroup Bloodbath for three albums up until 2012. ...read more.
He has the voice of an angel. Just do yourself a favor and look up the song Burden by Opeth
Mikael has the best metal, hell some of the best vocals of any genre. His voice can go from being soothing and melodic to brutal as hell. He deserves #1
A7x is not pure metal. They really shouldn't be in the top ten, much less first. Mikael Akerfeldt is probably one of the greatest vocalist who shall ever live. He deserves number one
To be fair, Opeth isn't pure metal either. They have several straight forward prog rock songs.
Vocalist for Opeth and Bloodbath.
4
Corey Taylor

Corey Todd Taylor was born in December 8, 1973. He is an American musician, author, and actor best known as the lead singer and lyricist of the Nu-metal band Slipknot and hard rock/alternative metal band Stone Sour.
Are you kidding me right now?
Corey Taylor is the without a doubt, the best Modern Metal Vocalist.
M Shadows is not purely metal for god's sake!
You listen to a song like Before I Forget and then Listen to Snuff.
Only someone like him can sing those two songs.
What man corey taylor on #14. I mean common he is the front man of two well known bands-SLIPKNOT and STONE SOUR... Moreover both are of different genre it really takes talent to do that. #14 is an offense to him.
Corey is number one he is in two very successful bands is at the top for his vocals no way is he down this low
Taylor is without a doubt the best modern day metal vocalist. If I had to pick my top metal singers he would be Nr. 4. The only three guys who are better than him are the legends DIO, Halford and Dickinson. I would rank him even above Ozzy. His voice is amazing and he mastered different styles. There is nothing that he couldn't sing.
5
Roy Khan

Roy Sætre Khantatat, is a Norwegian singer-songwriter. Commonly known as Roy Khan or simply Khan, he was the lead vocalist for the symphonic power metal band Kamelot from 1997 to his departure in 2011. He co-wrote most of Kamelot's songs with the band's guitarist and founder Thomas Youngblood during ...read more.
Roy khan. Oh my god. Just reading his name and I feel like having his voice whispering in my ear. It is not just his great ability to turn a heart-breaking song into an epic masterpiece in metal history, but also his capacity to communicate his feelings to every spectator even if you have the volume down. His expressivity in music videos or concerts, all helped by his opera classes he took after joining the great symphonic/progressive metal bands Conception, and later on Kamelot. Thank you for all your awesome songs March of Mephisto, The Fourth Legacy, Karma, Ghost Opera, Forever... Those are more than songs.
I believe Roy Khan should be at the top. Shadows (#1) doesn't have vocal range, and Roy has all the vocal range. Shadows yells all his songs and his screams hurt my ears with annoying, Roy didn't even need to scream to appeal to the scene masses that heard his music with Kamelot. He is pure soul and emotion, and it's a disgrace that talent is overlooked because of edgy teenagers voting that don't understand what vocal range means.
Roy Khan should be at the top of this list. His ability to throw his whole being into a song and bring it to life is amazing. The man has a great range and is a truly captivating performer. Also one of the few I guys I have seen that sounds better live than on the Kamelot albums.
Love his voice
6
Randy Blythe

David Randall "Randy" Blythe is the vocalist and lyricist of American heavy metal band Lamb of God and side-project band Halo of Locusts.
I am slightly biased towards vocalists who use growling or screaming for vocals all the time, but I will say that Randy Blythe is very good at these type of vocals. There are many vocalists who growl for vocals and you can't understand a word they're saying. With Blythe, you can understand nearly every single word that is growled.
Is this even a list of heavy metal vocalists. M shadows for #1. Wow.
Should at Top 10
7
Björn Speed Strid
Very underrated. just listen to the night flight orchestra and soilwork stuff
Vocalist for Disarmonia Mundi, Coldseed and Soilwork most prominently.
He's great. I love Soilwork and Disarmonia Mundi, but he is no where near the best
8
Russell Allen

Russell Allen is a singer and lyricist best known as the vocalist of American progressive metal band Symphony X.
Singer of Symphony X. I can't believe he isn't already on this list. This dude is incredible. One hell of a vocal range.
This man easily tops the top 10 on this list. His highs are absolutely incredible. As are his lows and the overall quality of his voice.
9
Alexi Laiho

Alexi "Wildchild" Laiho is a Finnish guitarist, composer, and vocalist. He is best known as the lead guitarist, lead vocalist and founding member of the melodic death metal band Children of Bodom, and is also the guitarist for Sinergy, The Local Band and Kylähullut.
What is M. Shadows doing in the 1st spot?!? There are much better vocalists and M. Shadows is so overrated because he sounds like a pop-rock singer and that what makes him overrated.. But there are better vocalists like Liaho, Draiman, Randy Blythe, Chuck Schiulnder, Mikael Akerfeldt, Corey Taylor, Benjamin Burnely, Till Landerman, Bruce Dicknson, James Hetfield, Joe Dupluinter... But I'm not saying he is a bad vocalist.. He is so overrated but still good vocalist
10
Christian Alvestam
Absolutely one of the best. Soaring cleans and dark growls. The only thing I don't like is his lack of range with growls - can be very monotonous, but a great smooth growl tone.
His ability to do both clean vocals as well as insane growls makes him by far the best metal vocalist ever.
His clean range and his ability to growl is astounding, along with that his vocals are so diversified within each song. I recommend the album Holographic Universe by SS
Vocalist for Solution.45, Miseration and ex-Scar Symmetry most prominently.
The Contenders
11
Serj Tankian

Serj Tankian is a Lebanese-born Armenian-American singer-songwriter, composer, multi-instrumentalist, record producer, poet, and political activist. He's best known for being the lead singer of the Armenian/American rock band System of a Down. After System of a Down's hiatus in 2006 he began to release ...read more.
The best vocalist I have heard in my life. Comparable to Freddie Mercury. It's all about the classical training!
He may not be the best to the world, but yes he is my role model and to me the best vocalist that lived, just unique!
People don't like him because he is different. But I love his style of singing. He gives everything authenticity. And he doesn't hide his accent. He is amazing
System of a Down should be marked as the most rebellious metal group...
12
Chester Bennington

Chester Charles Bennington (March 20th, 1976 - July 20th, 2017) was an American musician, singer, songwriter and actor, best known for being the lead singer of Linkin Park. He also participated in side projects like Julien K and Dead By Sunrise. He committed suicide in 2017 after a period of depression. ...read more.
Not as crazy for Linkin Park's new stuff like I was for the old classics like Meteora and Hybrid Theory. But Chester is still an excellent singer whether it be with the bands more recent melodic electric pop music, or with their old electric, hard rock/metal music that made me such a big fan of them. Hybrid Theory was the first CD I ever owned as a child, and I still give it a listen every now and then.
Listening to Linkin Park's first 2 albums (hybrid theory, meteora) is what you need to to crossover from rock to metal!
What is wrong with you?! Chester on top 20? You're got to be kidding ME?! He should at least top 2 or 1.
Do you ever listen the Given up track, I sure you haven't listen it
13
Howard Jones

Howard Jones (Born July 20th, 1970) is an American Heavy Metal vocalist. He currently fronts the band Light the Torch (Formerly Devil You Know), but is best known for his tenure in the band Killswitch Engage from 2002 to 2012 and was a vocalist for the now defunct Blood Had Been Shed.
Howard is so overlooked, what a shame. His voice is so soothing and soulful and he screams with ease. He should be in the top 5 without a doubt. I can't describe his voice you just need to listen for yourself. My personal favourite metal vocalist.
Why are there even other people on this list?
Vocalist for Killswitch Engage.
Howard's range is ridiculous, his useage of melody is so incredibly diverse and unique, there's a reason they're the world most known metalcore band. Don't forget about Jesse though!
14
Marko Saaresto
Since when POETS OF THE FALL becomes a metal band? Do you people think Carnival of rusts, Cradled in love, Running out of time, Daze, Late goodbye are heavy metal stuffs! by the way I am also a fan of POETS OF THE FALL.. They are an alternative rock band ( I think this term is more justified)...
He has a truly magical Voice. May be the most unique singing voice I heard yet. It's a real shame that they're not more famous.
Poets of the Fall isn't metal at all. But I love Marko! He's one of the naturally gifted singers around. Having seen him perform life is indeed my best experience!
Vocalist for Poets Of The Fall.
15
Matt Heafy

Matthew "Matt" Kiichi Heafy is a Japanese-American musician, best known as the lead vocalist and rhythm guitarist of the Orlando based Heavy Metal/Metalcore band Trivium.
Seriously? Matt Heafy must be on top 5 he was a very good vocalist and frontmen, really down to the earth person. I think he is the best frontman in musical industry
I can't believe Heafy's not even top ten. Has anyone even seen these bands live? Not to mention his versatility and range.
Trivium is a notable member of NWOAHM... Their styles are unique... Heafy is not a trained vocal artist although his way of singing is exactly feets with heavy metal style... So I think Matt Heafy should placed just after Draiman.
His screamas are incredible and his singing has improved a lot. That makes him an azome singer. In every album he chages a lot, and that's very cool.
16
Hansi Kürsch

Hansi Kürsch, born Hans Jürgen Kürsch, is the lead singer, lyricist, co-composer and bassist for German power metal band Blind Guardian . Heavily influenced by Freddie Mercury, he creates a huge choir effect by overdubbing his own voice multiple times in complex, overlapping vocal harmonies. He records ...read more.
17
Burton C. Bell

Burton Christopher Bell is an American musician and vocalist, best known as the frontman and co-founder of the industrial metal band Fear Factory, of which he's the only consistent member.
18
Myles Kennedy

Myles Richard Kennedy is an American musician, singer and songwriter best known as the lead vocalist and rhythm guitarist of the rock band Alter Bridge, and as the lead vocalist in Slash's current band: Slash featuring Myles Kennedy and The Conspirators.
This guy has sung a wide variety of songs- jazz, blues, alternative rock, hard rock, metal, pop... You name it!
And he has owned the genre every single time.
Go listen to Words darker than their wings... the high note is amazing
Hard Rock/Alternative singer not Metal.
ALTER BRIDGE is a metal band?
I would consider it alternative metal based solely off of the guitar riffs.
19
Tobias Sammet

Tobias Sammet is a German metal musician, best known as the vocalist and primary songwriter of the power metal band Edguy, as well as the founder, main singer and bassist of the metal opera Avantasia.
20
Till Lindemann

Till Lindemann is a German singer, songwriter, musician, actor, poet, and pyrotechnician. He is best known as the lead vocalist and frontman of the German Neue Deutsche Härte band Rammstein.
A truly amazing vocalist, hands down. Whether you agree or not, one has to truly appreciate this lead singer for being able to convey a wide range of emotions in such a powerful way. One example would be in Ohne Dich and Wo Bist Du in which if you sit down to truly listen to the song, hear him convey something heart rendering that you feel as if you lost someone dearly. Or from the signature fierceness and aggression his voice can be combined softness but still ever powerful just like in the song Mutter. Even more so Till's voice can convey the message of the lyrics and truly bring together the rest of the bands magnificent playing to make the listeners laugh, cry or be furious. One of my favorite vocalist from one of my favorite bands.
Best vocals, growling and actually singing
An amazing singer who's voice can swap from agressive to soft and gentle in the same song.
One of the most unique vocalists.
21
Matt Barlow

Matthew 'Matt' Barlow is an American heavy metal singer and police officer. He was the lead singer for Iced Earth in the 1990s and 2000s. He is currently the lead singer for Ashes of Ares. After the September 11 terrorist attacks Matt Barlow decided to become a police officer and contribute to the "real ...read more.
22
Matt Tuck
He's the best vocalist for modern metal bands, synchronizing the Guitar and Vocal makes us Jealous, He SCREAMS, GROWLS, and SINGS from the heart. He Got the appeal of making the audiences enjoy his performance and rock his show. I'm sure even though you didn't listen to their songs and you hear their song Tears Don't Fall, Forever and Always, Scream and Fire, and, Heart bursts into Fire. You'll just fall into the influence of ROCK. :D
Matt Tuck is an underrated yet talented singer. Not only is Bullet For My Valentine a great band that should be in the same likes as Avenged Sevenfold, Slipknot, etc. But Matt should be on the same level as Shadows, Taylor, Draiman and other greats.
Matt Tuck is the best singer, better than Chester Bennington and M. Shadows. Those who hate this guy are jealous.
This guy should be way higher
23 Jens Kidman
24
Devin Townsend

Devin Garret Townsend is a Canadian musician, songwriter and record producer. He was the founder, songwriter, vocalist, and guitarist in extreme metal band Strapping Young Lad from 1994 to 2007 and has an extensive career as a solo artist.
Devin should be top 5, no question! He literally has insane range and can belt with aplomb. Look up Deadhead at Royal Albert Hall and be amazed at this dude's chops. A true master.
25
Rob Zombie

Rob Zombie (born Robert Bartleh Cummings) is an American heavy metal musician, film director, screenwriter and film producer. His career launched in 1985 when he formed the heavy metal band White Zombie. Following their breakup, he began a successful solo career. Zombie began directing in the early ...read more.
PSearch List