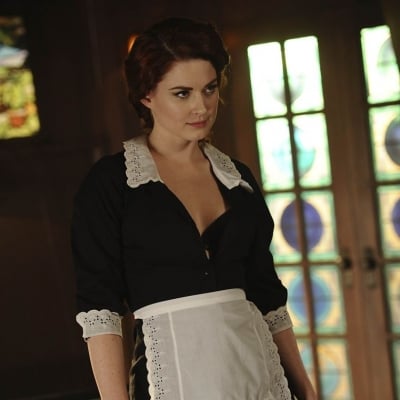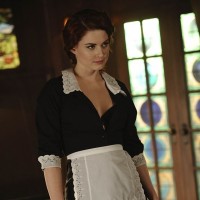 +
Moira O'Hara
Moira O'Hara is the housekeeper for the Harmon family, and has been there for the stay of many families. She is a character in the first season (dubbed by fans "Murder House") portrayed by Frances Conroy (older) ; Alexandra Breckenridge (young).
It is claimed that to women she appears as an elderly lady with one working eye (the other is gray and clouded) and a sensible uniform dress but to men she appears as a beautiful, unscathed young woman with a short skirt and stockings. According to Moira, this is because women's intuition gives them insight on the true nature of people, whereas men see only what they desire - however, if the man can resist the compulsion to see her as a sexual object, they too will see her as who she is.
In her senior visage she is pleasant and professional; in the younger she is seductive and manipulative. She despises men as liars and cheaters, having met her end because of such a man. As such, she also sympathizes with women who have been cheated on. She also has a deep desire to leave the Murder House, and is willing to kill or have killed anyone who will prevent her remains from leaving; the building of the gazebo and the burial of Hayden brings a deep despair to Moira.
Lists Featuring Moira O'Hara