Top 10 Moments from Cinderella (1950)
An now we look back at the 12th animated film by Disney Cinderella the first feature film since Bambi due to World War II and the studio being taken over by the military during that time and all they could do were packaged films.
The Top Ten
1
The Slipper Fits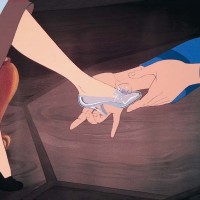 After being rescued by her mice friends Cinderella shows up just as The Grand Duke is about to leave and he prepares to put the glass slipper on her Lady Tremaine trips the servant carrying the slipper as it shatters as The Grand Duke cries in horror fearing what the king will do him for failing to find the mysterious girl hower Cinderella manages to pull out the glass slipper as he is overjoyed as he puts the slipper on her as it fits and Cinderella now gets to marry the prince. - egnomac
2
Bibbidi-bobbidi-boo!

The Fairy Godmother uses her magic to help Cinderella get to the ball turning a pumkin into a carriage, the mice into horses, the horse Major into a coachmen, Bruno into a footman and transforming her torn dress into blue ballgown along with a pair of glass slippers. - egnomac
3
Cinderella's Mice Friends Make Her Dress
Due to her step mother and sisters constantly calling out for her Cinderella is unable to finish making her dress in time for the ball so her mice friends band together to finsh it for her. - egnomac
4
Cinderella's Wedding

A great ending for Cinderella after she shows the duke her other slipper which fits she and the prince almost immediately get married as Jaq and the rest of the mice watch from afar in celebration as Cinderella and the prince ride off in the coach. - egnomac
5 Cinderella's Fairy Godmother Appears
6 Cinderella Washes the Floors While Singibg Sing Sweet Nightingale
7
Drizella and Anastasia Rip Cinderella's Dress
Cinderella's friends manage to finish making her dress but all their efforts were in vain as Cinderella's step sisters Anastasia and Drizella seeing het dress made from the stuff they threw away begin tearing it apart as Lady Tremain watches on happily at her hand work as she calls thwm off and head to the party as Cinderella is left alone and in tears. - egnomac
8
The Clock Strikes Midnight as Cinderella Rushes Home
As the clock strikes midnight Cinderella remebering what her Fairy Godmother said about the spell being broken at midnigh, Cinderella is forced to leave the ball as The Grand Duke sends the palace guards to chase after her and as the pursue continues the magic wears off and everything returns to normal except for the glass slippers which remain for some reason. - egnomac
9
Bruno Chases After Lucifer
While bringing the key they took from Lady Tremaine to free Cinderella Gus along with the key are captured by Lucifer the cat and after all their attempts to get Lucifer to release him fail they bring in Bruno the dog who really hates Lucifer as he chases hin off so the mice can get the key held by Gus. - egnomac
10
The King Chases The Grand Duke Around with a Sword
The King is overjoyed that his son the prince finally found a girl to marry but his happyness turns to anger when the Grand Duke informs him that Cinderella got away, enraged The King takes out his anger on the Duke as he chases him around his bedroom cutting up everything with a sword all while the Duke tries to calm him down telling him the prince is madly in love with her and that they have the slipper she left behind which sets up the events that follow where the Duke goes all over the kingdom trying to find out which girl fits the slipper. - egnomac
The Contenders
11 The Sisters Singing Sweet Nightingale Horribly
BAdd New Item