Top 10 Moments from The Jungle Book (1967)
An now we look back at some of the most memorable moments from 1967 animated Disney movie The Jungle Book which was the last movie that Walt Disney helped supervise before his passing before the movies release.

The Top Ten

1 Mowgli Meets Baloo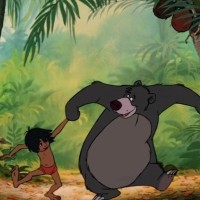 Very memorable moment after Mowgli and Bagheera part ways after an argument Mowgli runs into Baloo who shows him the Bare Necessities.
2
I Wanna Be Like You

After being captured by the monkeys and brought to King Louie he tries to convince Mowgli through that he can help him stay in the jungle in exchange for teaching him the secret of man's great fire.
3
Mowgli's Showdown with Shere Khan

After meeting up with Mowgli Shere Khan gives the man cub a head start as he counts to 10 in order to make the chase more exciting for him as counts Mowgli foolsihy stands his ground as Shere Khan becomes more irritated by Mowgli's refusal to run he quickly counts to 10 then launches himself at the kid before Baloo grabs on to his tail as he's pulled around by Khan as he pursues Mowgli the vultures eventually come to his aid taking him away to safety as Shere Khan turns his attack on Baloo, as Mowgli and the vultures make it to their tree it gets stuck by lighting as catches fire they then instruct Mowgli to get the fire as Khan is really terrified of fire after Baloo is knocked out by Khan the vultures distract Khan so Mowgli can attach a branch on fire to Shere Khan's tail and after realizing his tail's on fire Khan is sent running as he tries to get away from the fire as one of the vultures states he took off like a flaming comet.
4
Mowgli Returns to the Man Village

The last suggestion made by Walt Disney before his passing for the ending to the movie after reuinitng with Baloo Mowgli spots a beautiful girl from the man village who is later revealed to be Shanti gathering water from the river and she ultimatley lures Mowgli into the Man villiage all while Baloo pleads with him to come back and Bagheera tells him to go on which he does.
5
Kaa Attempts to Eat Mowgli
After deciding to turn in for the night Mowgli and Bagheera sleep up in the tree where Mowgli meets Kaa who hypnotizes Mowgli and attempts to eat him before Bagheera wakes up and stops him.
6
Baloo and Bagheera Return to the Jungle

After Mowgli returns to the man village both Baloo and Bagheera walk off into the sunlight back to the jungle while singing the Bare Necessities and as the scene ends a trumpet solo plays in the background before it all culminates with a big finale as drums play along with the trumpet as the title The End which in many ways symbolized not only the end of an era but also a great send off to Walt Disney who passed away during the production of the Jungle Book.
7
Colonel Hathi Forgets to Say Halt
After Colonel Hathi commands his troops to march on his wife Winifred tells him he forgot his son so he orders his troops to march in the opposite direction as he scolds his son he foregts to say halt as all the elephants crash in to him one by one.
So much for the whole myth about an Elephant never forgets.
8
Mowgli Meets the Vultures
Oddly enough the vultures were based of the Beatles and were suppose to be voiced by them too but for obvious reasons they couldn't get them to voice the vultures.
9
The Chase
After Baloo's disguise falls apart a chase ensues as Baloo and Bagheera fight King Louie and his monkey's for Mowgli that culminates in the entire temple falling apart as King Louie attempts to hold the temple up after one of the columns breaks off.
10 Mowgli Gets Captured By the Monkeys
The Contenders
11 Mowgli Knocks Kaa Off the Tree
12 That's What Friends are For
BAdd New Item