Top 10 Most Annoying Cartoon Characters
Everybody who invented these cartoon characters should be unemployed (With the exception of Choice 3, that's a voice acting issue). Who comes up with crap like this?
The Top Ten
1
Spongebob Squarepants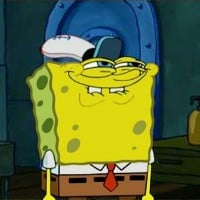 SpongeBob SquarePants is a fictional character and the titular character and protagonist of the American animated television series of the same name.
The early episodes they played off SpongeBob like he knew what his goals were but was pretty naive. The new episodes they made him pretty stupid and very annoying. Do I even have to mention Patrick from now and then.

The show is not very good anymore since after the movie. Though you might actually get a good episode every now and then. I stopped watching back in 06 but I have little sisters and they occasionally watch it from time to time.
Other than his excessive crying, his laughing, and abuse which he gives to Squidward, he's not annoying. He makes me happy, but Old SpongeBob is funnier and makes me happier.
The show is so dumb. Seriously, I was never allowed to watch it because my mother was afraid that it might 'dumb me down.' Now that I've talked to my classmates who still watch stupid shows like this (not that I can judge, because I still enjoy My Little Pony and Disney Channel), I realize that my mom actually made a good choice by not letting me watch the show.
Shh, we don't talk about New SpongeBob, most of its episodes aren't canon.
2
Fanboy (Fanboy and Chum Chum)

YES OH MY GOD! It hurt me just to watch five seconds of that show, just as annoying and stupid as RABBIDS INVASION! Both shows are so unintelligent, I would rather watch a ten hour interview with Dora and SpongeBob than watch this show. Come on Nickelodeon! YOU CAN DO BETTER THAN THIS!
I love chumchum but I hate repeat HATE fanboy I swear he is like a skinnier version of timmy but unlike timmy who is actually cute (and adorable) fanboy is an annoying bastard!
That show is annoying And that kid that always says I like to poo poo in my diaper is very annoying he got my brother to say that after he was potty trained why would they do such a thing but inappropriate show for kids
He Was Already At Number 6
3
Scrappy Doo

Scrappy Doo is the nephew of Scooby Doo. Unlike his uncle Scooby, Scrappy is brave enough to face the monsters.
I really, really, really hope that this horrid canine does not have a fanbase. He is the absolute worst thing ever to happen to the Scooby Doo series. Atrocious.
OH COME ON! WHAT IS WRONG WITH YOU PEOPLE?! He was the pup that saved the shows from being cancelled, and to that note he did play a role in the gang, notably as I remember with the Thirteen Ghosts of Scooby Doo
The edition of Scrappy Doo into the Scooby Doo Universe was actually a pivotal moment for the Franchise. This is when the series as a collective had pretty much Jumped-The-Shark. Before Scrappy was introduced the Franchise had been running for roughly a decade. Now for a T.V.-Show, that's a pretty damn long time for a run. In other words, they should've just called it quits and hung up their hats for a few years. They had ran out of ideas. Scrappy-Doo was added to the cast to save the franchise's ratings, which at the time had begun to sink to the point of cancellation (which probably wasn't a bad idea to begin with). After Scrappy's Hanna-Barbera restructured the show around Scrappy (big mistake). The original format of four teenagers and their dog(s) solving supernatural mysteries for a half-hour was eschewed for simpler, more comedic adventures which involved real supernatural villains.
He stole Scooby's spotlight; I don't know why but he wasn't even neccessary! He doesn't deserve any love... It's just so stupid and lame how the creators added a pointless character in the show!
4
Mr. Krabs (SpongeBob SquarePants)

Eugene H. Krabs, or simply Mr. Krabs, is a fictional character in the American animated television series SpongeBob SquarePants.
Mr. Krabs is low life in annoying money money money money money money money money money money money money money money money money money money money money money money you're fired SpongeBob money money money money money money money money money money money money money and more money money money money money come back to me SpongeBob my place is going down money money money money money money money examining the firetruck money money money money money money money money money money money money money
Cheap obsessed with money, would even kill himself in the worst way for a dime literally

Not the most annoying but I hate him

Always harassing Plankton to the near point of suicide from severe obsession

Mr Krabs is literally Israel & everyone else is the Western World & Plankton is Palestine

Technically anyways Mr Krabs should be in jail for counterfeiting, robbery, animal cruelty/abuse, assault, harassment, unsanitary food, slavery (or unpaided harsh labor) & more

He would probably even sell Pearl to make a penny

Mr Krabs actually even sold Spongebob technically so he would technically be a slave still working at the Krusty Krab

Plus why does he have possession of weapons?
Ugh. Mr. Krabs, my most hated character of all time. Why must you exist? You are nothing but an obsolete figure of greed. Do you recall that one faithful moment you had sold SpongeBob's soul for less than a dollar? Or when you turned a hole in your wall into a drive-through because you were unwilling to pay money for repairs? What about that one time you almost chopped off a person's hand for a penny? Hmm...these don't sound like very good deeds to perform. To be honest, I don't see how anyone could still argue that he has a hint of goodness in him. His only two traits are greed and...wait - just greed! He makes Umbridge seem like a nothing but a kitten, Bill Cipher a mere mortal. I would gladly exchange him for anyone else as a teacher or manager. It is always a sad sight to see when you know that a very well-known and beloved character has the personality of a vampire cobra or has the affection of a half-eaten scorpion. If I had to choose between spending Christmas with him or the ...more
ok now mr krabs is a real pain it the ass all he care's about is money so annoying they could just kill him off and I would be fine with that is that to mean? sorry
5
D.W. Read (Arthur)

she is a brat she loves baby shows and like she is so annoying I like the arthur episode that is D.W's birthday because her birthday was ruined by her friends
Obsessed with materialistic things and very bossy and rude that she can rival Angelica from Rugrats
I hate that brat she screams all the time and is always getting Arthur in trouble.
Remember the time she threw a temper tantrum for many days just because she didn't get invited to a birthday party of someone she despised?
6
Dee Dee (Dexter's Lab)

Dee Dee is a fictional character and the sister of Dexter from the Cartoon Network animated series, Dexter's Laboratory.
All she does is ruin her brother's property and annoy him on purpose.
Dee Dee has no redeeming qualities outside invading her brothers privacy and acting innocent while destroying his belongings.
But here's the thing, Dee Dee was made with the intention of being annoying. And just because of that I find her a whole lot less annoying than I should.
Every character in this show is APPALING. I hate everyone in this show, and I just despise this abomination of mankind. I'd personally watch something like Clarence or uncle grandpa any day over this monstrosity of a show.
7
Snarf
Man, this creepy Snarf could give us bad nightmares! The way this character created way back in the 80's could rape our brains! Good thing today the new Snarf from the new Thundercats ain't annoying at all!
I agree that martha speaks is an annoying useless piece of blubery dog dropping and rouge the bat has enormous disturbing female organs. I DON'T LIKE SNARF, TOO UGLY
Snarf is annoying... Really annoying... In fact, the creator of Thundercats thought that he was SO annoying that he decided to completely change Snarf's personality in the re-make of Thundercats.
This pitiful excuse for an animated character will haunt my dreams forever. Seriously, GET HIS HORRIBLE VOICE OUT OF MY ACHING HEAD!
8
Johnny Test

Yea I agreed he is a annoying brat that wont clean his messy bed room.
The worst thing ever created ever
Johnny Test number 8! This crap should be number 1 for the worst, the dumbest worst unoriginal character that ever was created and in existence is Johnny Test this turd ball brat should be number 1 permanently.
He's the worst character of the show! He wines a lot, he's a big bratty spoiled stupid idiot who always wants things to go his way! He's very annoying! Plus his show is strongly abysmal oh I hate it! Ripoff of Jimmy Neutron and of course Dextor's Labrotory!
9
Chum Chum (Fanboy & Chum Chum)

If I saw retarded garbo like this playing on the TV as a little kid I'd grab a hammer and smash the TV 1.because I loved destroying things and I still do 2.because that show sucks even the theme song consists of mostly babababababababa
Glad I didn't watch that show.
Same as with Fanboy but more annoying
The whole show is terrible
10
Sanjay (Sanjay and Craig)

His show is the worst
Sanjay is really annoying nad irritating ass.
He look annoying.
Anyone in that show is annoying...
The Contenders
11
Peter Griffin

Peter Griffin is the main protagonist and titular character of the American animated sitcom Family Guy.
Why is Peter Griffin on this list he is an amazing character and I love family without him the would be boring it wouldn't be the same without him but not to say anything bad but I think this show should be called "The Griffins" and the Simpsons should be called Family guy because I don't think Peter could even be half the father Homer is Homer is more of a Family guy he actually talks to his kids and makes connections with them and doesn't try to hurt their feelings on purpose and has never said he hates being around the kids like Peter said in the April fools episode but I still love Peter Griffin and Homer Simpson.
I think he is low key funny at which him every day no cap you feel me pets and that's on .
Peter griffin is a annoying idiotic fat loser with no life all the thing he does in life is a fail with out lois or his family he would die instantly he only cares about himself and drinking it's always about him he says racist stuff like if you have a dinner around white people you will relies that whites are even better than blacks he is a typical American thinks USA is the best country in the world let me tell you this America is a great country it's just the government that makes the stupid decisions and that's peter a fat racist arsehole he's a nice bloke but over all he's annoying
Not all Americans are overly prideful of the country you know.
He is so fat. Did Peter go on a date? I hope not because he looks chubby. HEY, PETER! I HATE YOU AND LOSE WEIGHT! So Peter when on a date and fat butt kissed Meg who slipped on a knife and killed Brian. The Happy tree friends beat Peter up and eat him.
12
Chloe Carmichael (The Fairly OddParents)

A girl who just shouts, is perfect and likes to smell baby heads really sums it up.
Are you kidding me Trixie was not nice to Timmy and turned him down
Uh... where do I begin? She is the exact opposite of someone who need a fairy so why does she get them?
To my opinion, the fairly oddparents episodes went downhill pretty quickly after she got in the show. The theme song is ruined because of her.
13
Pinkie Pie (My Little Pony)

Pinkie Pie is a major character in the 2010 show My Little Pony: Friendship Is Magic, based on Surprise from My Little Pony G1, She represents the element of Laughter.
Yes, Pinkie Pie is annoying to her friends, but she is hilarious and sweet.
She's living stereotype! Too much girly, pink and happy. Only two MLP characters I really hate. Pinkie Pie and Celestia.
Her show is the worst in the world
No! Rarity is worse than her.
14
Finn (Adventure Time)

Oh I am sorry is this poor, traumatized, sad, little boy who has never had a family or lived a normal life getting you down? This show has magic and mystery because some people choose to live in a world without people like you where they can be happy and not have to deal with the pressure and problems this horrible world has thrust onto them. I hope YOU wake up soon and realize that not everybody likes listening to an annoying little punk who can not even get his facts straight talk like a two year old. Bye!
I don't think finn is that annoying... I actually kinda like finn
This kid does nothing but promote violence to kids, bad role model.
I like Finn? That's just my opinion though.
15
Map (Dora the Explorer)

Hey I'm the map I say questions that are captain obvious to people older than six.
I the aap I the bap I'm the cap I'm see me dab where is my dad watch me dab I'm the map
Map: "Hey! I'm the map! you should go to this destination it's over this wa-"

Me: "YES I KNOW I HAVE EYES! "
Don't even get me started on it and the next three down the list, they all should be way higher on the list.
16
Pearl Krabs (SpongeBob SquarePants)

Do you know what really would be totally "coral"? If this whale would be beached and done with already. She is very grating and dull.
*Rubs her tummy*
Pearl: Sooo gassy!
Me: Don't worry, I'll sort this!
*Rubs and pats her tummy*
Pearl: BURP!
*sigh* I remember the time she was less likeable than her father.
She is so annoying and very selfish. I may hate Mr. Krabs but she still has no respect for her father. Her voice is annoying as well.
17
Peggy Hill

Margaret Joseph "Peggy" Hill is a fictional character in the American animated series King of the Hill.
I just want her to admit to the the world that she doesn't know a damn thing about speaking Spanish she easily mispronounce the simplest words.
She generally sounds clueless and when she tries speaking spanish she sounds even more astonishingly ignorant
I wish she was real so I could punch her in the glasses and call her ugly.
I just don't like her to be honest with everyone.
18
Patrick Starfish

Patrick Star is a fictional character in the American animated television series SpongeBob SquarePants. He is voiced by actor Bill Fagerbakke, who also voices numerous other characters on the show . Created and designed by marine biologist and cartoonist Stephen Hillenburg, the series creator, Patrick ...read more.
He is so dislike-able these days, I mean in the earlier episodes he was dumb but you enjoyed watching it, now he is either a annoying dumb ass or acts even more annoying by being a smug smart ass. He ought be glad he can regenerate his limbs or he wont be much of a starfish when I'm done with him.
Patrick used to be funny and extremely likeable, but now he's dumb and mean. I mean, in the episode "Overbooked", he's expects SpongeBob to give him a birthday present and a cake. He was so much funnier in seasons 1, 2, 3 and 4.
This sadist is one of the worst excuses for a character the world has ever known. (Watch The Card)
All the Starfish are dull-brained. Patrick is just one of those who had a good sense of humor and could detect sarcasm.

While his character is improving to what it was before the middle 2000s his low point has marred his reputation.
19
SwaySway (Breadwinners)

Breadwinners itself was annoying I'm surprised this is the only breadwinners character I found
SwaySway should be much higher
If they ever rub their asses in front of me, I'd kick it...
Aw come on, this show is awesome!
20
Buhdeuce (Breadwinners)

In, "employee of the month", Buhdeuce thinks he will never be a good breadwinner because he is 2 foot 6, he can't deliver bread, and (I wish he said this) his dick is small. Which is % 100 true.
I'm surprised that he isn't at least in the Top 40 considering the fact that almost everyone on the website hates Breadwinners and it's two main characters.
This guy is high on thing which is being high on coffee because he gets so hyper and can be very annoying
Buhdeuce the only thing I hate about him is he is so fat and small, his dick is small because he is.
21
Rainbow Dash

Rainbow Dash is a female Pegasus pony from the 2010 kid's show My Little Pony: Friendship is Magic. She represents the element of loyalty and is one of the 6 main characters on the show. ...read more.
I think rainbow dash is great what is wrong with rainbow dash?
She's not so bad and is awesome but really, she is too boastful and a bit of a bully. Yeah, yeah, we know you're awesome but please, don't wipe it on our faces. And not because you like flying and doing stunts doesn't mean Fluttershy wants to do the same. Cut her some slack! "
Hate this bitch. Possible worst character of all time.
Rainbow Dash deep down will always be my favorite, even when I don't realize it. But I agree she's annoying, and she brags a lot, and I wanna punch her. I just wish I could hate Rainbow Dash, but I can't.
22
Towlie
DON'T FORGET TO BRING A TOWEL- so annoying
Towlie was the worst thing to ever exist in south park. He even ask the boys if they want to get high with them about 10 times and always think that getting high will get him smarter. He even had his own episode which sucked because our favorite charecters are not on this episode like butters and cartman and all those charecters. Why does he exist. Next time I should probably forget a towel. - Bad Piggy
He got a whole episode to him,which is fine but this is the reason the kids aren't in every single episode.
Towlie Really Is Not That Bad of A Character Even Though He is Addicted To Drugs.
23
Jeannie the Babysitter (Tom and Jerry)
I hate Jeannie. She's annoying! Jerry hates her too!
She's a idiot, doesn't pay attention to her young charge, and if this was the real world she should of been arrested and jailed for child endangernent and neglect!
I CAN'T BELIEVE SHE BLAMES TOM BECAUSE OF THE BABY! She is so annoying and she doesn't care about her baby. She should switch places with the one in 1st place. She's SO DRUNK! TOM AND JERRY ENDED UP ARRESTED BECAUSE OF HER!
She must do a competition with vicky the another babysitter.
24
Robin (Teen Titans Go!)

Robin, also known as Tim Drake, is a fictional superhero appearing in American comic books published by DC Comics, commonly in association with the superhero Batman.
Just How The Hell Is This Poor Excuse Of A Character So Low On This List?!
Oh TT Robin, what have they done to you? In TTG, Robin is a rude arrogant brat who only cares for himself. TT Robin was hot, had a personality, was a total badass, and had a calm and level head. TTG Robin sucks and is loud and arrogant. Oh TT Robin, I feel terrible for you. TTG Robin thirsts for starfire, but TT Robin just ignored his feelings for her and confronted it in the movie. OG Robin liked star but was just too nervous to reveal how he felt.
He was an awesome leader in Teen Titans, but in Teen Titans Go he is just annoying!
He needs to go he's so obnoxious and annoying
25
Alfe (The Problem Solverz)
He's the worst character of the show, all the characters of the problem solverz are idiots! Especially alfe! Plus the show sucks too! It's the worst show of all time! There's nothing good about it! NOT EVEN 1 SINGLE THING!
Alfe Is Very Stupid Ugly Annoying And Retarded I Wish To Jump Into The Problem Solverz World I Can Rain Down The Alfe's Throat With Hot Acid Cut Alfe's Hands And Arms With A Knife And Shoot A Machine Gun At Alfe's Legs.
GOD! Alfe is like the most annoying character ever! He is so annoying, and so obnoxious!
"Stop mumbling about PIZZA! "
PSearch List