Most Babyish TV Shows
The Top Ten
Barney & Friends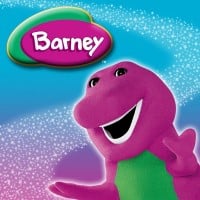 Barney & Friends is an American children's television series aimed at children from ages 1 to 8, created by Sheryl Leach and produced by HIT Entertainment. It premiered on PBS on April 6, 1992. The series features the title character Barney, a purple anthropomorphic tyrannosaurus rex who conveys educational ...read more.
You're right. Barney only can do too much simple talks talk or dance with only clapping hands. I used to love Barney when I was 3-5. Years later I didn't adore it.

I hope in the universe these stupid coloured dinasours didn't exist here forever. Thanks for appreciating my opinion.
I hate Barney. Ah I'm scared of him. This show is not special. He never got sad. The only feeling he seemed it was only happy. Baby bop she always throws a fit when she loses her blanket. It is so annoying. BJ talks weird. And riff is A Darius
Yes, I did grow out of Barney when I was five, but it is still a good show for younger kids. Barney and friends is babyish, but still cute. A lot of kids don't like barney these days. Barney was loved years ago.
I hate you, you hate me, lets go out and kill Barney, with a great big shoot and shoot him on his head, no more purple dinasoars. I hate barney and I will always hate him!
Dora
I used to love Dora, but I grown out of it when I was three or four. I do not really like Dora now, but it is still a good show for younger kids.
OBVIOUSLY for babies cause she can't even see the tree when it's right in front of her.
Dora more like blind and deaf explorer oh yeah she has a football sized head too!
Dora is so deaf and blind. But no offense to real deaf and blind people.
Teletubbies

Teletubbies is a British pre-school children's television series created by Ragdoll Productions' Anne Wood CBE and Andrew Davenport, who wrote each of the show's 365 episodes. It is owned by Canadian Studio WildBrain, which is the largest independent Children's and Adolescent's Film Studio
They behave like babies, they talk in baby speech, the sun has the face of a baby in it and the new version has baby Teletubbies called the tiddlytubbies.
Tots T.V. was about three toddler friends Tilly, Tiny and Tom but they were more mature than these creatures, lived alone in a cottage without parents just animals a dog they never saw and a donkey friend.
This is a really Babyish show their so stupid, I have a feeling they don't have brains.
I don't know how anyone survives the first two minutes of this show.
Incywincy, dipstick, bla bla, po. they can't talk! All they do is run around and do that irritating laugh! I think they should loose wait man!
Jake and the Never Land Pirates

Jake and the Never Land Pirates is an Annie Award-winning musical and interactive American children's animated television series shown on Disney Junior.
I hope Bucky (their ship) sinks. Sometimes they help their enemy. Who does that!
I never liked that show, I know it came from peter pan. I never liked Peter pan
It actually isn't that babyish. But it is for little kids though.
I think you would be better of watching the original Peter Pan.
PB&J Otter
It used to come on Playhouse Disney years ago. I never caught it on before, but I listened to some of the songs. The Pb&J otter songs were on the playhouse Disney sound track. I did not like it. I rented the playhouse Disney songs from the library and put them on my computer. I got them because they had the book of pooh songs. I love book of pooh!
Watched this as a kid and now I hate it. I hate my childhood.
PB&J otter is the worst of all time!
Not babyish and not a bad show.
Caillou

Caillou is a Canadian educational children's television series that was first shown on Télétoon and Teletoon, with its first episode airing on the former channel on September 15, 1997; the show later moved to Treehouse TV, with its final episode being shown on that channel on October 3, 2010. The ...read more.
Go to the cancer hostpital Caillou you are only 4, and your parents aare fat you are fat your sister Rosie is fat. And this show is insulted Rosie, a little girl on the Ellen show who is 10 now, but was five when she first appeared. still WOrst SHow in the world. I think Evantubehd watches it.
It is HORRIBLE! Caillou is a stupid, bald, whiny brat who is 4 years old. (takes shotgun and shoots caillou )
Its more of a bad show then babyish show that raises way to many questions
I'm just a kid who's four, each day I'm hated more, I throw fits, I'm Caillou!
Peppa Pig

Peppa Pig is a British preschool animated television series directed and produced by Astley Baker Davies in association with Entertainment One, which originally aired on 31 May 2004. It went on a hiatus for just over two years before re-premiering on 14 February 2015.
If you play Roblox Piggy is a horror Peppa pig inspired game I have never watched Peppa Pig And also they teach kids that the word Zebra is pronounced Zeabra
Sometimes it's funny but on the other hand it's cringe.
My younger sister is obsessed with it
Its adorable how can you say that!
Paw Patrol

PAW Patrol is an Canadian animated television series created by Keith Chapman. It is produced by Spin Master Entertainment with animation provided by Guru Studio. In Canada, the series is primarily broadcast on TVOKids, which first ran previews of the show in August 2013. The series first aired on Nickelodeon ...read more.
Paw Patrol teaches you that dogs can talk and even something breaking ( like lets say a vase broke) is a problem and why does Chase not arrest people is he is a police pup?
I just don't like this show. But please respect my opinion if you like it.
Most babyish show I have seen. Needs to be higher.
It premiered on my birthday
Rollie Pollie Ollie
I used to watch this years ago. I have grown out of it and it is kind of babyish. I grew out if it when I was 2 or 3. It used to come on when I was little. It even used to come on even before I was born.
This French-Canadian so-called "Disney" show comes in episodes that have names you CANNOT pronounce. By the way, who would animate a show about an all-robot community?
This is defentliy show for 2 yr olds. I don't know exactly where it ranks as haven't read whole list but is truly babyish a lot of list isn't.
This came out before I was born too. I never watched it, but it sounds babyish.
Super Why!

Super Why! or The Reading Adventures of Super Why! is an American-Canadian children's CGI animated show developed by Angela Santomero and Samantha Freeman Alpert. The series is produced by New York City-based Out of the Blue Enterprises and Toronto-based DHX Media through its Decode Entertainment division. ...read more.
In first grade there was this kid named Sammy (I think) and he LIKED this show. He didn't find it exaggerated at ALL.
Like Dora, I used to like this show, but I found it boring and grew out of it.
I wonder if a kid at the library opens the super why door?
Every little thing is a big problem
The Contenders
Bubble Guppies

I hate we totally rock more like we totally suck.
Plus they sang like popstars I hope Nirvana, 21 pilots, Linkin Park, Guns N Roses, and all other rock bands (exept for the 50's to mid 60's) would beat them.
I heard that this show made a parody of Lady Gaga's Poker Face called Pencil Case.
Octonauts
Actually I think it's a pretty cute show. I love marine animals and the cute animal characters.
I checked that and it was right. You definitely used a calculator. No offense because I did too.
FALSE. it's educational not just like 1+1=2 but more like 4534 x 3845= 17433230. In other words, it teaches you tons about marine wildlife.
Not babyish at all. Clearly dips who voted this have never seen octonauts its such a smart show.and I am jerk who knocks orginal toy story.
Mike the Knight

Mike the Knight is a Canadian/British/American animated television series created by Alexander Bar and written by Marc Seal.
He's a knight who doesn't do it right!
Do Bad things to be a good person
Don't be a knight, Do it wrong!
He is so boring.
Winnie the Pooh
Whoever said that I agree. Watching paint dry is more fun than watching this.
Winnie the Pooh is pretty boring.Its just this bear who wants honey and all these bees chase him.
The Muppets

Do you mean Muppet Babies 2018? That reboot was actually good in my opinion. This one, on the list, however, isn't babyish at all.
I think he's talking about the ones that are on Sesame Street.
It's not just for babies. The whole family can watch it.
This isn't a baby show, Many people can watch it.
Dumbo's Circus
I hate Dumbo so this would be worse.
Boohbah

Boohbah is a British children's television programme created by Anne Wood. It premiered on 14 April 2003 on ITV in the United Kingdom, followed by its Nick Jr.
If I had $5 every time they farted, I would be filthy rich by now. No joke. Also what kind of drugs were the creators of this show on when this was made?
Absolutely awful. No plot. Stupid characters. Poorly animated. And a ripoff of teletubbies.
Stop saying every weird show is drugs.
This show is awful!
Blue's Clues

Blue's Clues is an American children's television series that premiered on Nickelodeon in 1996. Producers Angela Santomero, Todd Kessler, and Traci Paige Johnson combined concepts from child development and early-childhood education with innovative animation and production techniques that helped their ...read more.
For those who are saying that I have no childhood let me tell you something.
When I was a kid I LOVED Blues Clues I promised. I even had a thinking chair. I was born in 2003 so I didn't have a problem with Steve and Joe. I even liked Blues Room.
Fast forward to let's say when I was 7. I started to outgrow (but I'm not saying you should to) when you start saying Dora can't find anything you should watch Steve he can't find blue and can't hear a clue.
I watched Dora as a kid and loved it but yeah I'm 14 now. I just don't like Blues Clues that much so yeah. But no offense to those who like it. This was my opinion on the show.
I love this, and Blue's Room, to this day. I also heard this is getting a reboot, so I am hyped!
Blaze and the Monster Machines

Blaze and the Monster Machines is a CGI interactive educational animated television series with a focus on teaching about Science, technology, engineering, and mathematics.
I. Really. Hate. This. Monster. Truck.
Thomas and Friends

Thomas & Friends is a British children's television series. In the United Kingdom, it had its first broadcast on the ITV network in Great Britain in 1984.
Thomas? Babyish at all? Heck no. It was based on a book series called the Railway Series in which had additional characters like Wilbert and Albert. It was formerly narrated by Ringo Starr, in which who drummed in the Beatles. It has occurred some fangirls apparently.
Thomas is babyish. You just like it only because you watched when you were a kid. And I was a huge fan of Thomas as a kid. I had like almost every toy character.
If Thomas isn't babyish, why is it on the most babyish channel ever, Nick Jr.?
While the show was oriented for young kids, read the mountian engines book.
Team Umizoomi

Team Umizoomi is an American computer-animated musical children's television series with an emphasis on preschool mathematical concepts, such as counting, sequences, shapes, patterns, measurements, and comparisons.
The Doodlebops
When I was little, the doodle bops became a popular thing. I liked it for a while, but then a grew out of it when I was 6 or 7
I like the Doodlebops. (Childhood)
This show is weird
Doraemon

Doraemon is a fictional character in the Japanese manga and anime series of the same name created by Fujiko Fujio, the pen name of writing team Hiroshi Fujimoto and Motoo Abiko.
How dare you say it's a baby show. Doraemon isn't babyish, he is cute, funny, and adorable. This is one of my favorite animes, and did I see anything babyish about it? No.
I've actually seen this on some videos on YouTube and what I can say, this doesn't look like a baby show.
What is that doing on the list? I laugh at the episodes because their jokes are funny
After all, This isn't a baby show.
Hip Hop Harry
I used to like it when it aired on Discovery Kids.
Eminem is way better.
Dragon Tales

Dragon Tales is a Canadian-American animated pre-school fantasy adventure children's television series created by Jim Coane and Ron Rodecker and developed by Coane, Wesley Eure, Jeffrey Scott, Cliff Ruby and Elana Lesser.
Dragon Tales, more like Dragon Fails.
I wish that world has all dark colors
I actually used to like this show.
THIS SHOW IS NOTHING COMPARED TO DREAMWORKS DRAGONS! The Dragons and other characters in this show are weirdos! Dreamworks Dragons is much better than this show because dragons I know don't sing stupid songs or act like everything in the world is all fun and rainbows!
PSearch List