Susan Boyle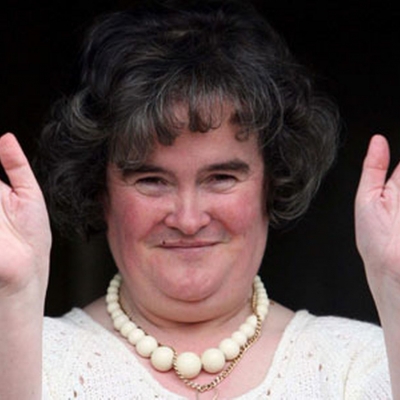 Found on feelgrafix.com
Info
Susan Magdalane Boyle is a Scottish singer who came to international attention when she appeared as a contestant on the TV programme Britain's Got Talent on 11 April 2009, singing "I Dreamed a Dream" from Les Misérables.
Comments
Top
Popular
Newest
Susan sings with so much emotion that you just feel it. She just holds your attention in awe of the moment. When so many artists are wanting Susan to sing with them, they too can hear the greatness in her. I have people asking me if I had heard of certain singers that are coming out all the time, I have to ask "Is their name Susan Boyle? " they say "no" and my response is then, "I haven't heard of them then. " That is how much Susan Boyle has spoiled me with her singing, I listen to no one else.
Susan's current concert tour in Scotland is winning rave reviews and a consensus that if you haven't heard her sing live, you haven't heard her sing. He voice can be both powerful and so delicate, she moves audiences to cheers and tears.
Susan Boyle is the only singer I've traveled halfway around the world to hear. No other voice brings me to tears, gives me goose bumps, and makes my spirits soar. No words can adequately express the effect she's had on me. I never tire of playing her CDs. She has grown immensely as a performer. And she's a delightful person--"grounded" as she would say. I'm thrilled that she followed her dream and has experienced great success.
Susan's voice is a reflection of her life. Her beautiful interpretations of the songs she sings reach deep into my soul. "Spirit touching spirit. " No other singer has ever tenderized my soul as Susan has. She is a treasure to the world. I consider it a privilege to have been able to hear her sing. She is simply magnificent.
Susan should be higher. Her voice is really beautiful and she works very hard to constantly improve her technique. She stole the hearts of the world in 2009 and inspired so many people to fulfill their dreams.
Susan Boyle is the only singer I listen to. Absolutely the best singer anywhere! A worldwide super singing star who inspires many to achieve their dream. Keep on going, no matter how many doors you have to knock on. One will open up to U.Susan did just that and we reap the rewards of this beautiful person with the most incredible voice. Keep on going, Susan Boyle! You are amazing!
No singer, man or woman, has ever affected me the way Susan has. I never joined a fan club for anyone until 4 years ago when I first heard her sing. She captured my heart then and has never let go. With all the millions of CD's she has sold she has earned the right to be called a Superstar. I will be her fan forever.
I have never had a singing voice "touch" me the way Susan's does. The passion and understanding she lends to the lyrics of each song is sheer poetry! Her voice out shines all others!
There's no comparison! She has the voice of an angel! Susan is an inspiration to all who hear her sing. She does it all with great humility and dignity! One of a kind.
Susan Boyle has a wonderful voice, but I am most amazed by her remarkable ability to use that voice in so many ways that make every song just a bit better than I've ever heard it sung before.
Susan Boyle is the best. No one can top her. She is one of a kind. Susan is wonderful and beautiful. Her fans love her and listen to her music daily because it makes life so peaceful. There are no words to express how much she is loved. What a blessing.
Susan Boyle has the most beautiful voice and a wide vocal range. She can sing any song and make it beautiful! She touches my very soul like no other. She is a very beautiful person and will always have her own special place in my heart. -Kathy Stevens
Her notes seep into my soul making me want to listen to them over and over again. Can't get enough her.
Susan's voice is unique, so pure, clear and exquisitely beautiful.
A singer who reaches down to your very being, who caresses your soul and raises you to the heavens to dine with the gods. Susan Boyle
Susan's voice is pure, powerful, clear, full of emotion, and simply magical!
Susan has an amazing voice that touches your heart and soul. She is my number one choice! I listen to her music every day.
Four years (my, how they flew! ) of watching & listening to Susan grow, she has still captured my own heart & millions more. Her tour of Scotland this month has proven she can sing a full program (24 songs! ) in an evening and still be bright and engaging! Friends (we call them SusaFriends or SusaFans) have flown from all compass points on the globe to be a part of this tour & they are simply "over the moon" with delight in each venue. It is with eager anticipation we await both Susan's #5 album this fall as well as her premiere acting role in the screen version "The Christmas Candle" based on Max Lucado's bestseller of same name. Susan continues to be the stage star and music favorite she purported on BGT in 2009. Many thanks to her team & manager, Andy Stephens, for careful planning & creativity in her success!
This performer has shown that she can sing any genre. Her voice is incredible ranging from vulnerable to powerful when necessary.
Such a beautiful voice! I feel her music comes from her heart--she can make me cry or feel like dancing! In the short time since being "discoverd" on "Britain's Got Talent" she has accomplished more that most of us would in a life time! I look forward to hearing many more albums and watching what her next accomplishment will be.
Susan Boyle's voice is a rare and beautiful musical instrument. A voice like this comes around once in a lifetime. Whether singing softly and gently or strong and powerfully, her voice soars. She has an amazing range and varied repetoire. Her voice never fails to thrill me and lift my spirits.
Perfect pitch voice. Concert tour is amazing.
Susan has the best voice in the world! It gives me many happy moments...
I just heard Susan Boyle in Concert in Dundee July 6 and Glasgow July 8 and 9 singing 24 songs flawlessly and to me she by far has the most beautiful voice in the world.
Susan is the one I listen to. She has the most amazing voice and is a very down to earth person. I love her. Regarding the release of her 5th album, I believe the correct date is November 2013 not 2015.
Related Lists
Best Susan Boyle Songs
Best Susan Boyle Albums