Most Beautiful Actresses In the Philippines
The Top Ten
1
Marian Rivera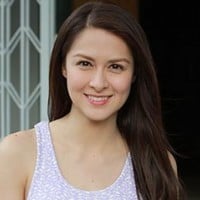 Marian Rivera Gracia-Dantes, known professionally as Marian Rivera, is a Spanish Filipino commercial model and actress, best known for her roles in Marimar, Dyesebel, Amaya, and Temptation of Wife.
Marian Rivera is what we called a complete package. She's the envy of her peers, from beauty inside out, talented, brilliant, kind, funny, family oriented, she cares so much about the elderly and sick people. No wonder she was appointed ambassadress of disable people. To me she will always be the best actress we got and Dong is very lucky to have her as his wife. We love you so much Marian, stay kind and gorgeous as ever.
No. 1 most beautiful actress today. She's has a total package (full of surprises) compare to other actresses. She's has the look, pretty face, beauty inside and out, gifted by God with talent and beauty, very humble, down to earth person, no wonder she loved by millions since marimar days and up to now. Her popularity exceeds far beyond philippines, it reaches to ASIA, Asia Pacific, Middle East, USA and Europe. Very popular actress.
Undoubtedly the most beautiful.. "walang retoke"..she is born with it. Despite the "evil forces" trying to pull her down.. She isn't going nowhere down.. I left the philippines when she was not yet known and famous as she is now.. But I admire and love her.. Neither do I belong to any of her fans club..but I will support her and defend her against her 'evil" detractors..
Very beautiful. No one else comes close to her kind of beauty. So pure, not enhanced by science, so natural and gosh! That perfectly shaped face and body... Winner in all angles
2
Angel Locsin

Angel Locsin is a Filipina television and film actress, commercial model, film producer and fashion designer.
She's the only actress I know in the Philippines. I guess the rest are just starlets? She deserve to be #1 because being beautiful is not only on the physical appearance but also within the purest heart! We can't deny the fact that angel is now an institution for her works. She had proven herself as an award winning BEST actress, box office princess, the sexiest woman, queen of action serye, the fantaserye queen, the primetime queen, and the new young superstar!
Angel locsin is the most beautiful! Because she doesn't just personifies it physically but also psychologically, emotionally and spiritually. For me she is an inspiration because she's one of the rags to richest persona who still manage to be down to earth amidst fame and wealth... She's really a good role model as a public figure to all of us.
Angel Locsin is definitely the most fitted for the post... She is the most beautiful and sexiest among celebrities here in the country. She can even be compared to international beauties, and not just beauty, but exceptional talent and a big heart... Congrats angel... You'll definitely get the top spot... Because it belong to you and no other...
God knows how beautiful she is. No doubt we should considered how beauty defies a people to become beautiful personality in and out and that.was Angel locsin only...the most promising the most beautiful person specially actress and celebrity and the calibrated and theost talented actress...and most of all God fearing and downtown earth..for me what makes people beautiful not only beauty outside but more inside because in the end that's the only thing that people can recognize her for a whole life and forever being kind to all the people Godbless Angel
3
Anne Curtis

Anne Ojales Curtis-Smith, also known as Anne Curtis-Smith or simply Anne Curtis, is a Filipina-Australian actress, television host, recording artist, and VJ in the Philippines.
Anne Curtis is the most successful actress in the Philippines earning her different titles in her cap. The Princess of all media, Queen of Endorsements, National Sweetheart, Concert Sweetheart, Fantaserye Queen, Box office Queen, Goddess of Beauty (Dyosa), Twitter and Instagram Queen and multi -awarded actress in her generation.

-What more can we ask for? ANNE CURTIS the BEST!
Anne curtis is a very professional actress, tall, whitepretty and humble, down to earth, and most of all God follower.. She is so sexy and best actress all the times! I love you anne! You're the best!
The most beautiful in the Philippines. For me beautiful is something with or without makeup still look amazing. And also you whatever you wear you still look sexy and beautiful.. And Anne Curtis is like that.
I Chose Anne Curtis because,
Anne Curtis, is the kind of girl that always have a self confidence to face everyone, to face any problem and any challenge. The best thing that I liked to her, is being crazy even she looks like funny. :">
4
Kim Chui
Beauty is not only seen physically but it is also skin deep and I say, kim chiu is the perfect example on it. She stands out because of her skinny body that fits her and of course because of her height.
Kim Chiu has natural beauty. Her beauty radiates from within because she is beautiful inside and out. She carries herself well. She is a decent, elegant and classy lady.
Chinita. But then, she has done many plastic surgeries that changed her beauty. But, then she is stil pretty inside and out not like the others, pretty on the outside but ugly on the inside.
Kim Chiu has class and elegance regardless of her outfit. She exudes youth and vitality. And she is beautiful inside and out.
5
Maja Salvador
One of the most beautiful filipina actresses on television and movie scenes. Beauty with talent. REcognize as one of the finest and multi awarded actress of her generation.

Spanish German Filipina Beauty... SALVADOR!
I vote maja for most beautiful actresses in the Philippines because she is pretty, talented, sexy, kind and have a natural filipina beauty and many more kaya I love you maja... your my only favorite artist love you? Sana makita na kita sa personal...
A talented young actress in her generation with pure hearten person inside and out, she's truly a simple and amazing one!
I just love maja salvador because she's beautiful sexy and has all qualities... And her acting skills are perfect because its d role given to her
6
Kristine Hermosa
Kristine is the most beautiful woman in Philippines movie. Her character as actress is source of strength. She is beautiful as a rose, her skin are white as a snow, her lips are red and her hair are smooth to touch. Wish you all the best
Real and natural beauty, goddess beauty of time because she doesn't need make up to be beautiful,. I still remember her first T.V. show "pangako sayo" there is nothing change.. No thank you doc has done..
Itstrue that kristine hermoa is though most beautiful oman and actress ind the philippines and beside also angel locsin
. The are beautiful, gorgeous and had a beatiful role in acting. And they entertain everybody by their acting, acting like a superstar!
I love you vote of you
Kristine Hermosa is the most beautiful actress in the Philippines..W/ or w/o make up she's beautiful...she is the real goddess of beauty!
7
Bea Alonzo
I don't get it why you are voting for the others, but seriously Bea Alonzo is a really great actress. Have you seen the movie "Four Sisters and a Wedding"? She was stunning there. So sophisticated than the other girl. Nothing say Beauty than Sophistication.
For me, she is truly the best. She has a pure heart and pure beauty. That's the real beauty!
I love Bea alonzo she's so beautiful she deserves being among the best.
Bea is the most beautiful actress in abs cbn.. No one like her.. Honestly shes good in and out
8
Kathryn Bernardo

Her beauty out shines other and it's very impossible not to notice her, she's beautiful inside and out. Her exotic and unique beauty matches her personality so well it makes people love her for I so love her for being like that and down to earth at the same time, it's rare to find a woman like her now a days so let's vote for her
Teen queen of today's generation deserves to be on the top 10 list. Stunning, Gorgeous, Lovely, Charming, Talented, Smart, Humble, Can act well.. What else can you ask? Oh, did I mention that Kath's beauty is admired by thousands of Vietnamese fans? Hihi. What a very beautiful actress! We love you KATHRYN BERNARDO!
She is beautiful inside and out. She stands out from the features of her face and not from the color of her skin. No wonder she was included in the FHM Sexiest List! She is not just one of the most beautiful actresses of the Philippines but she is one of the most beautiful teen stars of this generation.
She's very gorgeous and down to earth, cheerful, loving, anything good you can think of which makes me love her the more. Everything about her is natural and this makes the Philippines Lucky to have a damsel like her. She is a true blood of the Philippines and the best everywhere, much love Katryn bernardo
9
Jennylyn Mercado

Very beautiful and talented actress in her generation.
She is very beautiful. Go jen!
When she was still a child, she was abused by her stepfather. Now, She's one of the most sexiest and most beautiful filipina actress :) I'm proud of you Jennylyn
Beauty and brain girl
10
Sarah Geronimo

Sarah Asher Tua Geronimo aka Sarah Geronimo or Sarah G. is a world class and multi-talented Filipino singer, actress, dancer, record producer, model, host, coach/judge, commercial/product endorser and tv personality . She can also draw and plays the piano. Sarah is popularly known as the one and only ...read more.
She is pretty but she ain't beautiful. Without make-up she looks rather ordinary. She is definitely not in the same league as Kristine Hermosa, Marian Rivera Anne Curtis, Angel Locsin and Carla Abellana. She is popular with the "bakya crowd" because they can relate to her. She kinda reminds me of Judy Anne Santos.
Sarah Geronimo is the best, talented, smart, kind, and loving person. I watched her movies and yes very down to earth person. My family admired her so much and we can't wait to go back home and hoping we can see her in person. God Bless. Sarah... We love you.
In my opinion Sarah Geronimo is the best ever happen in the movie industry. She is definitely the most admired personality because of her good moral character. Beside being so beautiful she's natural. God Bless Sarah. You're the best.
She's the only actress and singer we admire a lot, she is the most beatiful girl here in the Philippines, her beauty shine like a diamond that never fade. , she is very good person and one of the treasure in this world,.
The Contenders
11
Toni Gonzaga

Celestine Cruz Gonzaga-Soriano, better known as Toni Gonzaga, is a Filipino singer, television host, actress and comedian.
Her beauty is astonishing no one can ever compete. I really admire her beauty and brain.
A very versatile actress
The best is Toni Gonzaga
12
Dawn Zulueta
I love the proportion of her face the eyes, nose, mouth... Its most attracting.
She's one of the most forever timeless celebrity in the Philippines.
She looks dazzling even ate her age.
13
Shaina Magdayao
Shaina is beautiful inside and out and has remained classy and very regal. A true fine lady indeed.
14
Erich Gonzales
Natural beauty and talent can be paired with anyone that's how versatile she is. Go erich keep up the good work and I'm glad you stay rooted and down to earth.
She's versatile actress, and a total package of being a most beautiful actress of the philippines.
Go barbie doll.
Erich is the most beautiful inside and out.. Sexy and talented. I love you and God bless you always.
We love ERICH G...she's amazing, simple and natural looks...looking fresh and seductive...love love love...
15
Heart Evangelista
A real living princess in the Philippines beautiful inside and out. Very kind and very professional in her work as an actress. Not to mention but she has a lot of a good thing to be love from many of her fans.
She is very talented from model- Host/VJ - famas best actress - recording artist - top endorser - painter. Named it! She did it and nailed it. She is a modern filipina to look up to. Look at her beauy.. Oops did she even aged?
She is so beautiful, she is a world class filipina, she's the number 1 rather marian, she's the philippine television sweetheart.
I vote heart because for me she is the beautiful actres that I ever know! Go go go heart!
16
Carla Abellana

I don't live in the Philippines but I got to know her when I watched My Husband's Lover on my Ipad in its entirety.. She is not only beautiful but also an excellent actress.
She's very beautiful, also very kind. Like when she defended for Heart Evangelista. That's why I adore her. I wish she could be in a higher rank though... But at least she's in the top 15
Carla Angeline Reyes Abellna is a Filipina actress and commercial model who played the lead role in the Philippines adaptation of the Mexican Telenovela Rosalinda, aired in GMA Network.She is currently starring as Lally Agatep-Soriano in my Husband Lover on GMA Network.
She's beautiful with or without makeup, and beautiful personality.
17
Jodi Sta. Maria
You're the most beautiful woman not only because you have a pretty face but it's your heart that makes you more beautiful... A God fearing, a loving daughter to her family and a caring mom to his son, a good friend, and a respectful person to everyone... With this characteristics you will always be our idol and a role model. We will always support you, Ms. Jodi Sta. Maria, we love you!
Ms.Jodi Sta.Maria deserves the title as the Most Beautiful Actress in the Philippines. A person who is compassionate, not only with her co actors but with everybody in the set. A very dedicated to her work and she always give her best in every role she is portraying. You can feel the real emotion every time she acts. I admire her so much... May God bless you Ms. Jodi.
Have a blessed day my/our idol! Thank you for inspiring us everyday...
I believe that her innocence makes her beautiful. A kindhearted woman but she can fight also for her family. A person who's worth fighting for... We really admire and love this person. God bless
The most beautiful woman in the Philippines, Mahal na Mahal kit Jodie
From an American Marine married to my Mahal, the most beautiful Philippines woman in their United States. Dr. Robert Verde
18
Jessy Mendiola
She's one of the most beautiful actress in their generation...
The beautiful among the rest. jessy Mendiola is beyond perfection. SHe is the most prettiest in abs cbn
Jessy Mendiola reminds me so much of the goddess Kristine hermosa
19
Angelica Panganiban
She should be no. 1
20 Lucy Torres
21
Julia Barretto
"For me when it's comes to beauty...Julia will surely stand out...
Why? because with or without make ups in every angle she looks stunning and in photos if her she looks like a gorgeous nypthm a goddess indeed.
Very beautiful and has a exceptional talent!
She is gorgeous
She has a very natural but Gorgeous beauty, she also has model and beauty queen look
22
Julia Montes

Mara Hautea Schnittka, known professionally as Julia Montes, is a Filipino-German actress and commercial model.
Julia Montes is a beautiful person inside and out. Her love for her family in spite of everything she's been through is just a proof of how strong and beautiful she is as a person. She's also a brilliant actress, no doubt. She's an inspiration to many young people!
She may not be the prettiest or the sexiest, but she's certainly the most beautiful. She has shown various things that prove the beauty in-and-out of her.
No matter what people say, she is the most beautiful and talented actress I've ever seen. Her movie is an inspiration...
No one can beat this very gorgeous and beautiful women in the Phil... For the win... So deserving... No offense please...
23
Janella Salvador
She is very beautiful and gorgeous and she is very talented..
She's very talented and humble..
She's beautiful inside and out..
Go go go janella you've got it!
24
Alice Dixson
She is sexy pretty adorable and a good actress there is no film whatever role she is given is not good. She is better than the best
25
Maine Mendoza

Nicomaine Dei Capili Mendoza is a Filipino actress, comedienne, television and Internet personality, writer, product endorser, and singer-songwriter.
I guarantee she is one of the most BEAUTIFUL celebrities in this generation. Try to look at her face, with or without make up, her beauty stands out. Plus, she's a very very talented lady. She has won a lot of awards and yet she stays humble and down to earth. Also, she is GOD-fearing and a kind hearted one. Maine is truly an epitome of beauty.
One of the most beautiful actresses in the Philippines. She's a. very nice person, interesting and loving. No dull moment with her. Life of the party. Beauty and brain. Very intelligent, talented and full of ideas.
Her beauty captures the heart of many Filipino. She's stunningly beautiful inside and out.. She can be the next Miss Universe Philippines because she has it all-- beauty, intelligence, confidence..
She's the epitome of simplicity but elicit quite grace and happiness. She can be beautiful and funny all at the same time. That is how beauty should be.
PSearch List