Yonghwa (CN Blue)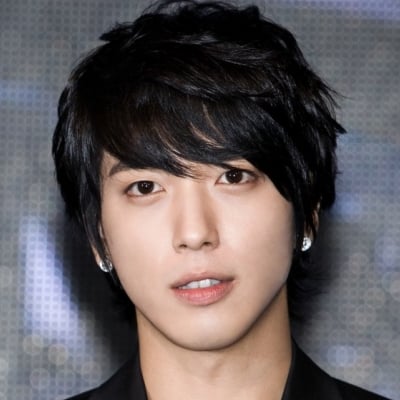 Uploaded by TaeBooty
Comments
Top
Popular
Newest
Not only is Yonghwa extremely good looking, but his voice is also to die for! He really enjoys what he does and that is shown through his work. You're Beautiful was his first drama. However, while I was watching, I could not even tell. Even though he said he was very nervous and worried about his character coming out right, he made Shin Woo shine as a bright star that everyone wanted Go Min Nom to love! I think that there is much that we can look forward to as he comes into his own as a musician, actor, and as a person in general. Personally, I can't wait to attend one of his concerts! Either here in America or Korea or maybe even Japan! Yonghwa Oppa Fighting! O (^w^) o
He is an inspiration to a lot of people not just his fans. He works hard in everything and excels in all of it. That's why he is loved by all the seniors and almost all the people he had worked with. He doesn't put down others just to advance by himself whether when promoting his/their(CNBLUE's) music or on variety shows. He makes music that is not just good to the ears but also touches and speaks to the heart. He loves and treasures each of his fans as much as, if not more than, his fans love him. He focuses on positivity and humbleness on whatever's been thrown at him. He is talented in all areas possible. He is kind hearted to his juniors and respectful to his seniors. He is a leader being idolized by other peers and colleagues of his'. He is a tough rockstar on stage but a bubbly young-at-heart backstage. He is a son that his parents are proud of. He is a star that his fans look up to at night or even in the day. He is a person who gets hurt by negative comments but doesn't babble ...more
Yonghwa is just amazing. It would be impossible to write enough words to describe just how wonderful this guy is. Not only is he naturally good looking (and from Busan, which I have a thing for, hohoho), he is also incredibly talented. His guitar skills are no joke, and what's even better is his singing. He has amazing vocal range and is well known for his ability to imitate others near perfectly. I'm very proud that his self-composed song hit number 1 on the charts. He's funny, has a cute smile, clever, childish but mature when necessary, EMOTIONAL, a good leader, a caring older brother to his CNBLUE teammates, and just... Yonghwa.
I love him most when he is singing! He doesn't only have the looks but also talent.
Before I knew him, I also watch and follow k-pops but not as much as after I knew about him. I was totally captivated by him!
Very modest and always leads others with grace, very mature for his age about the music industry business even if he is faced with scandals and adversity in the beginning, he did it by working even harder. A great leader who treats his bandmates well as if they are his only family. Dedicated in just doing and bringing great music and tries to develop their color of music every chance they get. Humble on interviews but charismatic on stage. All around, he is just simply a very good and honest person.
Talking about perfect package? Yonghwa is the one. Not only he's super good looking but also a very responsible leader and hyung of CNBLUE. His undeniable talents are exemplary. A composer, singer, actor and he can play a lot of musical instruments. Despite being known, he still remained humble and dorky :) He's simply one of a kind! I hope my son will grow up like him.
He doesn't need make up to look good. He's a natural. I like the fact that he did not do anything cosmetically when he decided to become an artist. He seem sincere when he sings and when he speaks. Even his band mates have very nice things to say about him. He is a good leader and it shows in the way they perform together in concerts, etc. May God continue to bless him and CnBlue. May he also remain humble no matter how popular he gets.
I fell for Yong Hwa two years ago after watching CN BLUE's performances. I fell for his expressions when he was singing. CN BLUE then hold a tour in Malaysia and watching his LIVE performance was SUPERB! AMAZING! No words can describe that. He's a multi-talented person. As a singer, when he hold a guitar..HE'S THE MOST COOLEST GUY THAT I'VE SEEN IN MY LIFE RIGHT NOW! HE CAN SING WELL, HE'S SO ENERGETIC, OF COURSE HANDSOME! HE'S A NICE GUY. HE TOOK MANY PRESENTS FROM HIS FANS AT THE AIRPORT! HE CAN PLAY OTHER INSTRUMENTS too! Besides that, He's a hardworking guy, a genius songwriter and composer for me. He can composed any genres and all are good! For example pop rock like I am Sorry and romantic song like Y why! So what's not to LOVE about HIM? He deserves this title! Handsome is not only about look for me but multi-talented takes count!
Charistmatic Yonghwa is the brain and soul of CNBLUE band. He is a real hyung for his CNBLUE brothers. He was capable to support his younger brothers when they front the hunger singing on Japan streets. His hard work and vision brought our beloved band at what it become today -the best Asian band. They are called today The Beatles of Asia. Their last songs Still in love and Hey you are most beautiful and inspired songs.
Multi-talented person... Down to earth, sings from the heart, even if I can't understand Korean... His songs touches me...
Yonghwa, has all the qualities as one of the most handsome Korean Male idol, not just a handsome face but his good heart, kind, concerned with his band, helping people like blood donations in Thailand along with his band members, a hardworking and talented person.
He's actually my second K-pop bias in the whole fandom. He's just to great. He's voice was so perfect. And his acting skill, it was awesome. I actually called him "The Man Full of Emotions. " I mean, you can never predict what he's next reaction would be. He can act whatever character, I guess.
Charismatic, wonderful as a person, good voice, good acting, beautiful looking, emotional, he have a good heart and he is really modest and great as person and actor. He is just wonderful
He has it all, the good looks, heart-melting voice, good in playing musical instruments (especially guitar), great sense of humor, a good actor/musician. What more can you ask for? HE IS PERFECT! Those eyes, nose, voice, hands, blah blah.. EVERYTHING is admirable..
He looks handsome not because of his physical appearance, but he looks handsome because of his great talent. He always tries to give his best in every shows and I can feel it that he sings from his heart.
Jung Yong Hwa, a talented guy (actor, singer, composer, rapper) good looking have a great charisma and good leader, I love the way he perform on stage.
Not only a pretty face and sexy, he is also a talented guy, love his passion to music, a songwriter and composer, I like his voice, when he sings I feel his emotions.
Yong Hwa is a very attractive man all in one package - beautiful vocals that can carry a wide genre of songs, very good rapper, produce, compose wonderful music and write lyrics that really touch my heart, very good guitarist & plays a number of other instruments, awesome & charming stage presence, very competent, generous and kind band leader, very good actor, wonderful solo singer-songwriter (still waiting for his next solo album), wonderful emcee & variety show guest, cute dancer, inspiring & warm personality, modest, handsome, manly, witty, respectful of others, kind & inspiring and works hard continuously towards his goals.
Of course Jung Yong Hwa, nobody can deny that he has a beautiful and handsome out-looking but also has beautiful voice. He even compose songs by himself and the songs had reached the top of the chart. He has a sense of humor and always make everyone happy even his group members also praised him as the atmosphere maker. "CNBLUE SCHOOL PROJECT" would be an evidence to show how good hearted he is. In conclusion, beautiful face, beautiful voice, beautiful heart, beautiful attitude, "beautiful" is the best word to describe Yong Hwa, or "perfect".

CNBLUE fighting! Yong Hwa oppa fighting!
I vote Yong Hwa, because he is good looking inside and out, a talented guy, can compose songs, can play all instrument, and most especially I love his voice when he sings I feel the emotion and his stage presence.
He almost have all the good looking!

I can say he had everything

Super talented!

I like the way he makes people laught at his jokes!
Hardworking person, kind hearted, talented, great charm, wonderful voice, handsome, a great leader to his band, best idol.
Yong Hwa is the complete package - dashing good looks, magnetic charisma, incredible versatile vocals (one of the best live singers I've heard), extremely talented songwriter (he's a hit maker), hardworking, humble, witty, easy to get along with, respected leader... A rare talent indeed.
He only relies on his voice to entertain, no dancing. This is really brave, considering the trend of the Kpop industry.
Jung Yong hwa is of course handsome, it make a lot of people love him!
Me, myself like all the CN Blue's members and Yong Hwa is also really good looking, talented, but this pretty boy, handsome leader, with his special personality and always makes others like him more!