Most Beautiful Turkish Actresses
The Top Ten
1
Beren Saat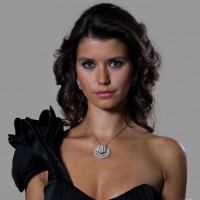 Most Beautiful and Best actress, which can play any type of role... My favorite forever. She is attractive as well as very nice personality
She's a goddess and the best actress there is, her beautiful face never gets old unlike the others. she always can play a 20 years old girl
Her eyes beren saat's eyes are just amazing I love to stare at her big shining gorgeous eyes forever
Beren saat is so stylish and her personality is too much pretty she is a doll..
2
Berguzar Korel
So nice. She is as beautiful as an angel.
It's just amazing that she's married to Halit Ergenç, I mean,. Watch Binbir Geçe... who though they'll end up marrying in REAL LIFE?
3
Cansu Dere

Cansu is so atractive and elegant she is the best model and pretty actress.
Bade is nice girl from memona gunsur
4
Sedef Avci
I love her so much she's so nice and she's so beautiful..she is very famous here in the philippines :) by the way proud filipino fan here
Goodluck Sedef Avci. no matter what happens.. I'm still your fan we love you..
I really like her! She's so pretty, pure beauty, so sweet & awesome personality! I surely voted for her ♥_♥
5 Ebru Kocaaga
6 Bade Iscil
7
Selin Demiratar

8
Asli Tandogan
Asli is a nice girl I like from memona gunsur..
Asli tandogan is nice from memona gunsur...
9
Meryem Uzerli

I found her very hardworking and she is so beautiful. She knows how to act and her looks are killer. She have everything that a perfect actress need. For me she is no1
Meryem uzerli is the best character in mera sultan I like this drama.. This drama is famous for its best musics
Many people may like her but I think I find her annoying and I don't like her accent
MERYEM UZerli is very beautiful actress as your hair is stylish... ! From malaika
10
Hazal Kaya

I love her she is the most beautiful girl I have ever seen. Her acting is magnificent and her smile is so Aww :-* most of the Indians love her
We want hazal and cagatay back onscreen. Her glossy lips and her mesmeraising smile her killer looks and yeah her wonderful acting impressed me so badly
I love her she is very beautiful and have a such a innocent smile.
Hazal kaya is cute and her beautiful smile is so attracted..
The Contenders
11
Tuba Büyüküstün

If you want an aristocratic, sophisticated and charismatic actress you will choose her
Her beauty is rare. I think she's most beautiful girl in in the world.
She is the most beautiful and popular actrees in turkey. She must be top of this list.
She is most beautiful Turkish actress and her smile is so cuuute...
12
Serenay Sarikaya

I can't believe Serenay Sarikaya isn't in the top 3.
I like very much Serenay You are the best.
She have haters in turkey
She is the most special girl I ever seen her acting is wonderful and she got a natural beauty and something that I like more than these is that she never imitated anybody
13
Fahriye Evcen

Ferdie wouldn't have been such a beautiful character without Fahriye playing her part. And she and Burak? Relationship goals
14
Oyku Karayel
I really like her she is prefect
And God those eyes of hers!
She is beautiful and greate actor and she has beautiful faca and her shinig eyes.
She is Vere beautiful and her eyes is lovley
15
Hande Ercel
She should be no. 1. So beautiful
No words angel!
She deserves the toppest of the list
16
Nurgul Yesilcay

Perfection in pronouncing dialog.
Self confidence in acting.
Glorious beauty with rose petals lips & attractive blue eyes that's recognition real artist, Nurgul yesilcay capable actress.
Perfection in pronouncing dialog. Self-confidence in acting. Her lips as delicat as rose petals. Attractive greenish eyes with glorious beauty. As an actress NURGUL YESILCAY proving capablity.
Beautiful & bold girl, master in emotional acting.
Sweet, innocent lovable looking. My dream girl.
17
Özge Törer
She is absolutely adorable
So pretty aww
She is so beautiful and adorable, deserves to be the top in this list, And she plays the role of Bala Hatun wife of Osman Bey
18
Elcin Sangu
The best actress, the most talented, the most beautiful! I from the Chechen republic, the Caucasus) millions of people love you there.
19 Birce Akalay
20
Berrak Tuzunatac
Berrak is looking like a boy I don't like why she enter;s in mera sultan by the role of mustafa wife oh.. That's not good..
Mehmet gunsur is only my lover and I don't want berrak boy comes..
She is very poor from sania
21 Songul Oden
22
Ceyda Ateş
No way she is not beautiful
23
Ceren Hindistan
She is the most beautiful I have ever seen.

I am not young and have traveled the world and seen beauties of all types. Marvelous bodies in the fanciest resorts in Mexico. Watched thousands of movies from all parts of the world and I have a friend that is a beauty scout in LA.

Nobody comes close to this goddess.
24
Ayca Aysin Turan
Have you seen her crystal blu eyes? Jeez they're beautiful...
25
Nur Aysan
Nur is so stylish but in mera sulltan she is too old after the death of sehzade mustafa..
PSearch List