Angel Locsin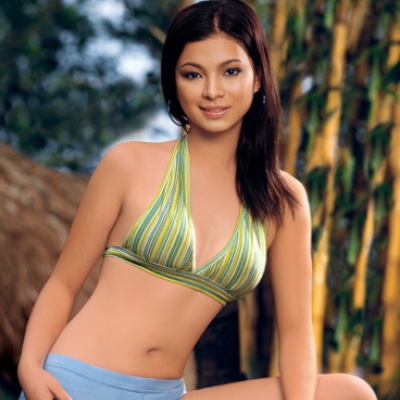 Uploaded by venomouskillingmachine
Info
Angel Locsin is a Filipina television and film actress, commercial model, film producer and fashion designer.
Comments
Top
Popular
Newest
No doubt.. She's like an angel... I think she need to be the number one.. Among them all... Cause she's so brilliant person... She have a pure heart... So admirable... Beautiful inside and out... Love her she's my crush love time ago until now... Name angel fits to her...
No doubt why angel locsin can be considered as one of the beautiful woman on earth not just on her appearance but also she has a beautiful heart, kind and beautiful.. A perfect one :) she never undergo surgery just to keep her body beautiful
Very beautiful inside and out! Simple but very adorable!
She is truly pinay but she is beautiful inside and out! A big heart she is helpful to others that's why is one of the most beautiful actresses in the Philippines no other than Miss. Angel Locsin!
Stunning women! Great personality, dream of every mothers to be there daughter. Her heart is like diamonds... She's beautiful inside & out... The most beautiful women for me is miss Angel Locsin! Because of her pure heart & her hot body. Angel Locsin is real total package.
She deserves to be named Angel because
She doesn't just have that Angelic face
But she also had an Angelic heart...

Face, body, attitude, talents, charac... Truly beautiful
My favorite actress because she is very kind and helps lot of people especially who are in need. She is also very humble, down to earth and mingle to every fan of her. Talented and very good actress and every time she acts, she can portray as in real situations. I bet she will win because she speaks it all and deserve to win.
BEAUTIFUL WOMAN? Its definitely ANGEL LOCSIN! Google for her name and you'll know the answer
I love angel... She's beautiful, nice body, very hot. She is kind and very helpful. I'm proud her so much because of her amazing talent and just now she is in the top ten list of hollywood sexiest.. God bless angel we are here to support you.
Beautiful inside and out that's ANGEL LOCSIN :-) always dir to help others especially in times of calamities. Truly an ANGEL :-)
Go Angel Locsin! True beauty comes from the heart not only from appearance. That's the way I can describe her true beauty
She is the most Beautiful and Sexiest Woman in the world. She has a lot of advocacies that helps the poor people. She has a good heart and Talented Actress. That's why she is known to be as a dedicated actress on her craft! Being sexy and beautiful must have a good heart/character.
Angel is so beautiful among all filipina beauties that's why she deserves in the first spot.
I happen to know Angel Locsin personally and all I can say about her is that she is the most genuine celebrity I have known... She has the purest heart and has a very down to earth personality... Truly an ANGEl on Earth
ANgel is one of a kind.. She's not just a faces or a sexy body... But she has a good heart to serve poor people... SHe is always active in all of the advocacy againts women.. She's ANgel sent from heaven.
Angel locsin Shes the 1 that captivating & very Beautiful face. That's why shes got the name "ANGEL"
Angel locsin angel locsin angel locsin angel locsin
She really deserved to be the most beautiful woman beacaus shes not just beautiful outside but deep inside of her makes her the most beautiful.
Angel Locsin will always be the most beautiful woman in the world inside and out. So many people could testify that especially the victims of typhoons in the Philippines. She celebrated her birthday by giving food to unfortunate people. She has the sincerest dedication to help the needy and uses her popularity to encourage people, esp her fans to do the same. She is the most-awarded actress in her generation, a very down to earth person, and a very loving daughter. She is the perfect ROLE MODEL for everyone, not only for her talents, not only for her looks, but for her PURE HEART. She sincerely dedicates her time to share her blessings and her love to others. She inspires her fans for that beautiful work. I personally became an Angel Locsin's fan because of that aside from watching her well-done movies. You are the real "most beautiful person" for me heart and soul. Your beautiful face, gorgeous body, and wonderful talents are just bonuses from God. Your PURE HEART reflects all. You ...more
She is the nost beautiful woman not just in the Philippines but t=in the world..
We love you angel..
Beautiful not just physically but she has this goodness in her heart that reaches out to the less fortunate and the needy. She goes out of her way to serve the masses outside the prying eyes of the media. She uses her status as a celebrity to positively influence people by her humanitarian activities. She donates money and spends time and effort to support the Philippine Red Cross. She provides children with school materials to help them reach their scholastic goals. She's a leader in her chosen field of endeavor garnering awards and recognitions as an actress in various social and cinematic award giving bodies. A consistent recipient for six (6) consecutive years of Anak T.V. seal Awards, a national award bestowed by various stakeholders (including parents, educators, business and media people, government, media, NGOs, the religious sector and youth) on T.V. programs airing on Philippine television, (whether locally produced or not) which are child-sensitive.
She is the woman of an extraordinary personality; not only in outside countenance, but also of her golden heart. She is the woman who is an angel to the mankind, as she portrays the real beauty of a natural being having an unusual looks that made her so fascinating and a good courage that made her compassionate.
The sexiest, the most beautiful and the most kind of all the actresses in the Philippines.
The only actress that has an angelic face and beauty at heart!

Let her name be famous in the whole world!
1, body is curvy she has boobs
2. Looks she is pretty appealling head turner
3. Skin complexion is sexy not so white not dark she has the skin for an international beauty
4. Athletic fit and.active
5. Bankable star
6. Acting wise proven already she is one of the best.actress
7. Character she has a good reputation not a trouble maker no bad attitude.she maintain herself.as a down.to earth woman

So many things to say and.mention
ANGEL LOCSIN EXUDES JOY, WARMTH, COMPASSION, SPONTANEITY, HARMONY AND GOODWILL. IT MUST REALLY BE A BIG BLESSING TO BE WITH HER. SHE SEEMS
LEVEL HEADED AND DOWN - TO - EARTH FOR SHE DOES NOT ALLOW HER SUCCESSES, ACHIEVEMENTS, AND POPULARITY SWELL HER HEAD. HER SIMPLICITY MAKES HER A RARE GEM SO MUCH SO THAT SHE BECOMES A REAL STAND-OUT EFFORTLESSLY IN ANY GROUP EXCEPT PERHAPS AMONG HER HATERS WHOSE MIND AND HEART, I BELIEVE, ARE WARPED BY BITTERNESS, ANGER, INSECURITIES, ENVY OR HANG - UPS.