Take That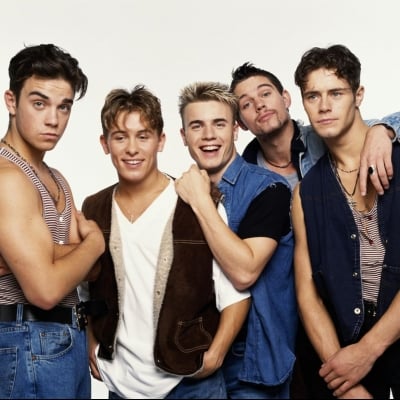 Uploaded by DynastiSugarPop
Info
Take That are an English pop group from Manchester, formed in 1989. The group currently consists of Gary Barlow, Howard Donald, and Mark Owen.
Comments
Top
Popular
Newest
Frankly, there is no one that has been or ever will be as good as Take That, no one's even remotely close to being on-par with these guys! They are the best live singers and put everything into their tours. They are professional, perfectionists, creative, they are all musicians, they write their own music and lyrics, their harmonies are out of this would, they have fun with their history but also continuously evolve, they have seen and been through tough times yet come out stronger every time. All others want to be like them, new bands or those also reuniting - they all want to emulate their success, they've all said it. And their story, you couldn't make it up, it is epic to say the least. They are simply the best, and I'm proud to have recognised it.
How the hell is Take That 21st?! The biggest boy (man) band of all time and they're 21st? WHAT IS GOING ON?! The biggest band reunion of all time! 11 number ones and 7 number one alubms says it all they should be up there at number one! 8 brit awards and selling out all they're concerts in record time, amazing music and inspriations and role models to everyone! Take That ARE the biggest boy (man) band of all time!
THE BEST UK boy/man band EVER, they worked to where they are, & have proved their longevity & fan loyalty. The ones today have NOTHING on them or the original boybands, getting on a T.V. show means NOTHING, working your butts off in small clubs & playing schools etc means more. Each member of TT compliments the others, no matter if its TT 5 or TT 4 they always produce hits & have loyal fans. Best selling UK group EVER. Groups today will not be even remembered in 20+ yrs let alone still touring & selling out stadiums the way TT are as well as other Original Boybands NKOTB & Backstreet Boys. Once a THATTER YOU ARE A THATTER FOR LIFE. My religion is TAKE THAT & I worship JASON ORANGE, MARK OWEN, GARY BARLOW, ROBBIE WILLIAMS & Howard Donald.
One of the only boy bands who have stood the test of time, not to mention they do great live performances.
Take That are the best band on the whole entire planet. Simple as. No other band has split up and came back after 10 years and still had the same fans as before as well as gaining billions more.
Their shows are extraordinary I mean, the giant robot for the progress tour and the amazing elephant at the circus tour! 11 number ones surely shows you how great they are as well as 7 number one albums. Does that show anything to you? 5 gorgeous men create the best boy/man band of all living time.
Take that are the gods of the boybands! Why? Because they're a man band! They have truly stood the test of time when it comes to the music industry. I think what makes them so special is that each member brings a certain aura with them. Mark being his cheeky self, Robbie with his confidence and unique performance style, Howard with his dancing and Dj-ing (great for their tours! ) and Jason with his quirky personality and enjoyment of all the aspects of being in the band, dancing, singing, instrument playing. And Captain Barlow, need I say any more than perfection?!
Take That were very popular in the 90's and had a big fan base. Since they reformed in 2006, they have an even bigger following - old and new with a new found respect. They work hard to produce great albums, and tours that are out of this world. They could potentially go on for many more years to come and I hope that they do. They are the ultimate boyband.
Take that is the only boy band that has matured into real artists far beyond the cheesy typical boy band fare. I love that they laugh about who they use to be and frankly who the other boy bands listed here still are. Two of their members have become extremely popular solo artists along with a third member whose solo work is just as high quality even if he doesn't receive the same accolades. Every other boy band, with the exception of Justin Timberlake, is near worthless as individuals. In short Take That is the best boy band because they've grown far beyond the base standards of the boy band genre.
You have NOT seen a concert until you've seen a Take That one! Goodness me do they put on a show! Boybands are ALWAYS compared to Take That, and want to be as successful as them so therefore they are the most famous! How many other groups have you seen sell out 8 nights Wembley Stadium in one tour and STILL have huge demand for more tickets? 'enough said! :o)
They are my beautiful babies, they are all individually talented and can participate in different things such as Gary being in the x factor, howard doing for to dance and the others boys doing gigs. There music is magical and no other boy band can compete with them because no other boyband is like them they are simply the best at what they do, they are my heros and I love then with all my heart and I can't wait for 2014!
Twenty years of career, in the music world, entertainment, the fashion, the culture etc, and has been for me the best group also a British Icon, European and of the world. His music has had great success being located at number one on the British charts and global, albums magnificent, lyrics and melodies wonderful. Take That for mi is one treasure very valuable in my life. Gary Barlow has been the motor of the group is a great leader and songwriter, Take That for me is and always will be my favourite group.
Gary has written some classics over the years: Back for Good, A Million Love Songs, Never Forget, Pray are songs that have passed the test of time, which is a testimony to what a true musician and songwriter can accomplish. Gary is also the voice and the sound of Take That and he's taken a boy band to a whole other level. Take That enjoy credibility, which is something all the other groups lack. They have made history with their comeback and nobody can top that.
I live in the United States and, frankly, NONE of the American "boy bands" can hold a candle to Take That! Take That has been able to grow from Boy Band to, well, "man band". They sound just as great in person as they do on their albums. Their shows are FANTASTIC. I have never seen them in person, but have watched them on video. Would LOVE to see them gain popularity here in America, so that I could see them in person! Take That is the only choice.
Take That didn't need social networking to get big, they did it purely based on hard work and dedication. They worked their way up to the top and God do they deserve it!
I don't think I need to say a lot about their tours, EVERYONE knows how amazing they are. They break their own records with fastest selling albums and tours every time they release one. Selling over 1.1 million tickets in a day... Need I say more?
Simply, The best band! The best men! They have given the best romantic music to the world! They are wonderful artists! I suggest They stop concentrating only in Europe and out to conquer the world... They will get it! Latin America, for example. I'm from Colombia and here in my country they are hardly known... But I declare the No. 1 fan of them on this continent.
In total, the group have had 27 top 40 singles and 16 top 5 singles in the United Kingdom alone, 11 of which have reached number 1, as well as having seven number 1 albums. Internationally the band have had 54 number one hits and 35 number 1 albums.
No other band will ever be able to take a 10 year hiatus and comeback to be even more popular second time around.
Take That are a man band that show the others inc. 1D how it's done.
I think Take That are more popular and more successful in their second incarnation as the WHOLE band contribute... The band is no longer built around Gary... And the different dynamic means we get to hear a variety of writing styles and melodies.
I can't wait for the new album... Whether it's composed with or without Rob is yet to be seen... Either way I can't wait to hear it :-)
Take That should be much higher, I love their concerts, they put on the best show and they write the most wonderful music. Hopefully they'll be around for ever
Among Take That are: Gary Barlow - the single greatest songwriter of a generation; Robbie Williams - undoubtably one of the best showmen of our generation. I have just seen Mark Owen perform his new album live - outstanding. Howard Donald - a beautiful vocalist and amazing dancer, and songwriter and Jason Orange, the quiet but stunning singer who has surprised us all with some superb vocals in recent years. Alone they are amazing - together they are quite simply MAGICAL. No contest really.
Loved them first time round. Love them even more this time. They are fantastic live and can't wait till 2015 to see them again. I am even the proud owner of a life size Gary Barlow cardboard cutout.

They are true professionals who know what the fans want and gives it to them every time. That is why they are and always will be the worlds greatest boy and.
A group of men with love and soul in there music, a thing I couldn't live without! After all I love them in my dreams at night and wouldn't cope without them laugh out loud THE BEST BOY/MAN BAND EVER even better than the Beatles and everyone loves the Beatles so just goes to show how far they have come and the years of dedication they have put into the music industry so thank you Take That x
To say they are not popular is an understatement. Retiring when they were at their most popular was a great move. They didn't know it then, but that was the wisest move. Because, in doing so and doing a comeback had made Take That one of the most successful bands, barring the bands from the 60s.
Take That, although they have been widely successful as a 5-member band, going to 4-person band didn't make them any less successful.
I would even presupposed that we can compare them as the FAB FOUR of the 90s that the Beatles were in the 60s and 70s.
The fact that they are successful is because all the members: Jason (I have to put him first, since he's most adorable, according to me), Howard, Mark and Gary (last because he's always been the lead in everyone's mind) get along so well with one another. No in-fighting. So much respect for one another. Staying healthy instead of imploding themselves with drugs and whatnot. In addition, at the very top of why they are very successful ~ ...more
They're live concerts are the best and the write all their own music. The most talented boyband ever
They write and their own music and lyrics, always thinking about their fans and always produce an amazing album followed by a spectacular tour. Not to mention they are still beautiful. They also have been through tough times but eventually have come back for good!
Unlike some boybands that were created on reality T.V. , Take That had earned their way to the top by auditions for managers and music big wigs. They went from playing clubs to stadiums in 20 years. Take That's break-up and reformation were sensational. All of them grew up gracefully and musically. They are first authentic UK boyband!