Westlife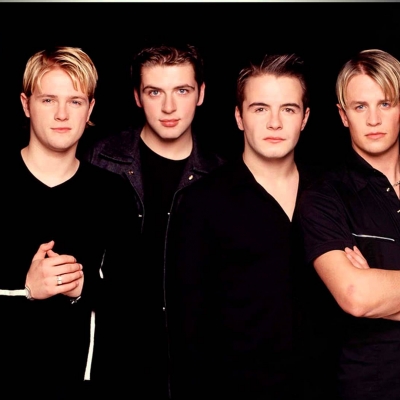 Uploaded by DynastiNoble
Info
Westlife were an Irish boy band, formed in July 1998 and disbanded in June 2012. Originally signed by Simon Cowell and managed by Louis Walsh, the group's final line-up consisted of Nicky Byrne, Kian Egan, Mark Feehily, and Shane Filan.
Comments
Top
Popular
Newest
Westlife is the only boybands who has a hit every year throughout their whole career for 14 years. Only boyband who break multiple Guinness World Records. Only boyband who are the best selling international artists OF ALL TIME in 2 countries. Only boyband who can sell out 85,000 people in 5 minutes and sell out that many people FOUR times after 10 years and beyond of their career. Only boyband who screen their concert live in cinemas in every continent of the world. Only boyband invited by the Pope to sing, only boyband invited to sing at Nobel Peace Prize concert for the awardees, only boyband who were payed millions by a King (of Brunei) to give a private concert. Lastly, when One Direction went to Africa, they didn't know One Direction and they called them WESTLIFE. Enough said.
Westlife are amazing. Westlife had so many fans and they still do #laramurphytopwestlifer honestly westlife are 100% the best boyband in history. Their farewell tour breaks my heart.. I cried watching that more than titanic..! That's a lot I cried more than england rains... Nicky is my favourite but its so hard to choose a favourite because they are all so perfect! The day they performed for simon cowell he signed them that exact same day... That's AMAZING! If it was any boyband now he would have to take some serious bribing I swear! One direction my arse, they can do one westlife are better end of.
I've been privileged enough to grow up listening to their music and as I've grown I've become more and more involved in their career and supported them through their career as a band. It broke my heart into pieces when they split up, I think I cried for hours.
They are the biggest and best boyband to have ever been around no matter what! Their songs and lyrics each have a different meaning to me and relate to me in every single possible way. I have all the albums, the singles, the items of clothing, I have a t-shirt and used to have pjs with their faces on I was that dedicated. Team Westlife! Best&Most amazing boyband within this decade I say!
I still remember when I first saw the MV of Westlife, I told myself that hey that is. Actually that year for me English is a bit of hard to understand, but there the love is. ShaneKianNickyMarkBryan, the five boys give me the fantastic memories-the whole 8 years of my life. I know that there's not everyone love them, but here's the thing, they did chang. Changed the whole world of my life, and many other people too. It's awesome of course! They are the best, I just know it!
Westlife were the most amazing boyband to ever step on this earth, they had 14 numbers ones and sold over 45 million albums world wide and also when they started out they got 7 continous number ones.
They disbanded in 2012 after a show in there hometown with a crowd of 85,000 people live at croke park which was also broadcasted around hundereds of cinemas worldwide so everyone westlife fan could see one of there most amazing, emotional and best ever show.
Westlife are the best band in the world by far. They sold millions of albums, sold out many shows through out all the uk arena's. Since there split in 2012 they still have the backing of all there fans in whatever the decide to do next myself personally I would love the boys to get back together miss them so much. Thank you Westlife for the best 14 years ever.
WESTLIFE is still number! No one can beat this boy band! 1D are just nothing!
They're 1st boyband make me loved with good voice, style and performance. They're perfect and handsome. I'll always support you guys.. They're THE BEST BOYBAND IN THE WORLD..
I don't know why people gets blind on choosing the BEST BOYBAND but as far as I know WESTLIFE beat those boybands that you guys used to know
Westlife the true emotional boyband
The boyband using their most enthusiastic heart
Westlife forever
The facts and figures say it all, as well as the fans! There's no others like these 4 guys - talented, funny, kind, gorgeous, genuine, showmen, down to earth and unlike many, they care so much about there fans and go above and beyond to do anything they can for us! They show us so much respect! They will never be praised as highly as they deserve! Westlife Forever!
The story of how I came to know who westlife is, is a pretty long story. I originally come from Africa, and I speak French. one day when I was about 7 years old I saw one of their music videos in T.V.. I really loved it! After a few years when I was nine almost ten, I came to America to live with my dad. I finally had technology so that I could search for who this band is or what they are like. But the problem was that I didn't where to start looking because I knew absolutely nothing about them. After 4years my little sister was playing in her iPad and she got up to use the bathroom and I told her that before she goes can she put some music on first. She was in a hurry so she just clicked on the first thing she saw. It turned out to be Westlife's song called "My Love" which is the song I've been looking for for 4 years now. That day was exactly on December 7th at exactly 3:19 PM.
Music theses days isn't what it use to be. Westlife is music easy on the ears and has feelings. Something that I can understand what they are saying, I have heard other bands play, to me I just don't like or understand them, I don't get the heart or feelings, that I get when I hear Westlife. So I have chosen to listen only to Westlife, they are the only one for me. They will always be Westlife Forever for me.
BUT FOR ME WESTLIFE IS MY BEST ALL TIME BOY BAND EVER :)
I LOVE THEM ALL
Westlife kick arse!
They were and always will be THE biggest/best boyband of all time.
Any boyband would be lucky to even have half the success that Westlife have.. 14years on top, couldn't be more proud!
Best boy band ever exist.. Legendary..
My love for westlife is forever and ever thil the last mile of my life only saw one concert back in 2003 kian is my favorite always gonna be in my heart love all the songs and albums wish hope and pray that westlife will comeback someday
Westlife is obviously the greatest boyband ever they have sold millions of albums made millions cry to their music have millions of fans all over the world.their music is so versityle it can be enjoyed by old and young people while one direction...not so much westlife sing about what they feel so many people can relate to their music because they feel or felt the same way but they did not know how to express it while one direction sing about parties and taking girls home and stuff like that and anyway they have only been here for two years and westlife for 14 so you can't compare westlife to one direction westlife has broken their own record so its like comparing lords to servants legends to myth westlife are legends can and never will be replaced!
Even though they are no more Westlife will always be the best band that there has ever and will ever be! 14 continuos years of success, not to mention 14 number ones which has yet to be beaten by another Boyband! Shane, Mark, Nicky, Kian and Brian all have great voices and its rare to find a band where all members can actually sing. Also no one puts on a show quite like Westlife! Their concerts are amazing! The fact that the sold out Croke Park (85,000 tickets) in 4 minutes shows how amazing they are!
By far the best ever boyband! I don't think anyone can beat their 14 number ones! Not even Take That can! They've had amazing success all over the world and one of the most nicest bands ever!
Westlife is my number 1 I'm speechless about westlife
All I can say it is awesome...
Westlife ate the best boy band ever they are sweet and charming and they brighten up everyone of their fans days when they hear their songs
Never stop believing in them that they are the best boyband in the world.
Absolutely westlife is amazing...all songs never been fade away...still intact in the hearts of the fans...all fans of westlife still active in Facebook griup account..sharing latest happening on westlife members...latest picture of them throwing back all the videos and song's...and exchanging hope and wishing that westlife back on the stage...once again with the former member Brian McFadden...all fans still following Brian all the way his single career...but still fans see him as westlife member...so all of the westlife fans...until this day...and the future days...still hoping one day WESTLIFE BACK ON STAGE...to sing a song from the hearts...all fans is still here waiting for that day to happen...I am a certified westlife fan...forever I love westlife...
I agree with those first 2 comment... Truly westlife is the best! Their songs are still alive every now and then...
Related Lists
Top Ten Songs By Westlife

Best Songs On Westlife's World of Our Own
Most Underrated Westlife Songs
Best Songs Between Westlife and 98 Degrees