Pakistan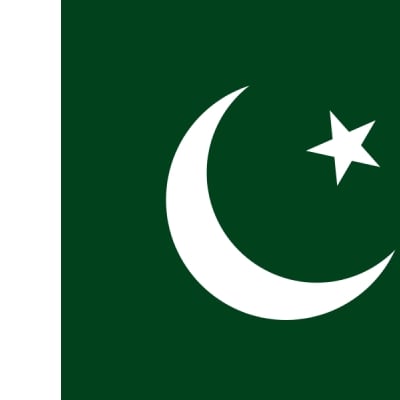 Found on wikimedia.org
Info
Pakistan was established in 1947 and is located in South Asia. Islamabad is the capital city of Pakistan and is known as the world's second most beautiful capital city. Karachi, Lahore and Peshawar are other major cities of Pakistan. Urdu and English are official languages of Pakistan. World's second ...
read more
.
Comments
Top
Popular
Newest
Pakistan is a place of pure hearted peoples. They are very hospitable and friendly. It is also known as "Land Of Pure Peoples" because their hearts are pure. This Country has got the beauty, beautiful places are there to visit. The 2nd highest peak of the world K2 is fabulous and the places of Khyber PakhtoonKhawa are like paradise. Please do visit Pakistan if you want to see beauty and also the friendly hearts of the people. Thumbs up for this country.
Best country in the world
Tasty and delicious food, the right of every citizen are safe
Even the non-Muslims are being treated well
Loving and caring people
Natural beauty is present everywhere especially the northern areas
JUST LOVE IT
Amazing country, amazing people! Although it has been marred by violence and terrorism in some of its areas lately, there is no doubt that Pakistanis are beautiful, loving and caring people.

And oh, the food is awesome too! It is Pakistan's bad luck that it's food is thrown under the umbrella of Indian food which is really bland and to be honest, tasteless compared to authentic Pakistani food!

I'm from Germany, have been to Pak once on a hiking trip, will go again!
Pakistan is one of the most diverse and beautiful countries in the world and has got everything Mountains and glaciers, deserts, plateaus, plains, fertile lands, sea, rivers, ice capped hills and some of the hottest places on earth and has the 6th highest population in the world. Long live pakistan
Pakistan is not diverse at all. The country is almost 100% Muslim. It is also not diverse in terms do physical regions. The temperature has never gotten below 26 degrees in Pakistan and that was at the top of a mountain. The USA has the new hottest temperature ever recorded on earth which is in Death Valley and the the 2nd coldest temperature in the world behind only Antarctica.
Despite All Of The Bomb Attacks And All Of The disappointment We Are The Best Nation We Don't Take Tension Because We Pray 5 Times A Day And We Are Happy For The Things We Have And Pray For Those Which Are Occupied By The Enemies Hail To Pakistan We Live In Danger Still We Are Developing Our Youth Huh Y'all Youth Are Nothing In Front Of Us We Know Everything And We Have Kashmir The Most Beautiful Place Of The World A Heaven On Earth Long Live Pakistan Hail To Pakistan
Pakistan got all the four seasons. That's really awesome...!
Pakistan is the best country. It people work hard and always make good records I have visited almost 50 countries and it is the wonderful country I ever gone
Pakistan is the most important country of the world. its is location at the center of the world. Pakistan is a link between middles east, south Asia and central Asia. Pakistan is the heart of the world. it has all the weathers of the world. The people of Pakistan are one of the toughest in the world
Pakistan is a country with loving people I am Canadian but I would love to say that Pakistan is most best
Country and Pakistani must be proud of it
Got a lot of fame and power in few years and no doubt that it will certainly become one of the most important country in the world.
Pakistan in rich in art and culture. Millions of carpets, glass work caps, jackets, best sports items, and many more are present in this region. Best rice, cotton, sugar cane and best agriculture soil for the growth of best food in available in Pakistan.
The Islamic Republic of Pakistan is located in South As It is bordered by Afghanistan and Iran to the west, India to the east, Arabian Sea and Gulf of Oman to the south, and China to the northeast. It lies adjacent to Tajikistan but it separated by Wakhan Corridor. Pakistan shares its marine border with Oman.A.
Pakistan is a land of agriculture and best place for investment because there people are very hardworking from other country
Pakistan is the first Islamic nuclear power. Pakistani army is the most talented and brave army in the world. Pakistani army is contributing its best to wipeout terrorism from the world. Pakistani armies sacrifices are even more than USA. Some people are spreading hate against Pakistan throughout the world and are also responsible for the destruction in Pakistan. - GandaNehru
Pakistan is one of the best Place in the world, I would rather say it is a heaven to live in Pakistan. If terrorism and corruption is controlled you guys will love to visit Pakistan. Mark my words... Pakistan Love you
Because Pakistan is my homeland
Pakistan is one of the most beautiful countries in the world with kind hearted people it is the only one islamic nuclear power it has a decent language places to visit are great over here
PAKISTAN ZINDABAD
I think that Pakistan is most country in the world after America because where ever you go in the world you will gonna see Pakistani peoples, their culture and their Mosques.
Pakistan is rightly the Switzerland of the East, at least from the beauty perspective. If only tourism gets developed in these areas and security concerns are kept under check, there is no stopping this majestic beauty from being a world leader. We surely have got resources; we just have to tap into them.
No amount of hatred and ignorance can shatter Pakistan, its not only impossible but silly to think people can misjudge an entire country and people. This country has a high resolve, there's so much Pakistan offers, but is disregarded as it's a Muslim (majority) country
Pakistanis are just the most hospitable people on earth and most caring and loving I love Pakistan!
Pakistan is worlds most beautiful country. We have every thing in our country that is world own. We have all natural resources, World's tallest mountains, 4 time hockey champion cricket champion, we have ocean, rivers and lakes. Too much beautiful Pakistan zindabad.
It is place of criminals. Everybody knows about its terrorism. I think this is most famous country because of osama bin laden.
Pakistan? Pakistan? How, Of all countries on earth, known? I didn't even know what Pakistan was until I saw a movie from a Girl about it, I don't even know where it is, Pakistan should not be on this list.
Related Lists
Top 10 Coke Studio Pakistan Renditions
Top Ten Best Administrative Units of Pakistan
Best Online Shopping Sites In Pakistan
Top Ten Motorways In Pakistan