South America's Most Famous People
The Top Ten
1
Diego Maradona (Football Player)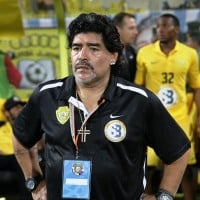 Diego Armando Maradona (October 30, 1960 - November 25, 2020) was an Argentine professional footballer. He was known for "The Goal of the Century" and the "Hand of God" goal. He died of cardiac arrest on November 25, 2020 at the age of 60.
Diego maradona was probably the mvp of soccer but its close between leonel Messi and diego maradona
Best person at football ever
This person is amasin I have met him in real life
A classic legend
2
Pele (Football Player)

Edson Arantes do Nascimento, known as "Pelé", is a retired Brazilian professional footballer who played as a forward. He is one of the best players in football, hence why he's nicknamed the "king of football".
Pele is the black pearl man he is too good he was very young when he started football and he got bullied but he pulled through and outdid all
The most awesome guy I have ever met. Great football player
He is the best football player in the world
Pele oh he was boss I like to call him word pele
3
Leonel Messi (Football Player)
He's AWESOME AND HE IS COOL! I think he is a good goalie. He is the best current soccer player in the world. (in my opinion) He is a really good player, and I wanted him to win :( at least he gets one vote. I think he should have gotten at least second, after Pele, because he is the best current in the world.
He is the best current soccer player in the world, so I decided he should be voted for at least once in this. He is a really good player, and I wanted him to win :( at least he gets one vote. I think he should have gotten at least second, after pele, because he is the best current in the world.
Messi is god of football
Messi is much better than any football player of his generation
Brilliant player never seen anybody play football like it he's just awesome and cool
4
Ayrton Senna (F1 Driver)

Ayrton Senna da Silva (21 March 1960 – 1 May 1994) was a Brazilian racing driver who won three Formula One world championships for McLaren in 1988, 1990 and 1991 and is regarded as one of the greatest Formula One drivers of all time. He was killed in an accident while leading the 1994 San Marino Grand ...read more.
Truly a man of good will. Despite all the times he might've been cheated out of victories, he showed the people of Brazil what hard work could achieve. He felt guilty being born in a richer family, and in the country of Brazil, the gap between poor in rich is still wide. He believed everyone should be given a fair chance, and he planned on making a school for anyone to learn, before the tragedy struck in what became his last race.
Hey people. Ayrton Senna had to be THE BEST formula 1 driver in history, by far. he sadly died one day doing what he loved, racing. he was amazing, with tons of awards. do you know how much he meant to so many people? Please vote for him, the man who changed racing history for all formula 1 fans. please.
Ayrton Senna is a epic driver, sadly, he had a car accident when he was driving. He has no injured or anything, but he don't breath. I was crying when I heard the news that he had a terible car accident.
F1 driver yeppie come on people vote for him if he wins you will regrete this
5 Paulo Coelho (Author)
6
Luis Suarez (Footballer)

Luis Alberto Suárez Díaz is a Uruguayan professional footballer who plays for Spanish club Barcelona and the Uruguay national team as a striker.
Bite an Italian again I dare you
Best striker at the moment
7
Evo Morales (President)

He was an coca farm owner before he was voted president
8
Antonio Valencia (Soccer Player)
The South American with the most started games in Premier league History. The only spit american to wear the capitan armband fro Manchester United.
He's plays for the best team
He made ecuador proud
Valencia is a Ecuadorian soccer player who plays for Manchestet United one of the fastest players in the world
9
Shakira (Singer)
Shakira is epic! She rocks and she is the best Gazelle in the world!
She is the worlds best singer and she is married to gerard pique
She's the most famous South American in the modern world.
Great! Lots of info on her!
10
Ernesto Che Guevara (Revolutionary)
I am an admirer of rebels, so I naturally think that Che is the coolest person ever
Legend man, firm to his object. He devoted his life to freedom!
It's so amazing that he dedicated his life to tis laugh out loud

LEDGE!
He is number one forever not some footballer
The Contenders
11
Sonia Braga (Actress)
She is like so epic doing a exam on South American famous people she was the first I could think of EPIC
great actress
12
Eva Peron (First Lady)

María Eva Duarte de Perón was the second wife of Argentine President Juan Perón and served as the First Lady of Argentina from 1946 until her death in 1952. She is usually referred to as Eva Perón, or by the affectionate Spanish language diminutive Evita.
Wife of Juan Peron & First Lady of Argentina.

The musical "Evita" was based upon her.
13
Neymar Jr (Soccer player)

Neymar da Silva Santos Júnior, commonly known as Neymar or Neymar Jr., is a Brazilian professional footballer who plays for Spanish club FC Barcelona and the Brazil national team as a forward or winger, and is also the captain of the national team. ...read more.
Neymar is the super star of Brazil. He ross
I like him because he is better than Messi
The best soccer dribbler in the world
He my best soccer player and cool
14
Hugo Chavez (Venezuela President)

Hugo Rafael Chávez Frías was a Venezuelan politician who was President of Venezuela from 1999 until his death in 2013. Chávez was also leader of the Fifth Republic Movement political party from its foundation in 1997 until 2007, when it merged with several other parties to form the United Socialist ...read more.
An incredible man who fought for freedom and the same rights for all.
The revolutionary of South America! A great man! Equality for all...
He is very much still talked about
15
Pablo Neruda (Poet)

Pablo Neruda was the pen name and, later, legal name of the Chilean poet-diplomat and politician Ricardo Eliécer Neftalí Reyes Basoalto (July 12, 1904 – September 23, 1973), he won the Nobel Prize for Literature in 1971.
I picked pablo because he is really really good at writing poems
One of the greatest poet of all time.
I love his poetry
amazing poet
16
Carlos Gardel (Singer)
A really good singer
great music
17
Gabriel García Márquez (Novelist)

Gabriel José de la Concordia García Márquez (6 March 1927 – 17 April 2014) was a Colombian novelist, short-story writer, screenwriter and journalist. ...read more.
I don't think Carlos Gardel or Selma Braga will be remembered in 200 years, but Gabriel Garcia Marquez certainly will. This list should be comprised of people who are worthy to be known.
To write is to give joy to others, and giving joy is the best thing you can do for yourself and every-one else. That is what she does best.
Great novelist of all time.
i love you
18
Simon Bolivar (President)
Why isn't he higher on the list? This guy basically liberated most of South America from the Spanish empire.
19
Ronaldo Luís Nazário de Lima (Footballer)

Ronaldo Luís Nazário de Lima, commonly known as Ronaldo, is a Brazilian retired professional footballer who played as a striker. Popularly dubbed O Fenômeno, he is widely considered to be one of the greatest football players of all time.
20
Don Francisco (TV Hostl)
I think don francisco is the worst greatest T.V. host!
I watch him every day he needs the award.
He is brill
21
Pablo Escobar (Drug Lord)

The most famous Drug dealer to have ever lived, he revolutionised the Colombian drug trade and was a millionaire at 21. Know as the the Colombian Robin Hood he was stern and charitable, famous for his 'plato o plomo' philosophy (silver or lead/bullets).
22
Olivia Hussey (Actress)
fabulous darling
23
Ronaldinho (Football Player)

Ronaldo de Assis Moreira, commonly known as Ronaldinho or Ronaldinho Gaúcho, is a retired Brazilian footballer.
24 Melanie Cross (Actress)
25
Radamael Falcao (Soccer Player)
Only the best sttriker ever
PSearch List