Kris (EXO-M)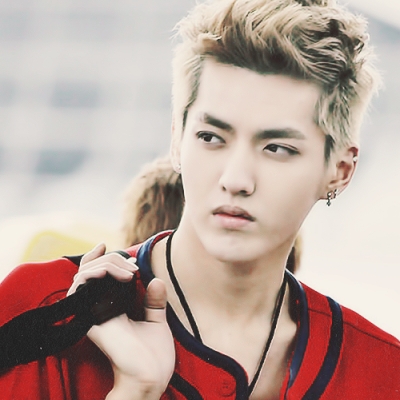 Uploaded by TaeBooty
Comments
Top
Popular
Newest
He handsome, can speak many languages, good at basketball and tall. And oh? Who can forget his sexy husky and seducing manly voice? He can take care of his members (EXO M) and also ACE. He's also a fillial son :) he loves his mom so much also his friends and his fans. There's one incident when they're going back to their hometown 'because its Chinese new year. The guards keep on pushing his fans. He said to the guards that they shouldn't do that 'because they waited too long just to see him. He didn't take the VIP route even if he's sick that time. He even held the hands of his fans and said thank you. He wants to improve himself the most at dancing. We all know the he's not the best rapper, but who cares? There's something in him that we can't over
Kris should be number 1. He is insanely handsome and SEXY. Plus he is a leader. Luhan is handsome too, but he gives out a more "pretty flower boy" image, he is not very manly. But, Kris has a "Sexy and mature MAN" image which is much more appealing.
KRIS is the most handsome member of Exo.
Kris is so gorgeous is he even human? How is it possible to look that gorgeous? His face and body. Tall and handsome. Just basically from every angle in those fan's photos Kris is just perfection. He is the definition of perfection in the dictionary.
Kris's face is absolutely perfect. All his features are natural which is amazing, and you know he actually takes care of himself. Honestly, he's the one who got me hooked on exo.
For me, Kris deserves the 1rst position, I know that Luhan is so handsome and cute at the same time, but Kris has something that captivate me when I look his photos and the way he smiles :) so cute too! It's a little difficult say exactly the difference between both of them, so Kris is #1 then Luhan (#2), etc.
He is a living perfection. So handsome/Hot.
I think he is the most handsome cute and charming member of exo.. I really love the voice of this guy... He is very sweet caring and loving to his other member.. I really like him becauce he makes his other member laugh if they have a problem.. He is a very supportive friend.. Maybe the others see that kris is not really handsome.. Yah! I know but I like him because of his attitude.. So please vote for him.. He rally needs your vote...

I don't know if this is just a rumor that kris is leaving exo... Please don't!
Kris is the most handsome member in exo ohh my god I love him I never likeb k-pop b'because they act so cute even they are ugly n luhan ooh my god I thought he was a girl at first like amber after knowing that he was a boy I thought everybody in the band was like him but when I saw kris everything changed he was so handsome I love him he is like a manga character the dazing hero just like usui takumi and the ugliest are chen n lay. kris is the best the others are girls in this band
I think Kris is the most good-looking he is my ultimate bias, but Chen and lay are not ugly
Kris is the most handsome guy I have ever seen. He is not only tall bu also smart. His fashions are incredible. He is very perfect including his personality. He respect his fans and people around him and he is so responsible and the role of leader very suits him. He is the most handsome leader ever.
For me, Exo really is full of good-looking and hot members! It would be hard to rank them but.. KRIS really got my attention! KYAAH! He is so damn handsome and HOT! Epitome of PERFECTION! His eyes, his nose, his lips... HIS EVERYTHING! Kris is one hell of a DREAM GUY!
I agree with you that everyone has their own preference but I also think that if you're the type of person that likes cute guys then luhan is the guy for you but if you like handsome guys then kris is the obvious choice for you.
His special lips... His sexy eyes.. His fluent languages... His towering height.. His respectable personality... His cool demeanor.. His great sense of fashion... His everything
If I had to choose who is/was the most handsome member of exo, I would choose Kris (before Kai of course) because there is just something about his face that draws my attention, I think it's his eyebrows that got me interested, and his lips that kept me interested. I mean, come on, HE'S SO DAMN HANDSOME! - girlygirl12
I love kris so much, aside from his cuteness he also great in dancing.
It so amazing if a guy is good looking and talented and nobody could deny it
I'd never appreciate EXO before but when my fellow Kpoper in school saw some picture of Sehun I was surprised that there was a man who has really handsome..but when I started to search the other members of EXO... There was a boy that really caught my eyes and it was KRIS! I REALLY LIKE HIM SO MUCH.. HE IS THE MOST HANDSOME KPOP THAT I'VE EVER SEEN
The first time I watched Growl I'm not really interested, I admit Sehun was the first who caught my eye and in last... It turns out I really has a thing for Kris
Luhan is number 1? Impossible! Why? Why is Luhan number 1. I really don't like Luhan. Number 1 should be Kris. He is the most beautiful, most handsome, most manly and cuitest guy in EXO. He is a good leader of EXO-M. His smiles are the best and cuitest. He has got a really manly voice and face. And his face is really cool. He can speak two languages and more. I think Kris should be number 1. Vote him more please!
He looks like Lee Min Ho's younger brother. He looks perfect. He is very handsome. and like an angel that down to Earth.
I think Kris should be rank number 1 good looking among exo member because he is the tallest, most handsome, look extremely cold person from the outside but he is very funny in real life.
Really lovely. He is not only good looking but also handsome. He makes me to forget to breath air. Opa your so lovely and handsome.
Hot Hot!, smart, good looking, leadership skills, charismatic, linguist, lady killer (somewhat), family oriented, strict, kink... Uh knowledgeable, a bit naive. Does not like to be a puppet with or mistreated, silent but deadly.
Best guy ever
If you look beneath that tough guy persona, you will see who he is.
Never before had I felt for a Kpop guy but now I do. It's like I have been obsessed -. - He is more perfect in real life than in photo. You would definitely forget about your bias for awhile after seeing his perfect look. He is tall and has a small face but with beautiful angkles and sharp eyes... I could go in talking about his look forever as I remember reading some fan acc saying that they lost their mind seeing Kris and also forget about their bias :)) that is how handsome Kris is!
I've never seen anyone as handsome as him before. I wonder if he's even human?
Kris is the definition of Tall and handsome in the encyclopedia. You don't need to like kpop to appreciate that Kris is handsome. Perfect face and body. Long legs like a model.