Most Influential Boy Bands
The Top Ten
Westlife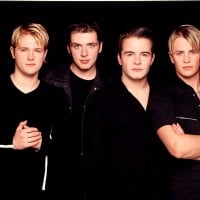 Westlife were an Irish boy band, formed in July 1998 and disbanded in June 2012. Originally signed by Simon Cowell and managed by Louis Walsh, the group's final line-up consisted of Nicky Byrne, Kian Egan, Mark Feehily, and Shane Filan.
Westlife is the best boy band in the world for me... They really diserve for being most influential boy band because their songs are great to hear and very memorable once you play it. I've never seen any failure in this boy band. They are very successful because they're so popular in world wide. One of my biggest dream is to meet them someday, I'll go to Ireland and I want to meet them one by one personally. Especially I will be the most happy person if when I meet my idol Mr. Nicky Byrne, it will be the day that I will be treassure and memorable for me :) Westlife is the best! Even they are already split up, for me they will be in my heart forever and never be forgotten. I Love them so much... :) ♡
Greatest band ever! I grow up listening to their songs such a great privilege to be a fan! God! I just love them so much! Can't wait for the reunion concert! I just want to make this out! ILOVEWESTLIFE! I LOVE NICKY some say love it is a river but I say love it is WESTLIFE! true fan can only know and relate in the lyrics
Westlife is number 1 for me forever, there music was my comfort throughout my cancer treatment and I will always be grateful to them for that, they are truly an amazingly talented bunch of guys. And it also doesn't hurt that they are all totally gorgeous. xxx
No Words are needed they were & always will be the best, they're very sadly & sorely missed as a band but I'm delighted for them all doing amazingly well with their solo careers & they'll carry on doing well wishing the guys & their families all the happiness health & success 2016 & onwards! #ProudLifer #ProudFilaner
Backstreet Boys

The Backstreet Boys are an American vocal group, formed in Orlando, Florida in 1993. The group consists of AJ McLean, Howie D., Nick Carter, Kevin Richardson and Brian Littrell.
Don't agree? Listen to their songs such as: "Show me the meaning of being lonely", "Incomplete", "Never Gone", "Unmistakable", "Inconsolable", "Show 'em what you're made of". Those are just a few examples of the deep messages within Backstreet's song lyrics. You have to understand that their music has come a long way and continues to influence groups of all ages.
They are awesome. Show me the meaning, As Long As You Love Me, Incomplete and still counting. They are the best.
The are THE BEST... No words to say...
They are truly amazing and I think that they should be #1 on the list so many of their songs are so influential and inspirational and they are still going strong for 22 years!
One Direction

One Direction (commonly abbreviated as 1D) were a British-Irish pop boy band based in London, composed of Niall Horan, Liam Payne, Harry Styles, Louis Tomlinson, and previously, Zayn Malik until his departure from the band on 25 March 2015. The group signed with Simon Cowell's record label Syco Records ...read more.
They are extremely inspirational while being pleasing to the teenage female eye. You probably have no idea how many girls and maybe even guys have problems out there. I've heard SO MANY stories of teens who have been going through a tough time, just like the boys. Listening to them and what they've been through has helped them as well. I think One Direction is a 100% Influential band.
One direction copies music they can't make their own
They inspire me and tons of other girls, and they influenced you to comment here even if it was hate.
I don't get it. How is 1D INSPIRING? - Minecraftcrazy530
Boyzone
Boyzone I love them too ❤
Exo

Exo is a South Korean-Chinese boy group based in Seoul. Formed by S.M. Entertainment in 2011, the group debuted in 2012 with twelve members separated into two subgroups, EXO-K and EXO-M, performing music in Korean and Mandarin, respectively.
Exo are the most talented dancers. Their music doesn't focus on just one genre. And they have the most good looking members.
EXO has so many handsome members like SEHUN
Exo is the most influential boy band ever.
Exo will be on top in the near future
N'Sync
Come one N'Sync was everyone's crush! Without them, where would JT be? Super cute, plus so much talent!
New Kids on The Block

New Kids on the Block is an American boy band from Boston, Massachusetts. The band currently consists of brothers Jordan and Jonathan Knight, Joey McIntyre, Donnie Wahlberg, and Danny Wood.
They laid the red carpet out for all to follow, they are fantastic, 5 hot talented guys x
New Kids laid the ground work that all the other boy bands followed
Without these guys the other boybands wouldt exist! New kids are the best!
I'm not a fan of NKOTB but I agree, if there are no NKOTB, there will no other boy bands!
Maroon 5

Maroon 5 is an American pop rock band that originated in Los Angeles, California. Before the current group was established, the original four members, Adam Levine, Jesse Carmichael Mickey Madden and Ryan Dusick, formed a band known as Kara's Flowers in 1994, while they were still in high school.
Adam Levine is a horrible singer.
I think he's good
SS501
Take That

Take That are an English pop group from Manchester, formed in 1989. The group currently consists of Gary Barlow, Howard Donald, and Mark Owen.
The best band in the world.. They Rule...!
They have influenced other boy bands since their sucess in the 90's. Without Take That there would have been no Boyzone, Westlife, Five, Blue, The Wanted, One Direction, etc, etc.
Well.. EVERY pop band from Britain female/male has cited TT as inspiration and most across Europe.
They were the inspiration for Boyzone and highly cited by Backstreet Boys and NSYNC who had witnessed early on the dominance in Europe and Asia first hand (Backstreet Boys only became a big act after Take That departed and struggled during TT presence/domination).
The Contenders
BTS

BTS, also known as the Bangtan Boys, is a seven-member South Korean boy band formed in Seoul in 2013.
Loving Artists of the year! They love their fan in any ways they wanted y
to!
Very talented
Best boy band in the world. best best best. will have you crazy with their music. BOMBASTIC! THAT'S WHY IT HAS THE MOST LOYAL FANBASE IN THE WORLD A.R.M.Y! FIGHTIMG!
The Jackson 5

The Jackson 5, or Jackson Five, also known as The Jacksons in later years, is an American popular music group. Formed in 1963 under the name the Jackson Brothers, the founding members were Jackie, Tito, Jermaine, and Marlon.
There

The best love them and their cute #1 no contest bun the rest
Best boy band... Period
The Osmonds
They are the greatest band ever.which other band has been performing of over 54 years
I love the "Osmond Brothers" I had there pictures plaster all over my bedroom
Walls, when I was younger. I still love them today.
Big Time Rush
Just the best band EVER they have totally changed the world to a better place for all us Rushers and music fans.
Well... personally... the BTR guys are the best! They are the sweetest guys I have ever known... they help people and their songs send a good meaning... the songs aren't just about love... they are really cool and inspiring... their whole journey is inspiring... I love them!
This shout out goes to the best boy band ever in the history of man kind BTR. #kendall_james_logan_carlos. Much love from me to y'all. Your music has changed my life so much. I want you guys to know that there are so many people out there that love you even if they never had the chance to meet you. Love you and I hope to see you guys getting back together.#rusher_for_life
These guys are amazing and inspirational. I'm a PROUD RUSHER <3 I've been to 4 of their concerts which were AMAZING nothing was better than that. These guys are my role models and I love them. The guys and their music saved me. The song cover girl always cheered me up when ever I was down... RUSHER FOR LIFE LOVE YOU GUYS Kendall, Logan, James, and Carlos.
Il Volo

Il Volo is an Italian pop trio, consisting of singers: the baritone Gianluca Ginoble, and two tenors, Piero Barone and Ignazio Boschetto.They describe their music as "popera".
These 3 young men are suceeding in introducing real music to the youth of this generation, and bringing it back to all ages. Their audiences are 3 generations strong, with sold out shows or thousands. They Gianluca 18, Piero Barone 20, and Ignazio Boschetto 19. All 2 of them have soaring voices you would not believe, yet each of them has their own special sound. Classical, pop, even Sinatra tunes. Classy, elegant, fun, multilingual, and handsome. If your not familiar with them, look for them on you tube. You'll be hooked! The are not the typical "boy band". They are refreshingly different.
This group of 3 Italian young men, 18-19-and 20 yrs old, are drawing thousands, in sell out audiences in USA, and around the world. Their voices are spectacular, lyric tenor, spinto tenor and baritone, and are introducing "real music" to a new generation. Their fans represent three generations coming together. They sing in 6 different languages and offer selections from pop, to classical, and even a little Latin spin. You'll be hooked, the first time you see them!
Brings a new music experience to all ages at the same time--having no age barrier to the listeners---embraces different styles with true enjoyment.
Gifted.. Bridging all ages through the love of music--pure enjoyment
BIGBANG

Big Bang is a South Korean boy band formed by YG Entertainment. The group consists of 4 members: G-Dragon, T.O.P, Taeyang, and Daesung.
Super Junior

Super Junior is a South Korean boy band. Formed in 2005 by producer Lee Soo-man of S.M. Entertainment, the group comprised a total of thirteen members at its peak.
The member are amazing to there fans. They have angelic voices, flawless dance moves and, are role models.
Super junior the best
I love Super Junior
Love them so much
The Beatles

The Beatles were an English rock band formed in Liverpool in 1960. The members consisted of John Lennon, Paul McCartney, George Harrison and Ringo Starr. They were soon known as the foremost and most influential act of rock era. Rooted in skiffle, beat, and 1950s rock and roll, the Beatles later experimented ...read more.
Seriously, 1D shouldn't be on here. Have they made albums as influential as Abbey Road (In my opinion, the best Beatles album and the best album of all time! Just my opinion. ), the White Album, Sgt. Pepper's, or Rubber Soul? Name one album. You can't cause 1D is just a crappy boy band with no talent and will not do anything to revolutionize music. But The Beatles did. For example, that dirty guitar in Revolution created hard rock. Helter Skelter created heavy metal. And The Beatles influenced most artists after them to take up the sword of music, One Direction among them. And who did One Direction influence? Nobody! The Beatles deserve the top spot and although they ended their career as a rock band, they started off as a boy band and paved the way for other boy bands. 1D are not even halfway close to the influence of the Beatles. The Beatles were, are, and will be the best for centuries to come and will continue to influence people. One Direction will be forgotten in a few years and ...more
They should be number one
The Monkees

The Monkees are an American rock and pop band originally active between 1966 and 1971, with reunion albums and tours in the decades that followed.
Boys II Men
Hands down the best
S4
A1
Best songs that they make
The Wanted

The Wanted are a British-Irish boy band consisting of members Max George, Siva Kaneswaran, Jay McGuiness, Tom Parker and Nathan Sykes.
Awesome group!
Miami Band

Hanson
PSearch List