Top Ten Most Legendary Supermodels
The Top Ten
1
Cindy Crawford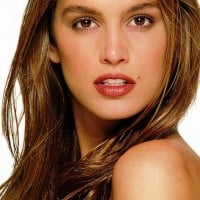 Cynthia Ann "Cindy" Crawford is an American model. Her 30 years of success at modeling made her an international celebrity that has led to roles in television and film, and to work as a spokesperson.
Her Trade Mark is Mole above her lip.
Has been on the cover of more than 600 magazines worldwide, including "Vogue", "W", "People", "Harper's Bazaar", "ELLE" and "Allure".
First modern supermodel to pose for "Playboy".
Ranked #5 on "Playboy"'s list of the 100 Sexiest Stars of the Century.
This sexy chick is on top of the food chain on the top tens! As Quagmire say, "Giggity! "
Cindy used to be so gorgeous and that body... Wow.. Naomi, Gisele and Kate? No thanks.
A real beauty! Cindy Crawford is the best! She should also be Miss Universe!...
2
Gia Carangi

Modelocomo her dynamic, hardworking and know that it is very rapid passage of anonymity pair glory and much faster to oblivion, so that he could not say no to those who would hire. Along comes the pains, tiredness, exhaustion and with the family problems in childhood and youth, ended tragically and very young, his career. Estraria today, with 53 years in toasting with much joy and his captivating smile. At least will always be in our prayers and forever in my heart.
I think Gia was so beautiful. The model that did so much to model was so misunderstood. Gia was her own woman. Gia made women look as though she could do anything she wanted. Gia is a inspiration to all models that came after her. Beauty is so hard to see some times but Gia was just beautiful. I vote her Queen of all the models. No other model has been like her ever not afraid to express herself
I agree she should be at the top of this list she is a one of a kind unique beauty, she was the original the best and the trend setter for all models coming after her, she did everything with ease cause it all came naturally, so sad to of lost her so young I'm sure she would of been somewhere big in film if she had to still be with us, cause she wanted to do movies.
Cindy Crawford at the top of the list? Come on... It should be Gia, it was the resemblance with Gia what made her famous, all the photographers and the magazines wanted somebody like Gia, somebody natural, somebody who could open her soul to the camera and make people look inside of them, somebody who could turn into anybody in front of the camera, that was Gia.
3
Naomi Campbell

Naomi Elaine Campbell is a British supermodel, actress, and singer. Recruited at the age of 15, she established herself amongst the top three most recognizable and in-demand models of the late 1980s.
Naomi Campbell is very pretty and I like how she made history, by becoming the first black woman to appear on the cover of French Vogue magazine. I also like how she was in Michael Jackson's music video "In the Closet". But I've would've liked her a lot more if she hasn't got an attitude problem.
I don't like Naomi Campbell at all and at least I'm being honest. But hopefully she gets to appear in more runaways often because she is more stunning than the newer models. Plus. I'm NOT a huge fan of the newer models and the Instagram models. Naomi Campbell is BEAUTIFUL.
Naomi Campbell is very beautiful. Even though I don't really like her because of her attitude, she should be number one. (Though she sounds like a man when she gets hostile).
First black female model on the cover of French Vogue, British Vogue, and Time Magazine. Chosen by People magazine as one of the 50 Most Beautiful People in the world.
4
Tyra Banks

Tyra Lynne Banks is an American model, television personality, talk show host, producer, author, actress, singer and business woman.
She's the best in the world! Her show "America's Next Top Model" just reached Cycle 18 and Tyra Banks Show is one of the best talk shows in the world. She's also more than a millionaire. Her black beauty is undefeated!
I watch America's Next Top Model ALL the time. And I just think she is the most beautiful person in the WHOLE UNIVERSE! I just wish I could be like her. She is the best!
She is a modern day pioneer for how models should translate their careers to T.V./Film, etc. I've always heard her described as a model mogul.
Best supermodel so far in the history of modeling... She is fierce
She can do anything.. She is the best in the world...
5
Linda Evangelista

Linda Evangelista is a Canadian model. She is regarded as one of the most accomplished and influential models of all time, and has been featured on over 700 magazine covers.
Was ranked #2 (after Cindy Crawford) on MTV's "House of Style" (1989) list of the top models of the 1990's.
Has changed her hair color a minimum of twelve times.
Was ranked #8 in Channel 5's "World's greatest supermodel".
Her Quote "I don't get out of bed for less than $10,000 a day" was one of the best PR steps in history.
Come on Linda is the supermodel! She id one of the Trinity with Christy and Naomi. The cameleon model, she could looks glamourous, classy and original. I love all her works, she is ont the most beautiful but she is never boring.
Face, Attitude, and Body. She is what supermodels strive to be! When ever you opened a fashion mag in the 80's and 90's she was in. She was on every runway show there was!
Linda should be #1. No other could be such a chameleon like she was and still is to this day. Absolutely stunning like no other
6
Heidi Klum

Heidi Klum is a German model, television host, businesswoman, fashion designer, television producer, and occasional actress.
Voted as #9 on the Top 100 Sexiest Women 2004 in FHM
In 2008, she earned $3,800,000 as a model/spokesperson for Victoria's Secret.
In 2008, Forbes reported her income from various interests at $14 million.
Was named one of the 50 Most Beautiful People by People Magazine in 2001.
Heidi is naturally beautiful. A real looking woman who needs no artificial anything.
I like her best in AGT
7
Gisele Bundchen

Model of the millenium! Made Victoria Secret look fashionable. The body! Over a decade as the highest paid model! Come on! She's it!
She is shuch a role model along with great super model. She is naturally peautiful and she is simply one of the best supermodels out there.
I ever envied her wonderful body! I love every top model in this list but I prefere Gisele! The greatest!
Never even knew who she was until she married Tom Brady.
8
Claudia Schiffer

Claudia Maria Schiffer is a German model, actress, and fashion designer currently living in England. She rose to fame in the early 1990s as one of the world's most successful models.
What? She isn't #1? By a long shot the most iconic, legendary and influential supermodel of the 90's!
Hot girl. If you don't know you better ask somebody. Top five in the 90s for sure.
She should be a the top! 500 magazine covers come on!
Gorgeous and just pure perfection
9
Kate Moss

Katherine Ann Moss is an English model and businesswoman. Born in Croydon, Greater London, she was discovered in 1988 at age 14 by Sarah Doukas, founder of Storm Model Management, at JFK Airport in New York City.
Kate is innovative and changed the standard of beauty to appreciate waifish women. But where is Gia carangi? Cindy Crawford is number one and she wouldn't had a job if it wasn't for Gia. When Cindy started modeling she was called baby Gia. This makes me mad :/
One of the more controversial supermodels, primarily because of her unusually low weight during the early part of her career.
Although she is one of the world's top fashion models.
Ask anybody a name of a top model they would answer Kate Moss. Certainly one of the most controversial and famous model ever. And that face, she is so magnetic and mysterious!
Kate Moss for me is the Best... Nobody even compares to her.. Her zero figure was such a rage and can ever create the rage again
10
Elle Macpherson

Elle Macpherson is an Australian model, businesswoman, television host and actress. She is known for her record five cover appearances for the Sports Illustrated Swimsuit Issue beginning in the 1980s, leading to her nickname "The Body", coined by Time in 1989.
Natural beauty, seemed like the girl next door type. I miss the days she graced the covers of magazines. Also, where is Kathy Ireland? How can anyone forget about her?
One of the world's top fashion models.
She was in Batman & Robin.
The Contenders
11
Helena Christensen

12
Iman

No offense, but that picture might give me nightmares.
She's not pretty.
13
Suzy Parker

14
Twiggy

I am old enough to know that Twiggy was the world's first supermodel. She was the first to become a household name and only 5'6! Twiggy and Cheryl Tiegs, who was 5 inches taller than Twiggy, were and are the original supermodels. They started it all. The magazine covers, cosmetic contracts, ads and you know when you have become a supermodel when you become a household name.
Indeed. Twiggy will always be the world's first supermodel. And the fact that she was short,way shorter than the required height makes it even more celebrated. Twiggy broke the mold for shorter models like Kate Moss and Devon Aoki. Twiggy was the first to become famous and a household name around the world.
She was unique,innovative and totally original. Kudos to Twiggy!
Her makeup is cute
15
Paulina Porizkova

Dear master porizkova. Your alien eyes have turned me into a square faced alien like you. You are not from earth and you and I will alienate the world
She is beautiful. Great eyes. Great features. Perfect symmetry and bone structure. She is striking. Any fool could see that.
She has hypnotized me into being her slave. All hail master porizkova you have seduced me.
Master we meet again. My face is now square like yours
16
Christy Turlington

She rocked when the blondes ruled and brought beauty with appealing character in vogue. She knows her face and body and uses her fame for intelligent and consistently great causes. One supermodel who remained natural and real proving beauty comes from within- though of course she is flawlessly beautiful as well on the outside. Good luck and God bless, Marti.
Appeared in the nude for a PETA poster stating, "I'd rather go naked than wear fur".

One of People Magazine's 50 Most Beautiful People.

Has been on the cover of nearly 1,000 magazines since 1987 including Vogue, Allure, Harper's Bazaar, Esquire, and Elle.
Yep, she's does look sexy in those panties from the Calvin Klein's company! I might just wanna make out with her right now!
Come on now, no one has Christy's face. She's basically sculpted and should be topping this list.
17
Christie Brinkley

She is D only model who got even better with age...she is 62yo and look's FANTASTIC! She did not aged and can still rock any cover!
The most popular model of all time!
18
Eva Herzigova

I could've s worn this was Nicole Kidman when I first looked at her. Great beauty and great similarity! I think Nicole modelled for a little while but preferred acting.
One of the world's top fashion models.
Was ranked #15 in Channel 5's "World's greatest supermodel".
She looks like Nicole Kidman in this photo.
19
Karen Mulder

20
Cara Delevingne

She shows the human-ly side of models wherein they aren't all just strict this and proper that. They're just ladies.
Her statement with the eyebrows... amazing
21
Laetitia Casta

She has appeared on over 100 covers of fashion magazines such as Cosmopolitan and Glamour, as well as doing commercials for the cosmetics company L'Oreal.
Has a brown belt in judo.
Laetitia made her feature film debut in Asterix & Obelix vs. Caesar(1999), the most expensive French film ever made and a smash hit in Europe.
Laetitia is good actress too.
The word glamour itself is French, so it's entirely appropriate that the most legendary model should be French herself.
She's one of the few that has the shape of a real woman, not a washboard.
22
Brooke Shields

Brooke Christa Shields is an American actress, model and former child star. Initially a child model, she gained critical acclaim at age 12 for her leading role in Louis Malle's controversial film Pretty Baby, in which she played a child prostitute in New Orleans at the turn of the 20th century.
Yet one of the few brunette supermodels of the late 70's/early 80's. An icon and one of Scavullo's favorites. She was the youngest model ever to appear on the cover of Vogue (14 years old), had a fashion doll named after her and became a household name.
90's kids are extremely lucky to have rolemodels like her...
Nowdays It's all those Fake kardashians
23
Kate Upton

Kate Upton is an American model. She is best known for her appearances in the Sports Illustrated Swimsuit Edition, and for her status as a sex symbol. She is married to Houston Astros pitcher Justin Verlander.
24
Marilyn Monroe

Marilyn Monroe (born Norma Jeane Mortenson Baker; June 1, 1926 – August 5, 1962) was an American actress, singer and model. Decades after her unexpected death, she has remained one of Hollywood's greatest sex symbols with her eye-catching style, champagne blond hair, and breathless manner of speaking. ...read more.
she should be number 1
she should be @THETOPTEN
25
Jean Shrimpton

The best face ever, never tire of looking at her photos. I have been fascinated by her for 50 years. I gave my daughter her middle name of Jean in her honor. She will always be the most beautiful model ever to me. I love the photos of her as an "old woman", she certainly aged better than I. I wish her happiness.
I think that is was and still is beautiful she has the most stunning eyes and mouth and she made everything she wore look twice as good as any other model and she never compromised her morals by posing half nude. she didn't need to do that, she had class and probably still does
Yes, Jean, the most beautiful, weather hippie or lady like she always looked amazing.
In my opinion, the #1 top model of all time. She has no equal.
PSearch List