Pakistan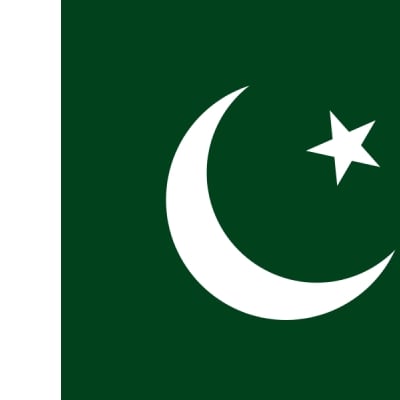 Found on wikimedia.org
Info
Pakistan was established in 1947 and is located in South Asia. Islamabad is the capital city of Pakistan and is known as the world's second most beautiful capital city. Karachi, Lahore and Peshawar are other major cities of Pakistan. Urdu and English are official languages of Pakistan. World's second ...
read more
.
Comments
Top
Popular
Newest
Pakistan has one of the fastest growing economies. In partnership with many countries, Pakistan's economy is growing rapidly. Poverty rates are going down. Pakistan has grown 250% in literacy since freedom. Corruption will be very scarce in the coming years and the system of Pakistan will be fair. Pakistan has many services to provide to it's citizens and that is growing too. An obstacle is the border and citizen security. Pakistan should also improve it's environment by keeping the cities clean.
We are forgetting the Housing bloom in Pakistan where ten new cities have been created out of nothing by only one group, the Behria town. The housing market alone has generated a trillion dollars economy, likely o multiply five times by 2020. Pakistan also sits on one of the largest Gold reserves (estimated two trillion dollars), the China Pak economic corridor will link Kashgar with Gwader port in Pakistan at the cost of 35 billion dollars, ushering in huge trade and commerce. Pakistan could move up economic ladder at a surprisingly fast pace linking Central Asia with warm waters. Pakistan is also becoming an energy conduit from Gulf and Central Asia to energy hungry India and China, th prospects are unimaginable.
Army has to play role in getting rid of terrorism and economical terrorism. Once this done Pakistan will be on track. As a Pakistani I believe that Army is the only institution that people trust. Politicians here are very corrupt and looting country with both hand.
Pakistan surely should be ranked on the top of the because in the near future robots, money, prosperity etc would not be counted. The thing that will matter will be nuclear power and there is no doubt that Pakistan will take the place of uk and america as a leading nuclear state. On the other hand Pakistan's economy is also increasing and it will become the5 largest economy by 2020 plus Pakistan is also successfully getting rid of terrorism with the help of its military operation, one should not close his eyes
Seriously Pakistan. 41 % of Pakistanis don't have bathroom, half of the population is below poverty line, ranked worst in global corruption index number, called as Somalia of Asia, highest number of terrorists attacks, highest number of producing terrorists, more than half of the population are illiterate, worst infrastructure, ranked worst in Asian country in global happiness index, one of the most weakest military despite of having large number, unstable economy etc etc
Pakistan has enormous talent that the world recognizes. The nation became united against war against terror and in response to big natural disasters during recent history and proved harmony among the general masses. Pakistanis want to live in peace and to have good relationship with our neighbouring countries and understand that improved business ties and enhanced trade with India could lead both countries to new heights of economic race. Having ultimate belief in Almighty and confidence in world's best army, we have no fear of anything. We've almost kicked the terrorists out of country and now look forward to new horizons that are being opened for the talented youth of Pakistan. We just hope that some deficiency of capable/honest political leadership will also be filled sooner that would pay attention to some prolonged problems and find ways to exploit and optimize the natural resources.
ACCORDING TO MOODY,S REPORT PAKISTAN IS GOING TO RULE THE WORLD IN 2020 AND INDIANS WHY DO U ALWAYS SAY NEGATIVE ABOUT PAKISTAN REMEMBER THAT WE LIVED FOR MORE THEN 100 YEARS TOGETHER WE ARE BROTHERS AND SISTERS INDIAN PEOPLE ARE SWEET BUT THEIR GOVERNMENT HAS SPOILED THEIR REPUTATION IN THE WORLD BY PUNISHING MUSLIMS AND BRUTALITY IN KASHMIR U HAVE TO ACCEPT THAT MY BROTHERS EVERY ONE HAS THE RIGHT TO LIVE LOVE you PEOPLE
Pakistan will never be a super power I am afraid
Come on loser, China, India, South Korea, Japan, South Africa, Brazil, Russia, all the European countries and American countries are more superior than you guys. Accept the reality.
Yeah obviously Pakistan is going to be the next super power in the world because Pakistan has one of the strongest atomic bomb power in compare to other countries and have missiles that from world is feared... On the other hand Pakistan also have one of the most strongest army and brilliant air force..
Pakistan just because of its geo strategic position can be the hub of future economy as after the advent of nuclear age wars will be fought on the basis of economy. It borders the two most populous countries of the world. Only if good relations can be maintained.
No matter it's a poor country but in respect of its armed forces and its intelligence agencies it is a future threat and superpower to all.
Pakistan is also in the candidates of future great power. Likewise India, Pakistan has huge population which mainly contain young. Pakistan has world fifth largest army and the world first and only Islamic nuclear power.
We are best in all forms. We got honest government, best army, fastest growing industries, hardworking labour, lowest corruption ratio, lowest poverty level than India, world 7th atomic power so it's 75% chances that Pakistan would be future superpower. Long Live Pakistan
Pakistan surely become a super power in the world just because of the China Investment in Pakistan about $46 billion and definitely this huge investment boosts up the economy of Pakistan and we all see a new face of this country..!
One of the largest English speaking Population in the world. Fastest growing nuclear arsenal in the world. Influence over the Central Asian states and Middle East. Best Friend of China and now Russia.
80% of natural resources yet to be explore most of population is young and literacy level is increasing Pakistan is going to BOOM
Pakistanis are a resilient nation. No other nation has the capability of dealing and withstanding odds of terrorism with such courage and unity.
Pakistanis should not forget why this beautiful country was created and that too on 27th of Ramadan, Friday. We must know that its creation was a miracle and for a purpose. Pakistan is spiritually protected country. We have to believe in the strength of Pakistan. We have to follow the Ideology on which this country was created. This little Pakistan will not only lead Ummah but the World also IN SHA ALLAH. Can't my Brother and Sisters see how Pakistan is taking direction towards its ultimate destiny. Pakistan is a place from where the renaissance of Islam will take place. This will be a Model State for the World based on State of Madina. Have trust in Allah (swt), Avoid sectarianism and kick Corrupt politicians then our final destination will be more visible.
Young generation is always considered the asset of a country and it plays a primary role in the development of that country. In Pakistan, a country where more than fifty percent population is comprised on people who are between 16 to 30 years of age.
Final destination cannot be taught it is evident since its inception. Come what may it will be the superpower of the world In Sha ALLAH
With one of the most rapidly progressing economy and most dominating defense power Pakistan has ability to rule the world and there is no doubt that pakistan is future super power
Pakistan is the great country because it has great fighters
In future, nothing will matter except the public's pride and love to their country and as much as I hate saying it, they do stand a chance
Pakistan is country of idiots they are never going to develop. It is country which export only terrorism.
Related Lists
Top 10 Coke Studio Pakistan Renditions
Top Ten Best Administrative Units of Pakistan
Best Online Shopping Sites In Pakistan
Top Ten Motorways In Pakistan