Kim Jaejoong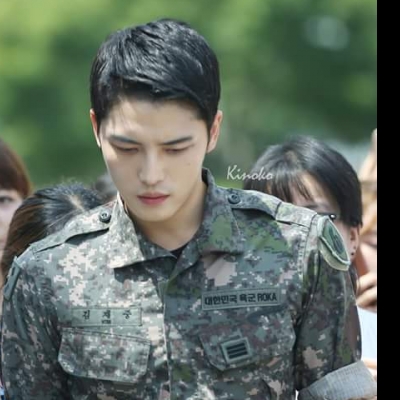 Uploaded by yunjaelove
Info
Kim Jae-joong, also known mononymously as Jaejoong, is a South Korean singer, songwriter, actor, director and designer. He is best known as a member of the Korean pop group JYJ, and was one of the original members of boy band TVXQ.
Comments
Top
Popular
Newest
His voice is really wonderful and unique. You can soon distinguish his voice from all the other voice. His voice let a person feel comfortable and relaxed. His range is very wide, and can sing all kinds of different types of songs, like rock, pop, ballad, R&B, etc.
First singing voice that moves me to tears. Don't know why but when I listen to Living like a dream, I feel my heart breaking in my chest, tears scroll down my cheek automatically, I think that is Jaejoong voice power... Unique and beautiful voice...
Kim Jaejoong has one of the most unique voice I've ever knew cause he could sound manly but yet angelic at the same time. He also has a very versatile voice that is able to sing any genre.
I like his voice. His voice is amazing, powerful and outstanding. He is so talented that he can handle any kind of songs. Every time I listen to the songs sung by him, I really enjoy it. I can realize his voice as soon as I hear the song!
Kim Jaejoong is the best singer in my heart! His voice is so beautiful, wonderful and amazing! His singing cured my heart! Every time I hear his singing, I will get the courage. Because of him, I love music more than before. His singing makes me happy. I really love him very much!
Kim Jaejoong, with a gorgeous rainbow tone, create belong to own unique voice, heard him sing, like the mind obtained comfort.

In the course of his is just an angel in the world lost, with his pure soul to sing the rhythm.

Kim Jaejoong, I love you.
I love him as my hero and numen. His voice is like the rill flowing in my heart, cleaning my soul and making me feel happy. I love his voice more than myself, and I can't help listening to him every day and night. Kim Jaejoong, your voice is eternal!
He could performance many kinds of music, gentle or wild. When he songs, you could be easily attracted into his voice. And his eyes can make you feel those songs' stories. His voice, his eyes, his talent and his charm, all about him appeals to us.
The first thing that caught my attention is Jaejoong's voice. His voice is very distinctive and easily recognised. You can feel the different emotions in his voice when he sings, without overdoing it. The first time I heard his voice, I didn't know who he was and how he looked like. His unique husky voice is something special that I haven't heard before. His vocal range is very wide, and how he can reach high notes impressively without neglecting the emotion is what I love whenever I listen to his and his groups' songs.
And his looks is a big bonus!
His voice is so touching, emotional and get you involved in whatever scenery he wants to bring you in. The main vocal of TVXQ is no joke, despite all five of them can sing so well. He's not only gifted, but he also worked very hard to be a good singing. Love Jaejoong!
Kim Jaejoong, who is my only love. His voice is very unique, I have never heard a better voice. He always try his best to sing, I proud of him! And his voice make me feel so good and comfortable... I will always keep the faith, Kim jaejoong!
Kim JaeJoong is a perfect singer, his voice is so beautiful that I always fall in his voice. I think he is the best one and his voice is really unique. He can sing many kinds of music. I never forget his voice.
The thing about Jaejoong is that his voice as beautiful as his appearance. He is amazingly talented. His voice is unique charming and oh-so-beautiful! I could listen to him the whole day and never get tired of listening. It's just amazing!
I love his voice. He has an angelic husky voice that we called "rainbow" voice. His voice can make someone fall in love easily. He has a wide range vocal with unique technique. He's definitely a great singer. I love hearing his voice so much.
In my opinion, his voice is pure. Because he has a pure heart. Every time when I heard his voices and his song, I can feel his enthusiasm and his effort.
To get his present voice, he had to work really really hard. Though he can enter in his previous company beacause of the award of the Best Appearance, now he prove himself by working hard.
He has a strong command of his voice, and his voice has a high recognition, you can be easily touched by the emotion filled in his songs, I was always moved when I listened to his songs, I think he is great.
Every time I heard your voice, I will be so happy. I think you have the most beautiful voice, so I love you so much. They always say we are so crazy. But I think, it's wise of me, to consider you as my only hero!
I don't know how to describe his voice. I just know when I hear his voice, no matter if I look at him, I know it is he.
And I hope Jaejoong can come to China more often. There are many fans here and we are looking forward to seeing you in our motherland!
His voice is the most beautiful in the world. Many people want to be like him, but nobody can imitate his voice. Kim jaejoong's voice is not only beautiful but unique.
His rainbow voice is almost unheard of in the industry! Ability to sing emotional ballads, ballistic rock music, traditional Korean folk songs as well as modern pop with ease with his sensitive tone is a pleasure to the ears!
He's voice is beautiful. When he sings ballads, all your stress gets washed away and it calms you down. His voice is also beautiful with other genres. Just simply perfect.
His voice is wonderful. Almost everyone likes his songs because the songs can make us feel the world.
His voice is like rainbow. So beautiful and charming. It can heal my soul and spirit. There is no doubt he is best. His songs makes me comfortable and relax. I firmly believe he is the best one.
If he began to sing, you will never forget his voice. He can change his voice into many other forms. His voice called rainbow voice by people. Not only his voice but also his face are all beautiful. I love he so much.
Kim jaejoong's voice makes me touched when he talking or singing, he is the most charming man in the world!