Top 10 Best Motorsports
The list of the top 10 motorsports in the world from Formula 1 to Moto GP.
The Top Ten
1
Formula 1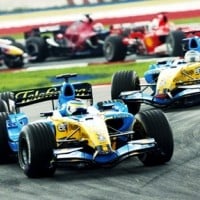 Formula One is the highest class of single-seater auto racing sanctioned by the Fédération Internationale de l'Automobile (FIA) and owned by the Formula One Group. The FIA Formula One World Championship has been one of the premier forms of racing around the world since its inaugural season in 1950. ...read more.
Brilliant sport...
Definitely the best
Very Cool
The drive for perfection is insatiable for the drivers, the teams and thrilling for the spectators.
2
Nascar
Nice
Buggedy buggedy buggedy boys lets go loving nascar
Simply the Best, from a supporter in Australia
The best
3
Monster Jam
This is the best motorsports that no one can top that!
4
Drag Racing
Most participants of any.
Raw True Power.
real fast
Drag racing if my favorite when I get older I'm going to drag race in my cars - DwarrenX
5 Monster Truck Racing
6
Moto GP
I appreciate all forms of racing, but every race in MotoGP is a RACE from start to finish. If riders are with 1.5 seconds of each other in the last lap, the final corner or finish straight will determine the winner. The physics are insane. Many times I can't comprehend how the rider can corner in the wet at incredible speed while passing another rider and not crash. I've been riding for 30+ years, so a little biased. Formula 1 is like chopping down a tree while MotoGP is fast, beautiful and heart-breaking at times. Yes, I watch F1 every race
That adrenaline
If you like motorcycles you are probably going to like this sport, like I do. F1 is just so boring(in my opinion), its only fun to watch the highlights on youtube. Some tracks they go on for like 60+ laps.
MotoGP is unpredictable and have close fight between other riders and also have big drama in every races not like F1 (he started on pole and most of them will be in win or podium) not in motogp
7
IndyCar
The best racing going. Both road course and round track formats are exciting.
Nobody works harder in open wheel racing than an IndyCar driver. You can argue all you want about them not being as fast as F1 on a road course, but driving this vehicle at it's limit for an entire race with wheel to wheel action is, in my opinion, the toughest racing around.
I have difficulty understanding why indycar is placed number 7. As a formula 1 fan I cannot appreciate indycar more. With races like the indy500 not only being physically challenging, but also being mentally strenuous as the drivers race at very high speeds with very little margin for error.

Yes, indycar is slower than f1, but in a straight line an indycar is significantly faster even though it has 250hp less than f1. They also weigh a lot more because of the extra protection for drivers so that crashes at very high speeds can be safe, as indycars tend to crash at much higher speeds.

If you still think that indycar is too slow because of the cota timings. Consider this, when was the last time f1 raced on an oval circuit, and what happened? Even if f1 tyres did not blow up due to the extreme tyre loading on an oval circuit, they would still be a lot slower than indycar, simply because f1 cars and indycars are designed to excel at different types of racing and therefore ...more
The best racing series no one pays attention to! Indy is the best! A diamond in the rough.
8
Stock Car Racing
The brazilian Stock CCar series are very competitive and to win, you need much more than just an fast car...
9
WRC
Driving at speeds of over 130 mph on multiple terrains (Dirt, gravel, snow, asphalt) with sharp turns where drivers are sliding sideways at 100mph plus and crazy jumps going at top speed. The drivers (co drivers) and the cars need to endure more than probably any other other motor sport in the world.
The sport is quite amazing because the cars are all standard road cars you can buy today for very little but the tuning and skills that go into each stage is truly amazing, and the sport has such a rich history of rivalries like Lancia VS Audi, Subaru VS Mitsubishi and the entirety of Group B.
This is truly the king of motorsports
If you like driving around in circles this is not the sport for you.
Yes
10
V8 Supercars
Bathurst 1000 is the best racing event in the world
What is this doing in tenth!
it's cool
Number 1
The Contenders
11
Rallycross
Super cool
Super Cool, I went to see it in Austin, TX
Really Cool
Super Rad
12 Truck Racing
13
Motocross
Extreme sport.
14
Supercross
YAS BEST - Ninja12589
15
Endurance Racing
I think that it is a fight for teams to finish and win and pretty much a very intense sport
Don't stop racing because driver chipped a nail like they do in F1 or as I call it the boreathon
16
Touring Car
So much more competitive than f1
This has to be higher! I mean, see these different teams, drivers, all in these spread out tracks in the UK! You see different winners every year, every week, every race. Such an action packed sport. Go Aiden Moffat!
Just awesome. So much action
For me the BTCC is much more interesting than F1. BTCC provides more action, it really takes the phrase "Rubbin' is racing" to the max. I mean think about it, when last did you see a crash like the one for Rob Austin at Brands Hatch in F1? Every lap is exciting because there is someone always trying to get as high as they can, even if they cause a bump or two. F1 the slightest bit of contact you have to pull in the pits and will cost you $ 1 000 000 to fix - Danielsun182
17
Formula E
This is the future of Motorsport - kk51
With Gen 2 cars released, the race is more intense and fast-paced. 8 races with 8 different winners from 8 different countries, that's how intense the race has been for 2019. Love it much more than F1, in the sense of competition.
Good
Best motorsport out ther
18
24 Hours of Le Mans
The best should be number one
Sick ting bruv
20
Speedboat Racing
Should have been speedway bikes (solos)
I do this it's great fun, I live in Aus
21
Go-karting
Close action packed racing, the roots of all the big names in motorsport. more to it than your standard arrive and hire karts! Karts racing at 80+mph with drivers being within hundredths of a second of each other!
22
DTM
For me, it's a series that is seriously underrated as most of the races are seriously fun to watch. - Kwaysar
23
Formula Drift
Cool cars racing sideways at 80 mph!
I love it the smell of burning rubber and seeing them go sideways around the corners my fave is the 25 RTR mustang.
Drifting is fun to do and it is great fun to do.
If it ain't sliding, it ain't fun
24 Red Bull X-Fighters
25
Sprint-Car Racing
It's the best man and beast
Real racing, no politics, just man (and women) and machine.
Sprint car racing is very similar to NASCAR, but it is on a smaller oval that is made of dirt not bitumen. Racers who's dream is to race in NASCAR usually start here racing sprint cars which are a bit easier, then work their way up.
IT IS THE BEST
26
Formula Two
Formula 2 and F1 are very similar
Both great and fin to watch
27
Isle of Man TT
Men on fast bikes, on small roads. Only more dangerous series I can come up with off the top of my head is Group B
28 Super GT
29 United SportsCar Championship
30 Air Plane Racing
31 GP3
32
Motorcycle Sidecar Racing
The Best
33
World Superbike
Just about EVERY manufacturer represented. Turks, Taiwanese, englishmen, American riders fighting. what can be better than this?
34 TC 2000
35 Formula Ford
36 Moto3
37 V8 SuperUtes
38 Barstool Racing
39 Jet Ski Racing
40 Grand Prix Motorcycle Racing
41 Moto2
42 Formula 3
43 Red Bull Soapbox Racing
44 Tractor Pulling
45
ADAC GT Masters
Very competitive series
46 Formula 4
47 Speedway Bikes
BAdd New Item