Best Movies of Arjun Sarja
Arjun Sarja also known as Arjun is an Indian actor, who works in Tamil, Kannada and Telugu Movies. He is also known as "Action King", because of his Stunt Sequences. He has been dominating as an Actor for the past 3 Decades. Here is the list of his Best...

The Top Ten

1 Mudhalvan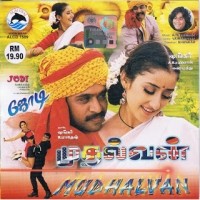 Starring: Arjun, Raghuvaran, Manisha Koirala, Vadivelu, Manivannan
Direction: Shankar
Year: 1999
Genre: Political Thriller
Verdict: Blockbuster
The film ran for over 100 days in theaters
Mudhalvan was one of the Top grossing Tamil film of 1999.
Remade in Hindi as Nayak (2001) starring Anil Kapoor (2007) and in Bengali as Minister Fatakeshto with Mithun Chakraborty in lead roles.
Critics: Positive Reviews
Awards:
The film won 3 Tamilnadu State film Award and 3 Filmfare awards
*Tamil Nadu State Film Award for Best Actor - Arjun Sarja
*Tamil Nadu State Film Award for Best Villain - Raghuvaran
*Tamil Nadu State Film Award for Best Music Director - A. R. Rahman
Nominated - Tamil Nadu State Film Award for Best Comedian- Vadivelu

*Filmfare Best Music Director Award - A. R. Rahman
*Filmfare Award for Best Female Playback Singer - Tamil - Vasundhara Das for "Shakalaka Baby song"
*Filmfare Award for Best Dance Choreographer - ...more
2
Rhythm (2000)

Starring: Arjun, Meena, Jyothika, Ramesh Aravind, Nagesh, Lakshmi
Direction: Vasanth
Year: 2000
Genre: Musical Drama
Verdict: Blockbuster
Critics: Highly Positive Reviews
Awards:
*Tamil Nadu State Film Award for Best Audiographer - Shivakumar
*Cinema Express Awards - Best Actress - Meena
3
Jai Hind (1994)

Starring: Arjun, Ranjitha, Goundamani, Senthil, Manorama
Direction: Arjun
Year: 1994
Genre: Action
Verdict: Blockbuster
A sequel titled Jai Hind 2 was released in 2014.
Critics: Positive Reviews
4
Karna (1995)

Starring: Arjun, Ranjtha, Vineetha, Goundamani, Senthil, Ravichandran
Direction: Selva
Year: 1995
Genre: Action
Verdict: Super Hit
Critics: Positive Reviews
The song Malare Mounama set to raaga Darbari Kanada became an evergreen hit
5
Sri Manjunatha

Starring: Chiranjeevi, Ambareesh, Arjun, Soundarya, Meena, Brahmanandham
Direction: K. Raghavendra Rao
Year: 2001
Genre: Biographical (The film is based on the life of the Saivam devotee, Bhakta Manjunatha of the Kotilingeshwara Temple)
Language: Kannada & Telugu
Verdict: Super Hit
Critics: Positive Reviews
Accolades:
The Kannada version was screened in the International Film Festival of India
6
Thaimel Aanai

Starring: Arjun, Saroja Devi, Raghuvaran, Ranjini, Madhuri, C. L. Anandan
Direction: L. Raja
Year: 1988
Genre: Action Drama
Verdict: Blockbuster
Remade in Telugu as Raktha Tilakam (1988) starring Venkatesh and Amala and in Hindi as Pratikar (1991) starring Anil Kapoor & Madhuri Dixit
Critics: Positive Reviews
7
Gentleman (1993)

Starring: Arjun, Goundamani, Madhoo, Senthil, Charan Raj, Shubasri
Direction: Shankar
Year: 1993
Genre: Vigilante-Heist
Verdict: Blockbuster
Remade in Hindi as The Gentleman in 1994 by Mahesh Bhatt starring Chiranjeevi.
Critics: Positive Reviews
Awards:
1993 Tamil Nadu State Film Awards
*Best Actor - Arjun Sarja
*Best Director - Shankar
*Best Music Director - A. R. Rahman
*Best Female Playback Singer - Sujatha - "En Veetu Thotathil"

41st Filmfare Awards South
*Best Film - K. T. Kunjumon
*Best Director - Shankar
*Best Music Director - A. R. Rahman
8
Shankar Guru (1987)

Starring: Arjun, Seetha, Sasikala, Baby Shalini
Direction: Raja
Year: 1987
Genre: Action
Verdict: Super Hit
Critics: Positive Reviews
9
Hanuman Junction

Starring: Arjun, Jagapati Babu, Laya, Sneha, Venu Thottempudi
Direction: Mohan Raja
Year: 2001
Genre: Action Comedy
Verdict: Blockbuster
Remake of the Malayalam blockbuster Thenkasipattanam (2000)
Critics: Positive Reviews
10
Prasad (2012)

Starring: Arjun, Madhuri Bhattacharaya, Shankalp, Ramakrishna, Ramesh Bhatt
Direction: Manoj Sati
Year: 2012
Language: Kannada
Genre: Drama
Verdict: Super Hit
Critics: Positive Reviews
Awards & Accolades:
Kannada State Film Award - Best Actor - Arjun
The film was screened at the Berlin Film Festival, along with fellow Indian film Don 2
The Contenders
11
Simhada Mari Sainya

Starring: Arjun, Amrish Puri
Direction: Rajendra Singh Babu
Year: 1982
Genre: Action Drama
Language: Kannada
Verdict: Hit
Critics: Positive Reviews
Simhada Mari Sainya was Arjun's debut film.
Awards:
1981â€"82 Karnataka State Film Awards:
*Best Editor (K. Balu)
*Best Female Child Actor (Baby Rekha)
12
Mettupatti Mirasu
Starring: Sivakumar, Arjun, Radhika
Direction: Anu Mohan
Year: 1994
Genre: Drama
Verdict: Hit
Critics: Positive Reviews
13
Sadhu (1994)

Starring: Arjun, Raveena Tandoon, Vijayakumar, Goundamani
Direction: P. Vasu
Year: 1994
Verdict: Super Hit
Critics: Positive Reviews
14
Maa Pallelo Gopaludu

Starring: Arjun, Poornima
Direction: Kodi Ramakrishna
Year: 1985
Verdict: Blockbuster
The film ran for 365 days in 3 centres
Critics: Positive Reviews
15
Padicha Pulla

Starring: Arjun, Seetha, Goundamani
Direction: Senthilnathan
Year: 1989
Verdict: Hit
Critics: Positive Reviews
16
Subhavaartha
Starring: Arjun, Soundarya
Direction: P. N. Ramachandra Rao
Year: 1998
Genre: Romantic Drama
Language: Telugu
Verdict: Super Hit
Remade into Tamil as "Mannavaru Chinnavaru" which also had Arjun & Soundarya in lead roles.
Critics: Positive Reviews
17
Ezhumalai

Starring: Arjun, Simran, Gajala, Mumtaj, Asish Vidyarthi
Direction: Arjun
Year: 2002
Genre: Action Drama
Verdict: Super Hit
Critics: Mixed Reviews
Despite citing mixed reviews at the time of release, this movie ran well and had good box office collections.It completed 200 days theatrical run.
It is the remake of Telugu Blockbuster Narasimha Naidu (2001) starring Balakrishna.
18
Yaar?

Starring: Arjun, Jai Shankar, Nalini, J. V. Somayajulu, Rajinikanth (Cameo)
Direction: Shakthi-Kannan
Year: 1985
Genre: Horror
Verdict: Hit
Critics: Positive Reviews
19
Bommalattam (2008)

Starring: Arjun, Nana Patekar, Kajal Aggarwal, Rukmini Vijayakumar, Manivannan, Vivek
Direction: Bharathiraja
Year: 2008
Genre: Thriller
Verdict: Hit
Critics: Positive Reviews
20
Marudhamalai

Starring: Arjun, Vadivelu, Nila, Lal
Direction: Suraj
Year: 2007
Genre: Action Comedy Masala
Verdict: Super Hit
Critics: Positive Reviews
21
Vaathiyar

Starring: Arjun, Vadivelu, Malika Kapoor, Prakash Raj, Manivannan
Direction: A. Venkatesh
Year: 2006
Genre: Action
Verdict: Above Average
Critics: Positive to Mixed Reviews
22
Ottran

Starring: Arjun, Simran, Vadivelu
Direction: Ilakannan
Year: 2003
Genre: Action Drama
Verdict: Hit
Critics: Positive Reviews
23
Puttintiki Ra Chelli

Starring: Arjun, Meena
Direction: Kodi Ramakrishna
Year: 2004
Genre: Drama
Verdict: Hit
The film ran for 100 days in six centres
Critics: Positive to Mixed Reviews
24
Irumbuthirai

Starring: Arjun, Vishal, Samantha
Direction: P. S. Mithran
Year: 2018
Genre: Action Thriller
Verdict: Blockbuster
Critics: Positive Reviews
Dubbed in Telugu as Abhimanyudu
25
Vismaya (Nibunan)

Starring: Arjun, Prasanna, Vaibhav, Varalakshmi Sarathkumar, Shruthi Hariaharan
Direction: Arun Vaidhianathan
Year: 2017
Genre: Crime Thriller
Verdict (Karnataka): Super Hit
Critics (Karnataka): Positive Reviews
Verdict (Tamilnadu): Average
Critics (Tamilnadu): Positive to Mixed Reviews
It was Arjun's 150th film
PSearch List