Top 10 Best Jaishankar Movies
This list is a collection of best movies of legendary Tamil actor Jai Shankar.

The Top Ten

1 Nootrukku Nooru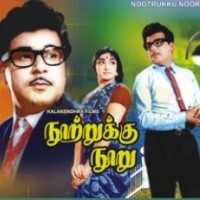 2
Pattanathil Bhootham

3
Kuzhandhaiyum Deivamum

4
Vallavan Oruvan

Starring: Jaishankar, L. Vijayalakshmi, R. S. Manohar
Direction: R. Sundaram
Year: 1966
Genre: Thriller
Verdict: Blockbuster
Critics: Positive Reviews
The film earned Jaishankar a nickname Thenagathu James Bond. The success of this movie, led to a sequel named CID Shankar in 1970.
5
Poova Thalaiya

6
Manipu

7
Nawab Naarkaali

8
Yaar Nee?

9
Akka Thangai

10
Neelagiri Express

The Contenders
11
Nee

12
Veetukku Veedu

13
Cid Shankar

very interesting detective movie
14
Naam Moovar

15
Anbu Sagodharargal

16
Kaliyuga Kannan

17
Ore Vaanam Ore Bhoomi

18
Iravum Pagalum

19
Naangu Killadigal

20
Iru Vallavargal

21
Thedi Vandha Lakshmi

22
Ponnu Mapillai

23
Athaiya Maamiya

Starring: Jaishankar, Ushanandhini, Nagesh, Thengai Srinivasan, Kanthimathi, Manorama
Direction: Chithralaya Gopu
Year: 1974
Genre: Comedy
Verdict: Hit
This film ran for 10 weeks
Critics: Positive Reviews
24
Thunive Thunai

Starring: Jaishankar, Jayaprabha, S. A. Ashokan
Direction: S. P. Muthuraman
Year: 1976
Genre: Action Thriller
Verdict: Runaway Hit
25
Kadhal Paduthum Paadu

Starring: Jaishankar, Vanisri, Jayanthi
Direction: Joseph Thaliath Jr.
Year: 1966
Verdict: Hit
Critics: Positive Reviews
PSearch List