Top Ten Music Artists that Should Record a Comeback Album
The Top Ten
1
Vanilla Ninja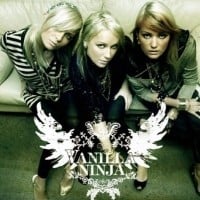 Vanilla Ninja is an Estonian pop rock and synth rock band consisting of Lenna Kuurmaa (lead vocals, guitar), Piret Järvis (vocals, guitar) and Katrin Siska (keyboards). Past members are Maarja Kivi and Triinu Kivilaan, both providing vocals and electric bass. ...read more.
Having released four albums overall, Vanilla Ninja were an essential part of the European music landscape of the mid-2000s for three albums (at least in certain countries). Then, they vanished. Despite never having officially disbanded, they are gone forever. Fans know that. Their last album was in 2006, their last live performance in 2008. But hope dies last that they will come back. - Martin_Canine
2
Evanescence

Evanescence is an American rock band founded in Little Rock, Arkansas in 1995 by singer/pianist Amy Lee and guitarist Ben Moody.
Here we have another critically acclaimed band spending too much time with touring. Your last album was 2011 and you're considered one of the best bands of the 21st century. Get up and recond a fourth album! - Martin_Canine
3
Rammstein

Rammstein is a German Neue Deutsche Härte and Industrial Metal band consisting of Till Lindemann (vocals), Richard Kruspe (guitar), Paul Landers (guitar), Oliver Riedel (electric bass), Christoph Schneider (drums) and Christian Lorenz (keyboard), that formed in 1994 in Berlin . ...read more.
Surprised System of a Down or Tool wasn't on this list. - cjWriter1997
Rammstein never broke up and never were on hiatus. They have been successfully touring since their last album in 2009. All of their albums topped the German charts (except for their debut record), and are regarded as masterpieces.
Dear Rammstein. Stop touring, get up and record a new studio album, it's 2017! - Martin_Canine
4
System of a Down

System of a Down formed in 1994 as an Armenian-American Alternative Metal group from Glendale, California. The band name is sometimes shortened to System or SOAD. ...read more.
5
M2M

M2M was a Norwegian teen pop duo consisting of Marit Larsen and Marion Raven, both of which provided vocals, guitar, piano and songwriting. They released two albums, "Shades of Purple" and "The Big Room", in 2000 and 2002, respectively. Both albums received universal acclaim internationally ...read more.
Marit Larsen and Marion Raven were childhood friends with a common passion: music. At age 14, they wrote their own songs, sang them and also played the guitar. They recorded the two most natural teen pop albums of all time. Without any gimmicks, without anything remotely commercial but also not anti-mainstream. Just two young teenage friends discovering that their emotions become more complicated, and turned that phase into songs. They received critical acclaim and were already considered the next big superstars of Europe.
Then, they grew apart - and M2M ended.
They didn't match anymore, musically and personally.
Marit Larsen essentially stayed an innocent, light hearted pixie with a sweet attitude to this day. Marion Raven became more rock-ish and rebellious. They both have moderate success with their music. And according to interviews, they are not in touch anymore.
I still wish they came back. Of course not with teen music. But when two people together could create such ...more - Martin_Canine
6
Eisblume

Eisblume is a German pop rock band consisting of Ria Schenk (vocals), Benny Baumann (guitar), Philipp Schardt (bass), Philipp Schadebrodt (drums) and Golo Schultz (keyboards), that formed in 2007. ...read more.
They had a big hit in German speaking countries with "Eisblumen" in 2008, and both of their albums were moderate successes, even though they'll most likely remain a one hit wonder. Their sound was a bit Evanescence-esque and Germany was lacking such an artist.
They are officially still together, even though I can't find any information anywhere what exactly they are doing now. Hopefully recording a third album. - Martin_Canine
7
Ich + Ich

Ich + Ich is a German music duo consisting of soul singer Adel Tawil (former member of boygroup The Boyz) and producer and occasional vocalist Anette Humpe (formerly part of the influential Neue Deutsche Welle band Ideal), which was formed in 2003. Their style can be described as pop, soul, R'n'B or ...read more.
Ich + Ich were megastars in 2000s Germany. People loved them, critics loved them, everybody loved them. They were a bit of indie, a bit of soul, a bit of poetry, a bit of pop. A bit of everything.
After three hugely successful albums they went on hiatus after 2009, and still are.
Adel Tawil released successful solo music, but the two are best together. Hopefully, the hiatus won't last forever. - Martin_Canine
8
Rush

Rush was a Canadian progressive rock band that was formed in 1968. Even though the only founding member still in the band is Alex Lifeson (Guitar), the band is most well-known for their current members Neil Peart (Drums) and Geddy Lee (Bass, Vocals). ...read more.
9
Lauryn Hill

Lauryn Noelle Hill is an American singer, rapper and songwriter. She is known for being a member of Fugees and for her solo album The Miseducation of Lauryn Hill, which won many awards and broke several sales records.
Hip hop fans will know. After only two albums with the fabulous Fugees, one magnificant solo album and one live unplugged album with new material, she completely vanished despite being regarded as one of the greatest hip hop artists of all time. She could rap and she could sing, and she could write. What else do you want? - Martin_Canine
10
My Chemical Romance

My Chemical Romance was an American rock band from Jersey City, New Jersey, active from 2001 to 2013. For much of their career, the band consisted of lead vocalist Gerard Way, guitarists Ray Toro and Frank Iero, bassist Mikey Way, and drummer Bob Bryar.
Same with bands like fall out boy and panic! At the disco and the only thing that got Pete Wentz relevant is his emo hair that all the girls went crazy for and his marriage to Ashlee Simpson that make girls wanna cry and be like them and when the band broke up they released all that garbage at the end and when they got back together everyone was shocked and it shouldn't of ever happened
Dear My Chemical Romance.
Apart from the fact that you never saw yourself as an emo band and are always considered the best in said genre/subculture... the general public regards you as one of the best bands of all time. Even over here, where most emo-associated bands are not that well known unless they are either German or if you are an emo yourself, you were popular and received critical acclaim. Get back together and record new material. Make your legacy even bigger. Music history will remember you no matter what. - Martin_Canine
The Contenders
11
Tool

Tool is an American progressive/alternative/post-metal band, that was formed in 1990. ...read more.
12
Tic Tac Toe

Tic Tac Toe was a German all-female hip hop group consisting of Jazzy (Marlene Tackenberg), Ricky (Ricarda Wältken) and Lee (Liane Wiegelmann) that formed in 1995 and was infrequently active until 2007 - during that time they disbanded twice, and had Sara Brahms replacing Ricky from 1999 to 2000. ...read more.
In the 90s, they were a pop cultural phenomenon. Media was all about them, those three rapping girls with the raunchy attitude touching on risky topics, while at the same time having had personal scandals, they were completely new and original. German hip hop would become mainstream in the very early 2000s, but actually Tic Tac Toe were one of the first widely successful hip hop acts, though musically very different.
Then they broke up in 2000. In 2006, they got back together for one album, then broke up again. This time, they wanted to quit from music industry forever. Lee also decided to not stay in contact with anybody.
But still: everything about them was awesome. Begore thug rap, before multisyllsbic rhyming, before rap battle tournaments, before judging rappers by their word play... this was fun and not so serious. I wish they'd come back with their outrageous attitude. - Martin_Canine
13
Aerosmith

Aerosmith is an American rock band, sometimes referred to as "the Bad Boys from Boston" and "America's Greatest Rock and Roll Band".
14
Jeffree Star

Jeffree Star is an American pop singer, songwriter, make up artist, fashion designer and internet personality born on November 15, 1985. ...read more.
Jeffree Star's only album "Beauty Killer" is an irresistable, catchy, entertaining, surprising, exciting and simply fun pop record by a completely unusual and over-the-top artist. He's no musical genius and not much of a talented singer, but the overall package was just a lot of fun. Maximum fun. And that is what pop music is about. Then he got an even bigger label contract, and released cool and promising pop singles. He could have made it to a big pop star, especially in times where artists like Lady Gaga, Nicki Minaj, Katy Perry or over here in German speaking countries Conchita Wurst or Jamie-Lee Kriewitz made being freaky and outlandish cool. But he all of a sudden decided he didn't want to be a music artist anymore. Just like that. He wanted to create make up from now on. I respect that decision but it's just sad for me, because well, makeup has no real significance to me, but music of course does. He would have added much individuality and pleasant weirdness to pop music.
15
Justin Timberlake

Justin Randall Timberlake is an American singer-songwriter, actor, dancer, and record producer. Born and raised in Tennessee, he appeared on the television shows Star Search and The All-New Mickey Mouse Club as a child.
16
Journey

Journey is an American rock band that formed in San Francisco in 1973, composed of former members of Santana and Frumious Bandersnatch.
17
Demolition Hammer

Demolition Hammer is a thrash metal band from the Bronx, New York. The band formed in 1986 and released three full-length albums between 1990 and 1994. Century Media Records made a complete anthology available in 2008.
Dude it's 2017�"last year you reunited so why don't you make an epic comeback? Dude that's what I call thrash
18 Madseason
BAdd New Item