Top 10 Best Singer Replacements
New singers that were better, equally good, almost as good or good enough.

The Top Ten

1 Bruce Dickinson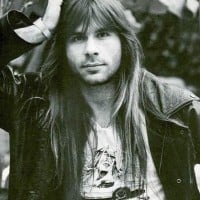 Paul Bruce Dickinson, known professionally as Bruce Dickinson, (born 7 August 1958) is an English musician, airline pilot, and broadcaster. He is most well known for being the lead singer in heavy metal band Iron Maiden and his solo career.Outside his career in music, Dickinson has pursued a number of other activities. He undertook a career as a commercial pilot for Astraeus Airlines, which led to a number of media-reported ventures such as captaining Iron Maiden's converted charter aeroplane, Ed Force One, during their world tours. Following Astraeus' closure, he created his own aircraft maintenance and pilot training company, Cardiff Aviation, in 2012. Dickinson presented his own radio show ...read more.
Who else could be number 1? While Di'anno was great, Dickinson was not only vastly superior, he also helped to gain Maiden a wider audience and add a new layer into their music. Add to that he's a cracking frontman too, and you have the ultimate singer replacement.
Not sure if I should add him but... would Freddie Mercury count on this list?
2
Ian Gillan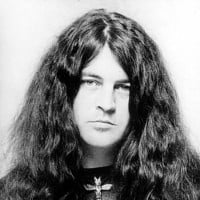 Ian Gillan is an English singer and songwriter. He originally found success as the lead singer and lyricist for Deep Purple, and the original singer on the rock opera concept album Jesus Christ Superstar by Andrew Lloyd Webber, where Gillan had the leading role (Jesus Christ).
Better than his predecessor Rod Evans.
3
Brian Johnson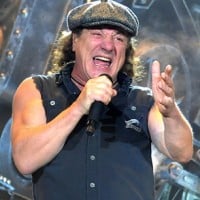 Brian Johnson is an English singer and songwriter. Since 1980, he is the lead singer of the Australian rock band AC/DC, with whom he was inducted into the Rock and Roll Hall of Fame in 2003. As of April 2016, Johnson is not participating in the remainder of the Rock or Bust World Tour due to hearing problems.
Bon was amazing, no doubt about it. But Brian is the energy of the band with his kick-ass voice.
He tops this list with no exceptions.
He is a lot better than Bon Scott.
4
Ronnie James Dio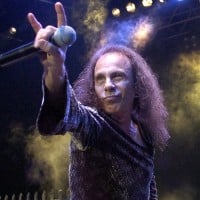 Ronnie James Dio (born Ronald James Padavona; July 10, 1942 – May 16, 2010) was an American heavy metal singer, songwriter and musician. He fronted and/or founded numerous groups including Elf, Rainbow, Black Sabbath, Dio and Heaven & Hell. He is credited with popularizing the "metal horns" hand gesture in metal culture and is known for his medieval themed lyrics. Dio possessed a powerful versatile vocal range capable of singing both hard rock and lighter ballads; according to Rainbow/Deep Purple guitarist Ritchie Blackmore upon hearing him sing, "I felt shivers down my spine." Dio sold over 47 million albums throughout his career. He died from stomach cancer in 2010 at the age of 67.
Ozzy may be the classic Sabbath singer and the iconic frontman, but Dio is a far superior singer as well as a lot more charismatic too. There's a reason why there is still hot debate as to who is the better frontman.
Significantly better singer than Ozzy.
5
Michael Kiske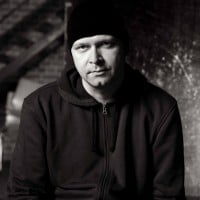 Michael Kiske is a singer best known as the former lead vocalist for the German power metal band Helloween.
Much better singer than Kai Hansen.
6
Phil Anselmo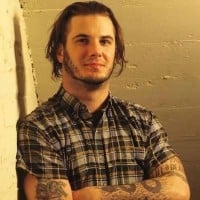 Philip Hansen "Phil" Anselmo is an American musician who is best known as the former lead vocalist of the heavy metal band Pantera. He currently is the vocalist of heavy metal bands Down and Superjoint Ritual.
7
Steve Perry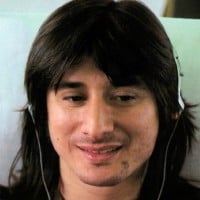 Stephen Ray "Steve" Perry is an American singer, songwriter, and record producer. He is known as the lead singer of the rock band Journey during their most commercially successful periods from 1977 to 1987 and again from 1995 to 1998.
This awesome singer was discovered when he replaced Greg Rollie
8
Floor Jansen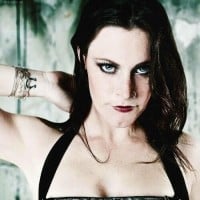 Floor Jansen is a Dutch singer-songwriter and vocal coach. She is currently vocalist of Nightwish and leader of Revamp.
Tarja is the best singer for Nightwish. Her characteristic soprano voice suits the powerful symphonic music the band offers. But Floor Jansen is almost as good, as she reaches the same level of power and can sing in more different ways, but without being classical. She can belt, she can sing rough and also gently and fragile. She is way more fitting for the band's music than Anette Olzon, who has a great voice, but sounds more suited for other less orchestral music. Something like Beyond the Black, who are also symphonic metal, but are more on the rock than on the classical end of the genre.
The best of the best. A true vocalist, not just a singer.
For my money the best replacement singer of all time.
9
Mike Patton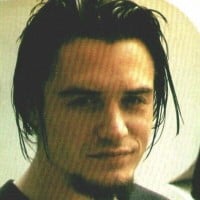 Michael Allan "Mike" Patton is an American singer-songwriter, multi-instrumentalist, film composer, producer, and actor, best known as the lead singer of the alternative metal band Faith No More.
He is the guy with 6+ octave vocal range.
10
Matt Barlow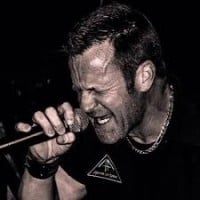 Matthew 'Matt' Barlow is an American heavy metal singer and police officer. He was the lead singer for Iced Earth in the 1990s and 2000s. He is currently the lead singer for Ashes of Ares. After the September 11 terrorist attacks Matt Barlow decided to become a police officer and contribute to the "real world" instead of living the illusion of a "rock star." In 2007 he returned to music.
Better than his predecessor.
The Contenders
11
Stu Block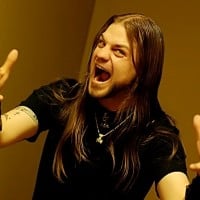 Stuart "Stu" Block is a Canadian singer-songwriter, who was the frontman for Canadian progressive death metal band Into Eternity, and is now the lead vocalist for American heavy metal band Iced Earth.
I would say he is good enough or even almost as good as Matt Barlow.
12
Mark Tornillo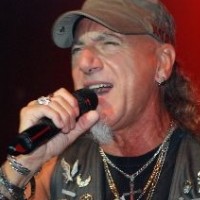 13
Todd La Torre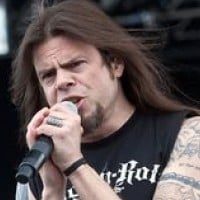 Todd La Torre is an American singer and drummer. He is the lead singer for the progressive metal band Queensrÿche, and a former lead vocalist of the bands Crimson Glory and Rising West.
14
Steve Souza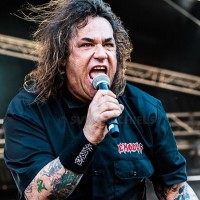 15
Joe Lynn Turner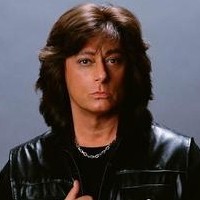 Joe Lynn Turner is an American singer, known for his works with hard rock/metal bands Rainbow, Yngwie Malmsteen and Deep Purple.
Replaced Graham Bonnet in Rainbow. Both were good for Rainbow.
Joe Lynn Turner also replaced Ian Gillan in Deep Purple for one album (Slaves and Masters, 1990). I like the album and his vocals very much but Joe Lynn Turner VS Ian Gillan is more debatable.
16
Alissa White-Gluz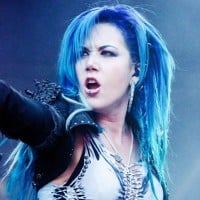 Alissa White-Gluz is a Canadian vocalist, best known as the former lead vocalist and one of the founding members of the Canadian metal band, The Agonist, and current lead vocalist for the Swedish melodic death metal group, Arch Enemy.
17
Mike Howe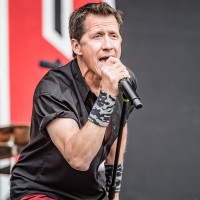 18
Tim Ripper Owens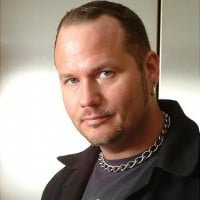 Timothy S. "Ripper" Owens is an American heavy metal singer who currently performs with Beyond Fear, Yngwie Malmsteen's Rising Force and Charred Walls of the Damned. He first gained attention as the lead singer of Judas Priest, and then Iced Earth.
19
Timo Kotipelto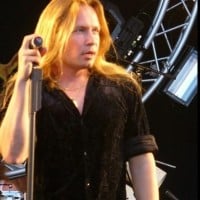 Timo Antero Kotipelto is the vocalist of the Finnish power metal band Stratovarius and is the creator and vocalist of the power metal band Kotipelto.
20
Adam Lambert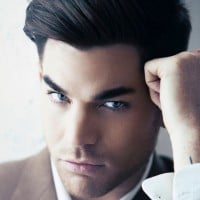 Adam Mitchel Lambert is an American singer, songwriter and stage actor. Since 2009, he has sold over 2.5 million albums and 5 million singles worldwide.
21
George Corpsegrinder Fisher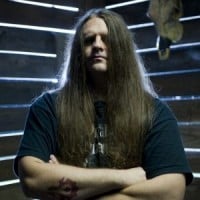 George "Corpsegrinder" Fisher is an American extreme metal vocalist for the American death metal band Cannibal Corpse and the lesser-known melodic death metal band Paths of Possession.
22
Matt Skiba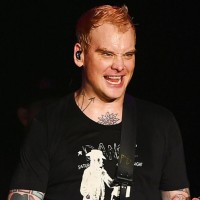 23
John Lydon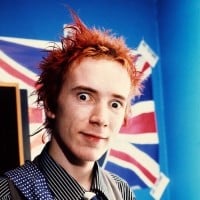 John Joseph Lydon, also known by his former stage name Johnny Rotten, is an English singer, songwriter, and musician.
24
John Bush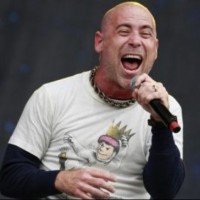 John Bush is a singer who was first in the band Armored Saint however he then went on to join Anthrax after they got Joey Belladonna their last singer out of the band. John Bush then left Anthrax in 2005 though briefly rejoined in 2009 only to leave again in 2010
25
Angela Gossow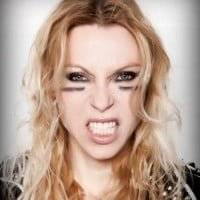 Angela Nathalie Gossow is a German vocalist, best known as the former lead vocalist for the Swedish melodic death metal band Arch Enemy.
PSearch List