Philippines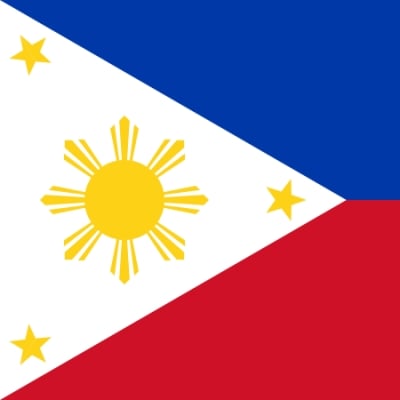 Found on wikimedia.org
Info
The Philippines was established in March 16, 1521 and named in honor of a Spanish King whose name is King Philip of Spain II. It is located at Asia, specifically at Southeast Asia. The capital is Manila. 89% of the people there currently are native, while 11% of people there are foreigners.
Comments
Top
Popular
Newest
The Philippines is the Pearl of the World where you would find the most incredible tourist destinations and the most hospitable people not to forget the most beautiful women in the world. If only Miss Philippines World 1973 was not robbed due to discrimination and inequality, the Philippines could have the most number of winners in beauty pageants. After that injustice, the most beautiful Filipinas didn't bother to join the national pageants and therefore gave the way for other countries to win. And again, the Miss Universe Crown was robbed again... By the host country --- the very reason why they won the most. ;-)
It all about the the right people surrounding a person and right approach on any situation brought about; both combined would make a better personality out of a good person. This is what I believe Ara is about. She always displays optimism and whether good or bad one is to her, she'll make it a point to have a goal to help that person realize and understand how we all shall live a better life without hatred and misjudgment.
I agree there should be no favoritism. Ms. Philippines is a natural beauty. She can project with elegance and just naturally beautiful, exotic and beauty is nor pressured. The more you look the more she is getting beautiful. She's with great moral and values, intelligent, good role model yes, humble, and truly gorgeously beautiful! She has that elegance in her beauty! She knows how to carry any kind of wardrobe and still her beauty will come out!
She deserves to bring home the crown because she has a very stunning beauty, she wore all her dresses elegantly and also because she has a pure and kind heart that makes her simply the best candidate in this year's Miss Universe.
The Philippines has proven to the world what a true ambassadress of beauty, brains, and heart really is. We have a number of beauty title holders who won not just the crowns but the hearts of so many people all over the world...
Miss Philippines deserves to bring home the bacon since last or the previous pageant, we've shown a very good performance and it is we who deserves the crown because we have a good heart delegate and a competitive one...USA watch and learn and you will see how COMPETITIVE we are! Others, just setback and relax...
Go Philippines! I pray that she will bring home the crown this time... Good luck, and God bless the Philippines!
Miss Philippines has the look of an exotic Filipina. She is very smart and well mannered in every single way. Her intelligence is unparalleled. Religious and liked by other beauty queens. Her attitude is very down to earth. Very fluent in english language and managed to carry herself under pressure.
Philippines last got the Miss Universe crown back in 1973. I won't be surprised if after 40 years, the country will finally take it once again.
In my opinion, I think ms Philippines will the the next in line for the crown. The candidates that they send are not just educated but have top honors in their degrees. Not only do they exude exotic beauty and grace but the have a brilliant mind accompanied with sensitivity and grace.
I believe so that Ms. Philippines is awesome, talented and gorgeous to get title for this year's Ms. Universe
Filipinas are the most genuine candidates. They also possess poise, femininity and intelligence. They are hard workers by nature. They also want to prove to the world that all Asian women are naturally beautiful inside and out.
Go Ms. Philippines, she will bring home the crown because of her exceptional and outstanding beauty!
I just hope this time around that ms. Philippines will bring home the crown..i would still be happy if she doesn't win if other candidates are more deserving..all I can say is win or lose, my winner would always be her..bring home the crown! Do your best and I am with you all the way!
Janine tugonon makes her country proud and other countries so it can the philippines is the next miss you
For me philippines because she has a body brain talent and of course breeding
Its the Philippines. For all we know ariella is prepared in all aspects of being miss universe. The only thing that could ruin her to victory is that if its really her destiny. Philippine team always send a package of beauty for this competition but always runners up for 3 consecutive years, I think this time, its quiet obvious that ariela got it all.
Round face, exotic beauty, nice tan, nice smile, miss universe features!
She has a sky rocketing confidence.

Being simple and transparent about her weaknesses will be her edge in becoming the next Miss Universe.
Philippines has been in the top 5 in the past three years and their place improved each year. In 2010, Philippines was the 4rth runner up; 2011 - 3rd runner up; 2012 - 1st runner up. The Philippines has nowhere to go but to wear the crown.
If this edition of Ms Universe judging will be fair, then Philippines should have a good chance of taking home the crown. Of course, it will depend on how she performs throughout the night. I just hope that she is given the credit due based on her performance.
Philippines is awesome and beautiful and I hope she does weel and carry on the legacy. She has the potential to to really well and make all of us proud
Always a runner up. It's about time for phillipines to win without political involvement. The only country not using an interpreter. It's should be beauty and grace and wit.
I THINK ARIELA WILL TAKE HOME THE CROWN BECAUSE SHE IS GORGEOUS AND DEFINITELY INTELLIGENT
Go Philippines! Asian beauty is the best. We are not only beautiful outside but also inside. We are intelligent people as I noticed in Miss Universe pageant some of the winners have interpreters like MISS VENEZUELA..MISS BRAZIL..MISS MEXICO where is the true intelligence.there? They shoul prepare for it because its not only beauty but also intelligent which Philippines have. We don't need interpreters like them because we are smart and we.can.speak fluent in english. If the candidates have interpreters they.should have deduction on the scores so that it would ne fare to everyone. Thanks :))
GO PHILIPPINES! TAKE THE CROWN FOR OUR COUNTRY! MAKE US PROUD

ARIELLA ARIDA :D