Top Ten Most NBA Ready Prospects in the 2019 NBA Draft
NBA Ready Prospects are important. We have seen good ones the past few years. Donovan Mitchell, Ben Simmons, Luka Dončić, and more. These players usually make a huge impact from day one. Without further ado let's jump into it.
The Top Ten
Ja Morant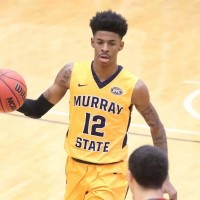 I think Ja Morant has an established game. I think he is the most skilled player in the draft. He has a really well-defined game and he will be great from day one because of that. I think he will be a triple double threat in the NBA from the beginning. - 2storm
Zion Williamson

Don't get me wrong I think Zion will be the best player from this draft, but I feel like the first month or so of the NBA Season, Zion could struggle. He will be facing NBA talent not High School or College talent. Zion, at times, will not be the best or most athletic player on the floor.
R.J. Barrett

R.J. does have stuff to work on, but I feel like he will be one of the best rookies from day one. Usually it takes players like R.J. longer, but I have a good feeling about Barrett. - 2storm
DeAndre Hunter
I think his elite defense will carry. He should be contributing from day one. Depending the team he goes to be could be in a good condition to win as well. - 2storm
Grant Williams
Grant is just such an experienced player. He will be great in the league from the beginning and he could definitely contribute to winning. He is a good all-around player. - 2storm
Rui Hachimura
Another really good all-around player. Usually the good all-around players do well from the beginning. I really like Hachimura. - 2storm
Nassir Little
Nassir still has to work on his offensive game. He really reminds me of Kawhi Leonard and I think he really flew under the radar last year. - 2storm
Darius Garland
I think if Garland can keep his health under control he will be a top 4 player from this draft. Darius should good from the beginning and steadily improve. - 2storm
Jarrett Culver

A good scorer and if he goes to the right team he will be really good. - 2storm
Cameron Reddish

I think he has to have a lot of improvement, but he has a solid game and he has a nice jump shot. Maybe he won't be great from day one, but he will be solid. - 2storm
BAdd New Item