Top Ten Neue Deutsche Härte Bands
Neue Deutsche Härte is a music genre that is typically characterized by German lyrics, heavy guitar riffs, static rhythms and often hard electronic elements. The singing is usually at a very low pitch, and often with a hard pronunciation. The topics often revolve around philosophically and psychologically complex social phenomena and issues, several of which are graphic, dark or controversial in nature, but also around emotional angsts, self reflexive topics or lust.

The genre name, which translates to "New German Hardness", is a play on the legendary Neue Deutsche Welle movement ("New German Wave") of the 80s, in which German language new wave and synth rock became the foremost music in the German language market.

HISTORY:

The genre first occurred in the early-to-mid-1990s in the German underground and independent music scene, when the techno and rave music that was highly popular in many European countries, was combined with heavy rock aesthetics. Oomph! are often credited for being the first band to have released the first music that resembles the modern idea of Neue Deutsche Härte (combinations of rock and electronica in the German language were present before though). With the release of Rammstein's "Herzeleid" in 1995, the genre first got slight mainstream attention, before creating a hype in 1997, when their sophomore record "Sehnsucht", which also gathered the group an international fanbase, and national superstardom. Later on, other bands of the musical style managed to gain high commercial success.

INITIAL RECEPTION AND CONTROVERSY:

In its early days, the genre had to fight with the stereotype of being right wing music due to its stylistic elements. Although the lyrics were politically neutral, the static sound of the music, the often martial choice of words and an affinity to controversial topics including the portrayal of psychologically complex yet disturbed characters, were often seen as aesthetics much valued by the Third Reich. In addition, the sound of Rammstein's singer Till Lindemann's voice, which features unusually strict pronunciation, was found to resemble Hitler's speeches when the group first gained relevance.

With the massive commercial breakthrough of the genre in the late 90s and then early 2000s, this stereotype declined, and people looked deeper into the bands' lyrics. The genre became praised for its overly dominant and hard production and strong lyricism from the German music press. The genre has been freed from prejudices since it became a crucial part of Germany's rock music scene.

The international reception of Neue Deutsche Härte music has not drawn political associations. Instead, it was often compared to the Industrial music of Nine Inch Nails or Marilyn Manson, which were commercially successful in the USA at the same time. The reception was mostly positive, although much more light hearted and far less analytic than the German reviews.

LEGACY:

In Germany, Neue Deutsche Härte remained a commercially highly successful genre, with bands such as Rammstein, Eisbrecher and Unheilig having topped the charts in the 90s, 2000s and/or 2010s, in addition to numerous gold and platinum certifications. Retrospectively, Rammstein are often ranked among the greatest German bands of all time, with their albums having reached legendary status and much critical acclaim. The genre is credited in having played a major role in the history of German pop culture and having set what kind of musical aesthetics are acceptable. It is also noteworthy of being an entirely musical movement with no specific target group or visual subculture to go along with it. Neue Deutsche Härte listeners are diverse in age, gender, social backgrounds, clothing style and political views.
The Top Ten
1
Rammstein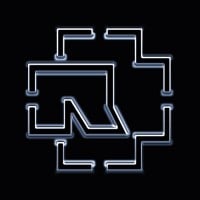 Rammstein is a German Neue Deutsche Härte and Industrial Metal band consisting of Till Lindemann (vocals), Richard Kruspe (guitar), Paul Landers (guitar), Oliver Riedel (electric bass), Christoph Schneider (drums) and Christian Lorenz (keyboard), that formed in 1994 in Berlin . ...read more.
Rammstein deserve the number one spot for their great lyricism. It is not possible to find another band or artist to describe this strength with. These are not song lyrics in the traditional sense, they can be compared to classic literature that you can analyze in hidden meanings, you need to unfold the words and often need to recognize allegories. Furthermore, the social phenomena and disturbed characters they describe are handeled psychologically correct.
Rammstein is just pure awesomeness! They deserve the number 1 place in any list!
I knew they would be first on this list!
Rammstein is the definition of musical perfection that sets a standard of synchronized metal masterpieces unlike any other; Grand compositions the likes of which include Bück Dich, Du Hast, Rosenrot, Ich Will, Mutter, Küss Mich, Sehnsucht, Tier, Spring, Mann Gegen Mann, Benzin, Eifersucht, Spiel Mit Mir, Engel, Du Riechst So Gut, Amerika, Bestrafe Mich, Donaukinder, Weißes Fleisch, Buckstabu, Haifisch, Amour, Nebel, Stein Um Stein, Heirate Mich, Klavier, Moskau, Waidmanns Heil, and Morgenstern. As the only band that has that many brilliant tracks, Rammstein broke the very ground that Neue Deutsche Härte metal music stands upon.
2
Eisbrecher

Eisbrecher are a German Neue Deutsche Härte band that consists primarily of Alexander Wesselsky and Noel Pix, with live support from Jürgen Plangger, Rupert Keplinger, Achim Färber.
Eisbrecher really took off in the time Rammstein weren't around. Their sound is bigger, much more stomping, and the lyrics are more direct and anthemic, yet they also know how to adultly handle angsty feelings. Their music is not unintelligent, and they are also really musically awesome.
3
Megaherz

Megaherz is the former band of Eisbrecher's Alexander Wesselsky and Noel Pix. It has most traits that Eisbrecher has, although I'd say that the atmospherf of Eisbrecher is much more captivating and the albums and songs feel more well thought out.

So, that's it from me. Rammstein, Eisbrecher, Unheilig and Megaherz are the Neue Deutsche Härte bands I like or love. I am not too much of a fan of the others, for my taste they often dwell too much on the "hardness" aspect of Neue Deutsche Härte and have little else to offer, or are simply underwhelming to me.
4
Oomph!

Oomph! is a German industrial metal band formed in Wolfsburg, Germany in 1989. The band is considered the pioneers of the German Neue Deutsche Härte movement.
5
Unheilig

Unheilig was a German band that features a variety of influences including various pop and electronic styles as well as harder, nihilistic hard rock.
Unheilig are a tricky thing. Their most famous songs aren't Neue Deutsche Härte, but really beautiful, touching pop rock ballads. Their last albums are mostly like this. And it's really good.
Their older albums, and a few more recent non-single songs, are however Neue Deutsche Härte, having stomping techno beats, heavy guitar riffs and deep German language vocals. But their overall lyrics are unusually emotive, positive and hopeful for the genre. Often, the songs are about coping with hard times, most famously, someone's death, and valuing life.
PS: It's still not entirely decided whether Unheilig is singer-songwriter-composer Der Graf or also the band backing him up.
6
Joachim Witt

7
Stahlmann

8
Lindemann

Lindemann is a German/Swedish industrial metal super-duo featuring lead vocalist Till Lindemann of Neue Deutsche Härte band Rammstein, along with multi-instrumentalist Peter Tägtgren of Swedish death metal band Hypocrisy and industrial metal project PAIN.
Side project of Rammstein's lead singer, but it's not as good as the main group.
9
Die Krupps

Die Krupps started off as a normal 80s synth pop band, but then went on to become Neue Deutsche Härte later on.
10
Letzte Instanz

The Contenders
11
ASP

12
In Extremo

13
Ostfront

14
Tanzwut

15
Knorkator

Because of really extraordinary lyrics and very versatile styles this band is outstanding. You can not really compare anything to Knorkator.
16
Saltatio Mortis

17
[die!]

18
Heldmaschine
So underrated.
Heldmaschine is like the Rammstein's offsprings...
Neue Deutsch Härte at its Best!
Excellent rhythm, sharp words and dark atmosphere... I Love It!
19
Eisenfunk
I think they are good as Eisbrecher, same type of music that would contend with any of these others on the list, except of course Rammstein who broke the mold for this type of music.
20
Herren

21
Maerzfeld

They sound a lot like Rammstein on their older albums and still keep that sound with the newer albums.
22
Stahlhammer

23 Hämatom
BAdd New Item