Vietnam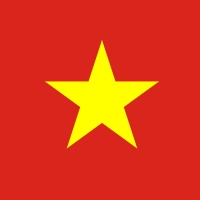 Found on wikimedia.org
Info
Vietnam, officially the Socialist Republic of Vietnam, is the easternmost country on the Indochina Peninsula in Southeast Asia.
Comments
Top
Popular
Newest
I'm one of miku fan / I'm now not living in Việt Nam but I still vote for Việt Nam because I just want miku to come to every where to sing her song and one more thing we love your song and your voice miku
Mike is really popular in viet nam and I hope that more and more people will vote for us! If there is a live party of mike and the whole vocalic group, I will be so... Happy! To have Miku sing in Viet Nam, me and my friends have vote for us a lot... If you lived in Viet Nam, vote, then may be some magical will happen! LET'S VOTE FOR US PLEASE EVERYBODY! When I saw this a few week ago, Viet Nam was not even in top ten! But now, look where it is, the 4th place on board... It makes my so grateful and happy and feel a bit lucky! And by the way I live in Viet Nam so I vote for them for me to see them in Viet Nam. Here is Thank you from me to all of you who vote for Viet Nam : " Cam On "...
I draw miku daily, listening to the singing of Miku. I felt Miku has become a part of my spiritual life. When I'm around people who only care for chaos in fame, money, full of pitfalls and difficulties in my eyes... Everything seemed dim, difficult to reach them. I almost forget... The world I was living with her face awkward smile but inside I want to cry... But when I see a picture of Miku, and mingle in the songs, the sound waves as a seed sown to live in the hearts of his sadness. I suddenly realized that I must continue to live, can not exist in society intensely noisy but I can drop their peaceful melodies, meaningful lyrics and strong feelings of Miku. More than ever, Miku-chan has helped me regain orientation and find a place of peace, disengaged to move forward. Thus, if the person, whether seen directly... Can not touch, can not be on the side... But I still toward her voice, the tone feelings... And in my heart.. She always has... Miku-Chan. Let Miku to Vietnam, to the ...more - kurolucifer
I vote for Vietnam because I live in Vietnam and I really want to see Hatsune Miku. Hatsune miku is very important for me because if don't have Hatsune miku a year ago, I don't have good times today LOVE HATSUNE MIKU. HATSUNE MIKU! WE LOVE MIKU!
I live in Vietnam. And I love Miku. Many friends I know like Miku and vocaloid. One of my dreams is to join a Miku live party in my hometown. It difficult for me to go to another country to see the live party, but if it in Vietnam, I'll see it no matter the price.
I am miku fan and I am in Viet Nam. Many people in VietNam love Miku but there is no live in here so I vote for VN to hope Miku will came to VN
I vote for Vietnam. I love Hatsune Miku's voice and nothing is better than a Hatsune Miku's live show in my country. Please vote for Vietnam. Her gorgeous appearance depends on your votes.
I'm in Vietnam, and I just love Hatsune Miku so much. Miku, don't forget us fans! We'll wait for you!
I don't know man, I just don't know what to say... But I AGREE with these guys below. JUST AGREE. WE VietnamESE FANS LOVE YOU! ALL HAIL HATSUNE MIKU! - hirasawakosuda
Say... I do have friends that go crazy for Miku and other Volcaloids, especially the Kagamine Twin! We have been dreaming that there is a day that Miku will perform at our country! Please vote for VIETNAM!
Please, please, please...
I beg you, even though most of the vietnamese people don't know about Vocaloid, but who said the Vocaloid's fan in VN ain't that much too.
We need Miku! Please bring her to us! Miku's fan in Viet Nam want it so bad!
I REALLY WANT HER GO TO MY COUNTRY!
Please vote for Vietnam! Thank you too much!
I'm one miku fan so I want voice come to everywhere and I know Viet Nam is also where have great miku fan and they can do everything for miku so I vote for Viet Nam, hope the best for miku
Miku! She is one of the best singer in the world I mean / all thing we want is miku keep on singing forever for us / our miku's Vietnamese fan is give to miku all the real and innocence love that we have! Thank miku! For everything
3rd already Hatsune Miku in Vietnam? Sucks but great I really love them, the vocaloidz, but, Hatsune Miku the most If she comes here, she will be welcomed specially, for sure. I don't know how to extract my feeling right now, but it would be my happiest time ever if she went to Ho Chi Minh city Otakus here are too many, try VNsharing.net and blogtruyen.com - hives of Otakus with too many people joined
Come with us, come Vietnam... VOTE for VIETNAM please
VOTE for VIETNAM please VOTE for VIETNAM please VOTE for VIETNAM please VOTE for VIETNAM please Thanks very much if you vote for VN.
Miku I love you! I'm a Vietnamese and no where else I would like her to have a live party in of course so and anyway I really belive a huge number of Miku fan in Vietnam wish for the same thing so please VOTE FOR Vietnam!

If Miku came to Vietnam then it can't be any greater for us. I'll take a drive from the North (where I live) right to the south if I heard Miku take a live party there

VOTE FOR Vietnam!
Please come to Viet Nam
You're really really awesome, beatiful and amazing.
This is the first time I've seen your performance, but I love you from the start. I think everyone is the same to me. So why don't you come to Vietnam? Our country will make you feel amazing, cheerful...
Vietnam has always been known for its crave for Miku ( and her companions ). But so far we have only seen her through the tiny viewing window of YouTube videos, and in my opinion it's not fair for the ten of thousands of Vietnamese Miku fans...
Therefore, Miku, before you decide to go live again in other countries ( such as the US and Japan ), please drop by ours and bring happiness to the fans, and let us be acknowledged as one of the major groups of your global fanbase.
Thanks.
Please, let our country see Miku just one time, she is Warming our heart every day, every night, we just sit the and watch miku perform a live concert throught the computer screen and pray she will perform in Vietnam with all Vocaloid, we have high technology stage and you can improve it, make it bigger, please... Let Miku Sing in Vietnam, show the world where is Vietnam is...
! I am dying to hearing Miku singing live
Please come to Vietnam, Miku!
I keep saying on my Status that once day, I will save enough money to go to any country that has a Vocaloid live concert to watch it. This Hatsune Miku Live Party is like a "dream comes true"
Vietnam doesn't often have many famous singers in the world going here for performing. We feel really sad about that. So, Miku please come to us! We love you! Everybody please vote 4 Vietnam!
Miku is the best. I would like Miku come to Vietnam and make some noise with our country Vocaloid's fans. So please, come to Vietnam and organize a live party. Vocaloid is all what I always listen to and I think most of people think the same like me. Vietnam also have a very very big fans of Hatsune Miku, so she have a very important sit in our heart.
Vote for Vietnam, the next country Hatsune Miku come
Miku is my best anime singer, I have been known Miku since I was known Anime. I love you so much Miku, please come to our country even I'm not there right now. But I will be very happy to say that Miku had come to our county and have a live show there! Hope to see you soon Miku!
Hatsune Miku is the best. She's my favourite diva. She has very very many fans here in Viet Nam. Distance and language aren't important, they aren't matter with our love for Miku, especially in music. Because, we enjoy music in souls and hearts. I can see Miku's soul in her music, it makes me feel good, make me relax and comfortable after every hours hard working.
Related Lists
Top Ten Best Cities In Vietnam
Top Ten Best Provinces of Vietnam
Greatest Fixed-Wing Combat Aircraft of the Vietnam War
Top Ten Best Post-Vietnam War Movies