Best NFL Fullbacks of All Time
Fullback is the most unappreciated position in the NFL, yet it has produced household names to never forget. Some may not be known well, but we'll be looking at the greatest fullbacks in NFL history.
The Top Ten
1
Larry Csonka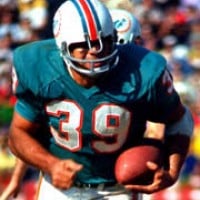 Wow, what a career. He is a two time super bowl champion, and he won Super Bowl VIII MVP. This is a fullback we are talking about. Not to mention his NFL Comeback Player of the Year award and five pro bowl nods.
Was simply unstoppable in his prime watched every game stats do not show the frustration on the faces of defensive line mans face after being run over for 25th consecutive time for yet another first down.
And never fumbled or got hurt the best ever
Larry Csonka charges right into the linemen and gets through in seconds.
2
Mike Alstott

Watched him play from orange and white to red and pewter. A true force that was amazing to watch.
Best pure fullback to play the game. Literally could do it all, blocking, running and catching. Not to mention the fact that he was the heart and soul of the Superbowl running team. Listen to other key players on that team like Derrick Brooks, Warren Sapp and John Lynch. Alstott was the identity of Bucs Ball.
I'm very bias because of my love for The Tampa Bay Buccaneers but The A-Train was a force to be reckoned with.
Great blocker, and good pass catcher out of the backfield.
3
Jim Taylor

Taylor was a tremendous fullback, some of these guys should be on a unknown player list.
Great all-around player, hard to tackle.
The Packers might not have been what we know today without Jim Taylor, because when push came to shove he's who Lombardi chose to pick up the slack. Jim taylor beat out Jim Brown for the rushing title...Yes I said JIM BROWN... Csonka never won a rushing title, and he certainly didn't have 5 straight 1000 yards seasons( avg of 13 or 14 total games[wk1-championshipSB]). If that isn't convincing enough Jim Taylor only played for the Saints for one season even though they had a 3 and 12 record they still retired Jim Taylor's number 31. Something I feel as if Green Bay should have done a long time ago
He was a duo partner to Paul Hornung in the 1960's. Those two put up numbers together, and were nicknamed "Thunder and Lightning." Jim Taylor was a key runner of the Green Bay Packers 1960's dynasty. When injury prone Hornung was out, Taylor took the bulk of the carries, and it payed off. But, he played at the same time as Jim Brown, and was often overshadowed.
4
Bronko Nagurski

Bronislau "Bronko" Nagurski was a Canadian-born American football player, renowned for his strength and size.
Man, for playing in the 30's, he was one heck of a player. While his numbers didn't stick out, he was a great runner who helped the Chicago Bears win three NFL Championships.
5
Marion Motley

He split time between linebacker and fullback, but you couldn't deny his running talent. He played at a time when the Cleveland Browns were a good team. He won the 1950 championship with them, and made a pro bowl once. Also, like most on the list, is a pro football hall of famer.
6
Jim Brown

James Nathaniel Brown is a former professional American football player and actor. He was a running back for the Cleveland Browns of the National Football League from 1957 through 1965.
More of a halfback than fullback, but best at both positions ever
Lol! Jim Brown is greatest fullback and Barry sanders the best halfback.
He the best of all time
Fast, punishing runner, and hard to tackle.
7
Franco Harris

Franco Harris is a former American football player. He played his NFL career with the Pittsburgh Steelers and Seattle Seahawks. In the 1972 NFL Draft he was picked up by the Pittsburgh Steelers in the first round, the 13th selection overall.
He's one of the great ones. He had great durability, and he's a great all-around player.
Most remember him for the immaculate reception, but at the same time, he was an amazing runner during the Pittsburgh Steelers dynasty. He's one of the elite fullbacks in NFL history.
8
Lorenzo Neal

Best blocking fullback of all time, hands down.
He made good running backs ELITE
9
Larry Centers

The very best!
Dr. Cotton say he's the greatest fullback of all times
10
Earl Campbell

Earl Christian Campbell is a former American football running back who played professionally in the National Football League for the Houston Oilers and New Orleans Saints.
As a kid I was glued to the T.V. set at any chance to watch him play! He simply mowed defensive lineman down. He was beast mode of the day!
He destroyed my Cleveland Browns twice a year, but I still loved Earl the Pearl
While some consider him a running back, I think of him as a fullback, due to extremely tough runs. He would be even greater if he had played for a Super Bowl winning team, but the Oilers had ups and downs. He was one of the toughest fullbacks in NFL history.
Power running at its best.
The Contenders
11
John Riggins

Fast, durable, and hard to tackle.
Will power.
He's lower because he played half of the time at fullback, and another half at running back. Still, he's one of the most accomplished rushers in NFL history, winning Super Bowl XVII and being voted MVP of it. Yet, he only had a lone pro bowl in his career. He also had over 100 career touchdowns and over 11,000 rushing yards.
12
Tony Richardson

Always almost a 99 on madden
Bone jarring blocker.
Blocked for 2,000 yd season for Priest Holmes & Adrian Peterson.
He also blocked for Emmit Smith, Ladaniel Tomlinson & Thomas Jones.
He is by far one of the most feared FB from the LB perspective in NFL history
13
Kyle Juszczyk

There's a reason he is the highest paid Fullback in the history of the league
Best hands if any fullback ever!
Can lead block like a boss.
He's an absolute beast.
14
Daryl Johnston

Nicknamed the Moose. Over-shadowed by #22, obviously. But, could scratch up those short yards in the red-zone or on 4 and 1. Great hands and served as an additional threat in the passing game. Aikman wasn't afraid to dump a pass off to Johnston out of the backfield for a couple of yards. Underrated as a player on account of the Triplets.
Him and Emmitt did it together
Solid, one of the most dependable ever.
He is a god
15
Tom Rathman

And so I've gotten to the point on the list where I don't know who to put down, because there just aren't enough good fullbacks to rank. So, I went with my gut on Rathman. Decent yards, decent amount of touchdowns for a fullback, and a two time super bowl champion. Not very special, but still pretty good.
16
Christian Okoye

Dude its CHRISTIAN OKOYE how do u put him this low he's a BEAST!
4.4 40 time at 260lbs, freak of nature.
beast
He is called the "NIGERIAN NIGHTMARE"!
17
Vonta Leach
Absolute animal. Was one of the best blocking fullbacks ever.
yes
18
James Develin
One of the best fullbacks of all time, keep hating on the pats but him and his talent has been a major part of the later part of the Patriots Dynasty
He's good because the patriots are
19
Jarome Bettis
THE BUS
#1 always
20
Mack Strong
One of the last great lead blocking fullbacks, having paved the way for Ricky Watters, John Williams, and Shaun Alexander, Strong was also pretty versatile out of the backfield for a 250-pound mauler.
On a team with a mediocre front line he made it possible for Seattle's running backs and quarterbacks to flurish
21
Cory Schlesinger
Cory Schlesinger was a key piece of multiple Lions super bowl teams
22
Marv Hubbard
Always considered best fullback after csonka
23
Randy Moss

Randy Gene Moss is a former American football wide receiver who played 14 seasons in the National Football League.
24
Ethan Reynolds
Class of 2010 and played 6 seasons 2 in jr.pro 2 in Jr.High and 2 in Highschool
25 Greg Jones
PSearch List