Best NFL Head Coaches of the 2018 Regular Season
The Top Ten
1
Sean Payton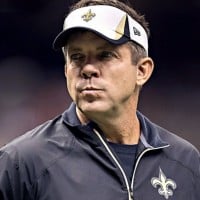 Awe yes is it possible this Saints team could be just as good as they were 9 years ago when they won it all? The defense is back, the trench is revived could this be the second collection? - htoutlaws2012
2
Sean McVay

The youngest head coach in NFL history could be making history this season if he can take his team as far as the super bowl would mean a lot. Well they made their mission clear win a championship can they get there, and will they win it all? - htoutlaws2012
3
Andy Reid

Andrew Walter Reid is an American football coach who is the current head coach of the Kansas City Chiefs of the National Football League. Reid was previously the head coach of the Philadelphia Eagles, a position he held from 1999 to 2012.
Defy doubters again will you, incredible regular season head coach, but man he is ice cold in the playoffs 1-4 as a Chiefs and now the running looks like it dramatically just got worse I'd be panicking if I were a Chiefs fan to be frustrated not getting it done in the playoffs. - htoutlaws2012
He is doing amazing things with that offense but there's always his playoff curse. Which is why I'm cautiously optimistic about this team - Randomator
4
Matt Nagy

Da Bears are probably the most compelling team to watch in the strangest whether it's they dominate their opponents or they try to rally back, but you can't help but rout for them. Matt Nagy so far looks like a solid Andy Reid despicable, and has a look of a Chicago Bears coach would want could be a threat in the NFC North for years. - htoutlaws2012
He's the Sean McVay of the NFC North. Turning perineal losers into super bowl contenders. I think he deserves coach of the year. - PackFan2005
5
Anthony Lynn

What's impressive about this team is they got to a great start until the last few seasons where it has different hem hard in the end. Lynn to me is a sneaky good coach this year due to the fact his won most games in close situations and or handled their way aside from Rams and Chiefs. Plus Gus Bradley has been a good acquisition as a defensive coordinator how stunning right the same guy who was terrible for Jacksonville goes to the Chargers and has a decent defense. - htoutlaws2012
6
Bill Belichick

William Stephen Belichick is an American football coach and the long-time head coach of the New England Patriots of the National Football League.
Emperor Belichick throne is always at the top of the AFC, but one thing that's different this season is when facing former associates of the Patriots he has had terrible preparations against Lions and Titans other than there the same team only Tom Brady hasn't had that great of a year and they elan more towards the running game which was never much of the Patriot way. - htoutlaws2012
7
Bill O'Brien

When they went 0-3 I was losing my mind with all the talent they had I could not figure out why they were in that spot, but wait they won 9 straight after that crazy right? Somehow the team turned it around, and look more like the team everybody fought they were gonna be from predictions. What makes O'Brien's team special this year is all the players as oppose to last year are more healthy, and could be a dark horse this time around in the playoffs that's a deadly way to win in the stretch when everybody is a healthy scratch that wins big games. - htoutlaws2012
8
Pete Carroll

Peter Clay Carroll is an American football coach who is the head coach and executive vice president of the Seattle Seahawks of the National Football League.
Oh hey the one year Pete Carroll looks like a very good head coach. What looked to be another rebuilding team actually got better quick, and so sudden that he made them into a sneaky good defense that can stop the run, but yes the secondary is the lost cause, but Pete found a way for this team to not be demoralized, and another big portion of that is Russell Wilson. - htoutlaws2012
9
Mike Tomlin

Michael Pettaway Tomlin is an American football coach who is the 16th head coach of the Pittsburgh Steelers of the National Football League.
Stability is key with the Steeler and thus far imagine they lose Mike Tomlin where would they be is what I would argue. Some say Big Ben if the teams MVP sure, but who hold them all together more less Mike Tomlin for the past 11 seasons. - htoutlaws2012
10
Frank Reich

Even if the Colts may or may not make the playoffs I'm shocked to see this team get more than 5 wins with Frank Reich as head coach. You couldn't tell if the team was better or not, but they started to heat up around from the misdt to the end at A least Andrew Luck got better as the season went on making waves for next season. - htoutlaws2012
The Contenders
11
Todd Bowles

The greatest Nfl coach ever to live.
BAdd New Item