Best NFL Head Coaches Going Into the 2019 Season
These guys know how to have consistent success, control the locker room, and get their teams wins. Here, we are looking at the top ten best NFL head coaches going into the 2019 season.
The Top Ten
Bill Belichick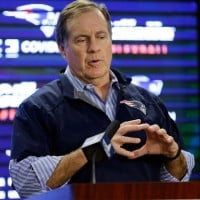 William Stephen Belichick is an American football coach and the long-time head coach of the New England Patriots of the National Football League.
I still cannot see why anyone would put anyone above Belichick. He is the best coach in the NFL currently. He just won his sixth Super Bowl, which is unreal. He is amazing at what he does. - PackFan2005
You can't deny that he's the best coach right now. - Randomator
Sean Payton

Still got to go with Sean Payton. - 2storm
Payton came one controversial call away from his second career Super Bowl berth, and what he has done for the Saints all these years is amazing. - PackFan2005
He's made New Orleans into a powerhouse that's for sure - Randomator
Sean McVay

McVay has risen, no, skyrocketed through coach rankings since 2017. He got the Rams to the Super Bowl in 2018, and despite losing, he is the youngest coach to ever make it. - PackFan2005
He's a young mastermind who will likely keep the Rams good for years to come. - Randomator
Doug Pederson

With less talent than 2017 and Nick Foles once again at quarterback, Pederson almost got the Eagles to the NFC Championship, which is unreal. Pederson has a long time yet with the Eagles. - PackFan2005
Andy Reid

Andrew Walter Reid is an American football coach who is the current head coach of the Kansas City Chiefs of the National Football League. Reid was previously the head coach of the Philadelphia Eagles, a position he held from 1999 to 2012.
About time he didn't choke in the first round/ divisional round - Randomator
Finally, with an explosive quarterback and offense, they won a playoff game at home. Even with one of the league's worst defenses in 2018, Reid got the Chiefs minutes away from a Super Bowl berth. Now, expect big things from Reid and star quarterback Patrick Mahomes in 2019. - PackFan2005
Frank Reich

Reich helped the Colts out of a bad start to going 10-6 and into the AFC Divisional Round. I am quite sure the Colts do not care about Josh McDaniels leaving the job at the last second. - PackFan2005
Anthony Lynn

The Chargers must be happy to have a coach like him, getting them out of a dark ages and getting them back to the playoffs. He is running one of the most balanced teams in the NFL, and despite losing to the Patriots in the AFC Divisional Round in 2018, I expect him to come back strong in 2019. - PackFan2005
Pete Carroll

Peter Clay Carroll is an American football coach who is the head coach and executive vice president of the Seattle Seahawks of the National Football League.
Even with a lack of big talent on both sides of the ball, Carroll defied the odds in 2018 and got the Seahawks to the playoffs with a 10-6 record. The NFL's oldest coach is also one of the best. - PackFan2005
Matt Nagy

Nagy got a bad Bears team and turned them into offensively creative, defensively strong NFC juggernauts. Now he just has to win a playoff game. - PackFan2005
Freddie Kitchens
The Contenders
Bruce Arians

I know Arians is only in his first year with the Buccaneers, but we saw what he did in Arizona, turning them into Super Bowl contenders in 2015 and keeping them decent throughout his tenure. He can possibly do the same in Tampa Bay by resurrecting Jameis Winston's career like he did Carson Palmer's in Arizona. - PackFan2005
Sean McDermott
BAdd New Item