Best NFL Head Coaching Candidates of 2019
Almost 10 teams have already fired their head coach, so here's some candidates who could possibly fill some of those vacancies.
The Top Ten
1
Mike McCarthy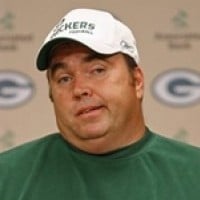 Michael John McCarthy is an American football coach who is the head coach of the Green Bay Packers of the National Football League. He led the Packers to a win in Super Bowl XLV against his hometown team, the Pittsburgh Steelers.
After being fired by this Packers, people have already began saying that he will fill some vacancies. Some rumours have been to the Jets and Dolphins - SirSheep
Outdated play calls with conservative measures plus staying on the Packers for a bit too long it was time. He could find success with another team. - htoutlaws2012
Well look who still doesn't have a year coaching job - SirSheep
For anyone that hires McCarthy, I wish them luck. They'll be dealing with stale and conservative playcalling for a whole season. - PackFan2005
2
Bruce Arians

He would not be a bad candidate. I mean just look at what he did with the Cardinals a few years ago. I still think he has some coaching life left in him. Unlike a certain other guy who made a return to the sideline from the booth to coach the Raiders - Randomator
He should come outta the commentators booth and coach again and his better than a lot these other guys from offensive mastermind who developed Andrew Luck, and eventually getting the Cardinals he did a very good job with what he could do. - htoutlaws2012
He said that he would only come back to coach certain teams, such as the Browns - SirSheep
Apparently he's going to Tampa Bay. Should be interesting to see what he can do there. - Randomator
3
Jim Harbaugh

Yes, some have said he may be returning to the NFL after going back to college football. He has been successful as a head coach before, and even made it to the Superbowl. I personally think that he would prefer to stay in college football and won't move back to the NFL - SirSheep
Well that might be best to blow up the whole coaching staff honestly. Also here's a pattern that indicates this happens... 4 years with Stanford, 4 years with 49ers, and finally 4 years with Michigan. - htoutlaws2012
I don't know about this one he's kinda struggled in big games with Michigan. And he can't beat Ohio State if his life depended on it. - Randomator
4
Vic Fangio

A pretty good defensive coordinator, imagine they lose him it would show that times are changing. - htoutlaws2012
The great defensive coordinator of the Bears, who has been in the NFL for over 30 years. He is rumoured to go to the Broncos or Eagles. Matt Nagy says there's a plan in place if he's hired. - SirSheep
5
Josh McDaniels

Well at least if he wants any head coaching position it's an elite quarterback in Rodgers. - htoutlaws2012
McDaniels, please save the Packers. - PackFan2005
It has been said that the only head Coaching job he will take is in Green Bay - SirSheep
6
Adam Gase

Yet another coach who has been fired after yet another mediocre season. - SirSheep
Should go back to being an offensive Coordinator more than anything. - htoutlaws2012
Best canidate on here he needs the Browns, the are a potential playoff next year
He's a better coordinator than coach, that's for sure. - PackFan2005
7
Kris Richard

Take him off this list, we can NOT let him leave Dallas
8
Brian Flores

9
Zac Taylor

Currently the Rams quarterback coach, some teams may interview him hoping he can bring some of Sean McVay's offense with him. - SirSheep
10
Chuck Pagano

Yes another former coach, he has drawn interest from the Packers and the Broncos - SirSheep
I don't like chuck he not the guy. he's not a great head coach but if the broncos can bring him he'll be a upgrade from Vance Joseph - Itzyoboijosh
The Contenders
11
Lincoln Riley

Although he's not likely to leave Oklahoma to go to the NFL, he would be a prime target of many teams. - SirSheep
Now unless somehow Cleveland does interest him in a way this might not happen. - htoutlaws2012
He's not going anywhere anytime soon. He just signed a contract extension - Randomator
12
Eric Bieniemy

13
Marvin Lewis

14
Hue Jackson

So finally Marvin Lewis is gone, but than wait your gonna hire a guy who took his team with 4 wins with his time in Cleveland. Is the ownership really this bad in Cincinnati? - htoutlaws2012
He has been personally endorsed by Marvin Lewis to replace him in Cincinnati - SirSheep
Cincinnati would be completely stupid to hire Hue. Well, expect since nobody wants the Cincinnati job, I guess they'll have to settle for Hue. Good luck with that. - PackFan2005
Cincy would be stupid to hire him. Did they not see how Cleveland did with him? I'd almost go back to Marvin Lewis over Hue Jackson - Randomator
15
John DeFilippo

He should go crawl back to Philly it hurts that bad how inconsistent Minnesota was all season. - htoutlaws2012
The current Vikings offensive coordinator, who coached under Frank Reich and Doug Peterson - SirSheep
Considering he got fired three quarters through the season, he's probably not going to get any offers for coaching. - PackFan2005
16
Jim Caldwell

Former Lions coach who has reportedly drawn interest from the Packers, Browns, and Jets. - SirSheep
Well Jets is his only other shot than because I can't see Cleveland being the destination. - htoutlaws2012
17
Pete Carmichael

Has made a dynamic Saints offense in his 12 years with the team, but no previous head coaching experience. - PackFan2005
BAdd New Item