Top 10 NFL Players to Opt Out of the 2020 Season
The Top Ten
Eddie Goldman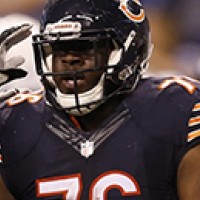 Eddie Goldman is an American football nose tackle for the Chicago Bears of the National Football League.
He's a veteran presence on the Bears but now that he's opted out that one stings for Chicago
Laurent Duvernay-Tardif
He was the first to opt out he wants to return to his native country of Canada to fight this pandemic on the frontlines honestly I respect that
Damien Williams

A major contributor to the Super Bowl winning Chiefs arguably the MVP of the game he has potential but has decided to opt out meaning Clyde Edwards Helaire steps up we'll see how that goes
Dont'a Higtower
A veteran presence on the Belichick Defense this one stings as the Patriots have over 6 opt outs and they need all the help they can get. Losing a veteran like that is devastating
C.J. Mosley

Clinton "C. J." Mosley, Jr. is an American football linebacker for the New York Jets of the National Football League.
Michael Pierce
Nate Solder

He's most notable for his time with the Patriots but he's played with the Giants the past few years and hasn't been that notable
Patrick Chung
Devin Funchess

He's most notable for his time in Carolina and now in Green Bay they could've used a Wide Receiver but he's opting out
Marcus Gilbert
The Contenders
Star Lotulelei

A veteran presence who can contribute to the Bills Defense not exactly notable but they could've used him on the defense to bolster it
Al Woods
He's bounced around a couple of teams but really hasn't done anything that notable probably wouldn't have made a big impact on the Jaguars anyway
Marquise Goodwin

A veteran receiver who's been in San Francisco and Buffalo now in Philadelphia he's opting out he's a serviceable weapon nothing crazy on his stats but not that bad either worth noting that Doug Peterson tested positive for COVID-19 as well
Marcus Cannon
Geronimo Allison

He was with Green Bay for the last few years now in Detroit he's opting out. Overall not a bad player he'll get about 200-300 yards and a few touchdowns not great but serviceable
Albert Wilson

BAdd New Item