Top 10 NFL Quarterbacks Under the Most Pressure in the 2020-21 Season
As the season approaches we have some teams looking to go to the next level. A quarterback is one of the most important positions in all of football. But some have struggled and now find themselves hitting a crossroads in their career or at least approaching the crossroads. An important season lies ahead and now they will have to have a good season to keep their current job. There's replacements floating around out there. Nobody wants to be replaced so now they must prove themselves
The Top Ten
Baker Mayfield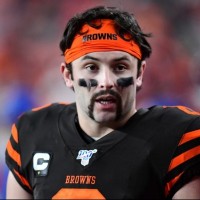 Baker Reagan Mayfield is an American football quarterback for the Cleveland Browns of the National Football League.
Baker showed great potential as a rookie but then regressed last season. To be fair that was with Freddie Kitchens as his head coach but still. The Browns have done everything in their power to help him succeed. He has weapons, protection and another coach in Kevin Stefanski. If he can't succeed this year he might be just another victim in the QB graveyard - Randomator
Dwayne Haskins

Last year he struggled as he shared the starting role with Case Keenum now they need some semblance of progress. The defense should be okay but the offense is a mess. Luckily they do have "Riverboat" Ron Rivera as head coach. And look what he did with Cam well before Newton got injured. If he doesn't develop there's a problem and another QB may be needed - Randomator
Mitchell Trubisky

Da Bears season was god awful last year and Trubisky is mostly to blame. The offense didn't just regress it lost all sense of a functioning system. It got to the point where even that defense was getting affected by his poor performance. the defense had got tired being dragged out onto the field so often. Now they brought in Nick Foles. And they declined Trubisky's 5th year option. Hey Chicago are you tired of the what if speculations if you would have got Mahomes or Watson? Good because you will be hearing them for years to come. At this point This is do or die - Randomator
Please Bears, sign this man to a 5-year, $100 million extension. - PackFan2005
The Bears would be stupid to do that unless he shows signs of improvement - Randomator
Derek Carr

Derek Dallas Carr is an American football quarterback for the Oakland Raiders of the National Football League.
The Raiders have no excuses now. This is a team that has been irrelevant since 2002 and they have the talent around Carr for wild card upside. They won't win the division but a wild card is more than possible. Anything less is unacceptable when you go get Henry Ruggs Bryan Edwards and Lynn Bowden. Not to mention they already have Tyrell Williams and Josh Jacobs. They have better pieces on defense as well but Derek Carr needs to get back to 2016 form as the years pass by its looking more and more like a fluke - Randomator
Gardner Minshew

Had a cool rookie story but now reality sets in. Overall he's not bad but he's gonna have to have a lot of guts to keep his starting role. Keep in mind the Jags are tanking and there's a few quarterbacks in line for next year including Trevor Lawrence. This team is projected to be the worst of any team in the league have fun with getting no more than 5 wins - Randomator
Sam Darnold

He's in the same boat as Baker it's do or die. The thing with him is he's gonna be running for his life again and if he can't stay upright then yeah he's in trouble - Randomator
Tom Brady

Thomas Edward Patrick Brady, Jr., is an American football quarterback for the Tampa Bay Buccaneers of the National Football League. Brady is known for being the only quarterback in history to win 6 Super Bowls, and is often considered one of the best quarterbacks of all time. Brady is also frequently ...read more.
Why is the GOAT here you ask? Well simple he's in Tampa now. The Bucs have some hype but look at the past few years and he looks like he's done. It's clear he's in the 2015 Peyton Manning stage of his career. Yes they have weapons and they even brought a washed up Gronk back. But let me remind you that Tom Brady is 43. Father Time is undefeated and Brady's time is near. Bruce Arians is also no
Bill Belichick. It's possible he struggles in Arians system. This reminds me a lot like the Browns last year don't blow it. - Randomator
Carson Wentz

Carson Wentz is an American football quarterback for the Philadelphia Eagles of the National Football League. He played college football at North Dakota State University. He was drafted by the Eagles with the second overall pick of the 2016 NFL draft, becoming the highest drafted quarterback from an ...read more.
little did the Eagles know they replaced Sam Bradford with Sam Bradford - RawIsgore
Kinda, but Wentz is better when he is healthy at least he gives the Eagles a chance. When he is down and its down to the backup that's never a given. - htoutlaws2012
The Eagles did the unthinkable and drafted Jalen Hurts. Wentz is serviceable but if these past few seasons have indicated anything he can't stay healthy. If he's healthy he's fine but otherwise they might replace him with hurts as he becomes the next Sam Bradford it feels like - Randomator
Josh Allen

Josh Allen has everything he needs to be successful and Bring Buffalo to the next level. The Defense is a top 5 unit in the league but the offense has struggled and that's what got them in the end last year. Stephon Diggs can change that but only if Allen develops. So far he's shown he's a poor man's Lamar Jackson and nothing more. The Patriots are significantly weaker and will likely be tanking yes it's still Weird to say Patriots and Tank in the same
Sentence. The AFC East is up for grabs and Buffalo is the frontrunner favorites to win it. Bills whatever you do don't let the Patriots win this division! This is your time now and it all starts with Josh Allen - Randomator
Matthew Stafford

John Matthew Stafford is an American football quarterback for the Detroit Lions of the National Football League. ...read more.
Stafford is a veteran quarterback who has the stats to be decent and that's all he has going for him. Like Wentz he has trouble staying healthy which has cost the Lions just look at last year. In his defense the Lions haven't always had the greatest protection for him. But still. He isn't on the best of terms with Patricia and if he can't prove he still has it the Lions night have to draft another Quarterback as replacement - Randomator
The Contenders
Ben Roethlisberger

Benjamin Todd Roethlisberger, Sr., nicknamed Big Ben, is an American football quarterback for the Pittsburgh Steelers of the National Football League.
First off assuming he's coming back that in itself is up in the air at this point second even if he does he's 38 and past his prime. Sure he's better than the horrid backups but that's not saying much. There's a good chance he won't be the same QB in that case better hope he can at least lead the team to respectability - Randomator
Daniel Jones

Last year he showed flashes of potential but was also inconsistent now this is his team. Eli Manning is gone and he has to start showing progress and development. Lets not forget about the massive reach Gettleman made to draft him. He'll always have that hanging over his head. If Daniel Jones can't at the very least show consistency and more development it will be easy to label him as a massive reach and a potential bust - Randomator
Lamar Jackson

Drew Lock

Denver like Oakla... I mean Vegas has been irrelevant these past few years and is looking to get back into the playoff promised land. They went all out for weapons which they needed badly after giving away Emmanuel Sanders. Elway was smart and doubled down on offense with Jerry Jeudy and KJ Hamler. But everything revolves around Drew Lock. Need I remind you of their Quarterback graveyard since Manning retired? Lock showed flashes of potential but still has a lot to prove. - Randomator
BAdd New Item