Top Ten NFL Quarterbacks of All Time
The Top Ten
Tom Brady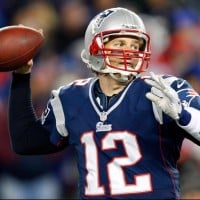 Thomas Edward Patrick Brady, Jr., is an American football quarterback for the Tampa Bay Buccaneers of the National Football League. Brady is known for being the only quarterback in history to win 6 Super Bowls, and is often considered one of the best quarterbacks of all time. Brady is also frequently ...read more.
This guy is the best, he won 6 Super Bowls, and has the record for most play-off appearances and wins. Anyone who says he is not the best QB of all time is just a hater. And he also has the record for most SB MVPs of all time. Just so you know, I am a Titans fan. I don't even cheer for the
Patriots and I see that he is the GOAT. I hope he wins another SB with the Bucs.
GO TITANS
The GOAT says it all. Greatest QB, coach and team, EVER. Even Terry Bradshaw, who is tied with Joe Montana said Brady was the best EVER! It's just that everyone hates the Patriots because Boston has 4 of the best Pro teams of all time. 18 banners hang from the Celtics BB court (No one will ever beat that), then there's the Bruins who all hockey teams fear and our Red Sox who broke the Babe Ruth curse (if you're superstitious and believe in curse crap) and have won World Series championships of late and was in the playoffs in 2017. Can you imagine any other city that has produced more winners, totally, than our four teams. NONE come close!
Tom Brady is the GOAT plain and simple. Let's go back, way back to the 1990's when Tom Brady was in Michigan...he started his freshman season behind a couple of other QBs but he worked his way up to 2nd string and was pushing for the starting job but the coach always took the upper class man so Brady, a freshman at the time, didn't get the starting job even when he was the best for the job. In his junior and senior seasons he was still in and out of the role, his senior season he was replaced by a guy named Henson, who was much more athletic could run faster and throw better than Brady...and once again as a senior Brady was sitting on the bench. But the coaches had forgotten about one very important aspect...and aspect they couldn't really observe...and that was Brady's heart, he was just more passionate about the game than Henson he was smarter than Henson he was a better leader and just wanted it more than Henson. So a little ways into the season Henson had dug them a hole in the ...more
I definitely think Joe Montana is the best, but Tom Brady takes second place. Everybody who thinks Manning is better is wrong. If you look at the 2013-2014 season, Brady had NOBODY who could do anything, Manning had tons of receivers who could catch the ball. Brady still took them to the championship game though. People that think that Adam Vinatieri won all three Super Bowls for them are wrong. Although he did kick the winning field goals in the Super Bowls, who do you think got them that far, Vince Wilfork? NO! Tom Brady did. Tom Brady was drafted 199th in the draft, and what a big thing he became.
Joe Montana

Joseph Clifford "Joe" Montana, Jr., nicknamed Joe Cool and The Comeback Kid, is a retired American football quarterback.
Didn't cheat, won his rings without ridiculous luck, and won 2 Super Bowls without Rice and with 2 coaches. You may say that without his rings he's not even in the conversation but remember that Montana played in the golden era of defense with guys like Deion Sanders and Lawrence Taylor. Brady has dumb luck, cheating, and rules to protect him. Without Brady the Pats went 11-5. I know the 49ers won a Super Bowl without Montana but that was when they had Steve Young another top 10 QB. Sorry Brady fangirls, but Montana is still the GOAT.
He's the best he will always be brads has one 2 lucky superbowls montana worked for all of his montanas record was perfect never through a interception in a Super Bowl game and was spot on and guess what happened they traded him because they had steve young why? because montana had a back surgery and could not play why young was cooking the field so they traded montana if they would have kept him he might have gotten 1 or 2 more rings brady on the other hand will not quit because he is greedy I don't think he's doing it on purpose its something else now lets say montana did not have taylor chasing him around everywhere he went ready to crack montanas back and could not be touched or that would be 15 yards and montana would be able to play longer and get more rings the only reason brady has 1 more ring then him is because of what I have stated in this post think about this the next time you say tom bradys the best
Dine at Joe's. 4 - 0 in the big dance, like Bradshaw. I don't buy into the Noll / Bradshaw argument below. Brady needed to win the 2007 game to perhaps upend Montana. Patriot QB provided the lead with just over 2 minute's left and like all NFL quarterbacks, he doesn't play defense. personally I like the 1984 49er team as their best, just my opinion 18-1.
If Montana played with the 49ners till his retirement he would have won at least 5 superbowls, maybe 6, and that's when quarterbacks had targets on their backs. Brady wouldn't last long if he took the hits Montana took. Get real Brady is not even in the top 5, his 1st and 2nd superbowls belong to Bledsoe. Bledsoe took the ass whippings for years building the team for those championships not Brady PERIOD... PS Its amazing how short memories are
Peyton Manning

Peyton Williams Manning is a former American football quarterback who played 18 seasons in the National Football League for the Indianapolis Colts and Denver Broncos.
Peyton is the best quarterback ever to play the game. Some people think that just because Brady has more play off wins and more super bowl rings, that makes Brady a better quarterback, that could not be more wrong. For a team to be able to make it that far, the whole team has to be good or at least not have any major weaknesses like the colts did when Peyton Manning was on their team. Colts had a terrible offensive line and a horrible defense so it was basically all on him to carry the team as far as he could. Tom Brady's team was always much better than Peyton's team Brady's team could help carry him to the super bowl.

Winning the super bowl is a TEAM effort, not just one player. If you take any quarterback in the league and place him on the Seattle Seahawks, that quarterback will have a much better chance of winning the super bowl than he would if you placed the same quarterback on the Jacksonville Jaguars. If he is on the Seahawks and wins the super bowl, don't say that it ...more
12 pro bowls
6 all pro first team
2 all pro second team
Super Bowl champion
Super Bowl MVP
4 time MVP
Pro bowl MVP
Rookie of the year
Indianapolis colts career win leader, passing touchdown, passing attempts, passing completions, and passing yards
Ap comeback player of the year
7 time ap offensive player of the year
Fastest to reach 50, 000 passing yards
Fastest to reach 60, 000 yards
Fastest to 4, 000 completions
Fastest to 400 touchdowns
NFL 2000s all decade team
96.3 passer rating
448 touchdowns
60683 passing yards
65.3 completion percentage
209 interceptions
Put manning on any team and you have a Superbowl chance. he's the only player to win a SB with 2 different teams, led 4 different head coaches to SB appearances, and not to mention his complete domination of the position as an individual. Holding nearly every record in all time and best of all time stats, he fails only in TEAM related inquiries such as rings. The dude is easily the smartest football mind in history, has the best QB season in history, and has the most individual highest prestige awards in history at the MVP position with 5. I think Joe, Tom, and Unitas are amazing players with huge legacies. But this man alone carried the COLTS to become the 2nd most winningest team of all time for a decade. Went to the broncos who barely scrapped a playoff berth and went to 2 superbowls and had the league leading offense in history. He surely is the GOAT.
How do people think Brady > Manning? He has more records, better performance in regular season and has led two bad teams to the Super Bowl and Tom has better post season performance and has lead the team with stars on the field and in the coaching staff to the Super Bowl. He shouldn't even had won Super Bowl XLIX if there was any other coach instead of Pete Caroll with the Seahawks that year. People say that post season matters but even if it does, in my team, Manning would play in the regular season and break more records than Brady in the post season. He is a great player but not better than Manning.
John Elway

John Albert Elway Jr. is a former American football quarterback and current executive vice president of football operations and general manager of the Denver Broncos of the National Football League.
Elway should be #1. He did the most with the least in history.
Montana had one of the best offenses ever around him throughout. Elway had a medioccre offense (but one with heart) around him for most of his career. Brady also a great offense and defense around him. Can anybody
Even name Elway's receivers until late in his career? (Johnson and Jackson--not bad but not Taylor and Rice). Elway also was spectacular on the field. Look at some old footage--mind blowing.
John elway should at least be #2 he had great statistics and helped the Broncos a lot without him the broncos would be no where today sure bradys good but he's not as good as john elway was but this is my opinion but he has a lot of MVP awards and records and had amazing comebacks John elway is a Great Quarterback.
John did most with the talent around him... Greatest comeback QB of all time.
Brady and Montana had more talent around them...Marino and Manning also did more with less talent.
John Elway did wonders for the Broncos. If he had a supporting cast like he had in his final two years he would have had better numbers and more Super Bowl rings
Dan Marino

Daniel Constantine Marino Jr. is a former American football player who was a quarterback for the Miami Dolphins of the National Football League.
Funniest site I ever saw was Marino running. The look on his face when Shula called it in was telling. Yet he still scored. Had the Dolphins been able to keep Bill Arnspager for a few more years, there would have been a defense and a running game to back up Marino. But how could you argue about spending 12 minutes a quarter to score when Marino could do it in 30 seconds. It's hard to argue with success. Unlike the other quarterbacks on this list, you knew he was going to throw every down if given the chance, and you still couldn't stop him 67% of the time.
As mentioned by others, Marino played on far less talented teams than the QB's ranked above him here, especially defensively. Montana had Fred Dean, Michael Carter, Charles Haley, Ronnie Lott, and Eric Wright. Brady had Vince Wilfork, Richard Seymour, Willie McGinest, Ty Law, and Lawyer Milloy. Manning had Dwight Freeney, Robert Mathis, and Bob Sanders. Elway had Karl Mecklenburg, Steve Atwater, Dennis Smith, Bill Romanowski, and Neil Smith. The closest thing to a star Marino had on defense would be Bryan Cox (3 pro bowls) or John Offerdahl (5 pro bowls). He had a winning record head to head vs Montana, Elway, and Manning. Only Manning has more 4th quarter comebacks and has done so with far superior offensive talent. No one has ever done more with less than Marino. To those of us who watched him play, the lack of a ring means very little.
For all the people who say tom brady is better than Dan Marino because he won more Super Bowls you are wrong. Tom brady relies on his kicker Adam viniteri to win Super Bowls ( notice how he hasn't won any since vinateri left). Talent shouldn't be based on Super Bowl wins though that is part of it. Talent is based on how you play, not how many Super Bowls your kicker wins for you
Dan Marino is clearly the best passer in the history of football. Anyone with a brain in their head should know this. He defeated the greatest Defense (85 Bears) 38-24 and gave them the only loss that year.
Johnny Unitas

John Constantine Unitas, nicknamed "Johnny U", or "The Golden Arm", was an American professional football player from the 1950s through the 1970s.
This list is irrelevant, nobody appreciates the history of football. Johnny U #6? Where is Otto Graham? Where is Bart Starr? I'm surprised Tom and Peyton are below Montana since they're clearly the two greatest! (Sarcasm)

Here is my list:

1. Johnny Unitas (called all his plays)
2. Joe Montana
3. Otto Graham
4. Tom Brady (our generation's Montana)
5. Bart Starr
6. Dan Marino (best arm ever! )
7. Roger Staubach
8. Peyton Manning (not a clutch player)
9. John Elway
10. Steve Young
11. Fran Tarkenton (see Manning)
12. Brett Favre (too many turnovers)
13. Terry Bradshaw (4 rings)
14. Drew Brees
15. Warren Moon (the run and shoot)
16. Troy Aikman (3 rings)
17. Aaron Rodgers
18. Randall Cunningham (amazing)
19. Kurt Warner
20. Jim Kelly (the k-gun)
21. Sammy Baugh
22. Joe Namath (injuries set him back)
23. Ben Roethlisberger (underrated)
24. Dan Fouts
25. Ken Anderson
The best quarterback ever was definitely the "Golden Arm" because if he was playing now he would have absolutely crushed both Joe Montana and Peyton Manning's stats. Also he won the "Greatest Game of Football" vs. a great giants team in the championship and did really well + he also has been to a dozen championships before there was the Super Bowl, and still went to 2 Super Bowls, and won one of them against the Cowboys!
During Johnny U's time, Had quarterbacks and receivers been given anywhere near the rule protection they now receive, no telling what kind of numbers Unitas would have put up. Ranks up there with Montana.
In his time, had quarterbacks and receivers had anywhere near the rule protection they do today, no telling what kind of numbers Unitas would have put up. Ranks up there with Montana.
Brett Favre

Brett Lorenzo Favre is a former American football quarterback who spent the majority of his career with the Green Bay Packers of the National Football League.
Argument can be made that he is the G.O.A.T. He set every major QB record when he retired. Wins, TD's Yards, Completions, Attempted passes, Consecutive starts. Superbowl Champion, 5 NFC Title games, 3 NFL MVP awards. Played in NFC Central, North against tough defense's in the 90's early 00's Bucs, Bears Vikings. Compared to Manning and Brady's weak divisions every year. Never had a Hall of fame WR or RB to play with like Montana, Manning, Young, Elway & many other qb's listed in the top 10. Played most of career with below average Packers defenses. Bounty bowl saints game kept him from winning 2nd super bowl with Vikings at age 40. Had the Packers won against Broncos in 98 super bowl and Had the Saints played a up & up title game than Favre has 3 rings instead of 1. Had Mike Holmgren stayed with favre in green bay it would have rivaled brady and bellicheck as far as rings. Favre was by far the most fun to watch and a true competitor that made every team he played for a contender. ...more
Here's my man, He should be #1, no doubt about it. To his early days in the 90's with the Packers to his later days with Vikings and Jets. Favre was a great QB, his super bowl wins and clutch moments show that even a 40 year could play, and a young 23 year old could do anything. Favre's the man.
Brett deserves a spot in this list...stats, leadership, excitement level, and iron man who fans lived to watch play the game. by the way--Green Bay traded him after they offered him a deal to quit and he refused...just to set the record straight. I would have gone to the Vikings too...
The only reason Favre has decent stats is because he's a boot-licking traitor who comes out of retirement with a different team because he needs more cash. (I'm not a fan of any Favre team)
Terry Bradshaw

When Terry connected a long hell marry pass he connected with perfect spirals. Even while going down from a hard hit. Get up and do it again. It was all or nothing for him and the TEAM. (MAV)
In his case only rings matter. So david Carr has a ring and Dan Marino has none so apparently Carr is better than marino. Correct?!
How is Terry Bradshaw not in the top 10, or even top 15? He has 4 superbowls! 4-0 in superbowls and was a very very good quarterback.
Obviously, most of the responders, here, never saw this man play.
Drew Brees

Drew Christopher Brees is an American football quarterback for the New Orleans Saints of the National Football League. He is the only player to have back to back to back 5,000 yards in three seasons straight. Brees also has the all time best completion percentage with 66.95%.
His resume is extensive, he's broken records previously held by Peyton Manning AND Brett Favre and people said he was too short to make it in the NFL. By now he should easily crack the top ten.
I am biased because I am a saints fan, but come on. Drew needs to be higher on this list. This year he has surpasses Peyton Manning for career passing yards, is on pace to shatter records in TD:INT ratio and Completion percentage in a season, and is creeping up on Manning for career passing TDs. Although we are in an era of phenomonal quarterbacks and passing games, Drew Brees has the precise accuracy and leadership that you cannot ignore.
Someone said his numbers were due to the fact he plays in a dome... How many other QBs have played in a dome in the history of the NFL... One could also say that if Brees were 6'2" or 6'4" like most QBs he would have more yards as well... He was only rated as the most accurate passer and out-performed an Olympic archer on Sports Science for crying out loud... He's awesome!
He should be in at least the top 5 he has thrown for five 5,000 yard seasons a super bowl ring and super bowl mvp. He is most likely going to break all time passing yards and all time passing touchdowns. He is the most accurate qb in history. Maybe even number one he should be on this list.
Steve Young

Jon Steven Young is a former professional American football quarterback who played 15 seasons in the National Football League and is best known for his 13 seasons with the San Francisco 49ers.
His stats ended up better than Montana's. It was a good change for Young to replace him and lead the team to the super bowl. He should be much higher, and he is probably the most underrated quarterback on the list.
If he would have played his whole career (USFL a couple years and backup to Montana) he would be in the discussion for #1 all time. He was the bast in his 7-8 year span!
This top 10 thing sucks Steve young is better than choke artist Peyton manning
He should be #2 since there is Montana GO 49ERS
The Contenders
Roger Staubach

Roger Thomas Staubach, nicknamed Captain America and Captain Comeback, is a former American football quarterback in the National Football League.
The only one on this list that gave up four years of his career to serve our country. 27 years old as a rookie, wow! How much more could he have done? The greatest leader and competitor to ever play!
The greatest, not just wins or championships. He had class and represented discipline and team player. He had intangibles that a statistic can not measure.
He is a star player
A true class act
Bart Starr

Bart Starr - Most NFL championships (5). 2ND highest QB rating before the NFL changed the rules to make the passer's job so easy and put skirts on the QBs. Called his own plays. Lead his team to 3 consecutive NFL championships which no one else has ever done. He was a winner - that should be way more important than stats. Maybe the most significant play in NFL history (Ice Bowl).
I agree Montana all the way by far the greatest quarterback to ever played the game
Bart Starr was the first of the legendary quarterbacks, but not the best one.
Bart Starr is the best ever
Aaron Rodgers

Aaron Charles Rodgers is an American football quarterback for the Green Bay Packers of the National Football League.
In terms of pure talent, Rodgers is the best. Just watch some of his highlights and look at his stats. He's incredibly precise with distance throws and has the lowest interception percentage of all time.
A really good quarterback. However, he is not one of the better postseason performers. He had great receivers and a great team given to him, but he is still one of the most fitting role for a quarterback.
There is no way that A Rod is number 16 on the all time list. Any body who thinks that sucks and should get off the website now! A Rod #1
He's in the league with Brady and Montana skillwise he just needs more bowls, he even has more skill than Brady it's just that Brady has way more help.
Otto Graham

Otto Everett Graham Jr. was an American football quarterback who played for the Cleveland Browns in the All-America Football Conference and National Football League.
Not only greatest football team of all time, but also greatest quarterback of all time, 7 out of 10 NFL championships, no modern QB will equal that plus under the worst conditions! Montana no. 2 & I saw them both play in their respective stadiums! The truth!
10 consecutive championships in ten years, won seven of them. Probably not as good as Montana, but if he's not on the list it's a disgrace.
Otto Graham is SO underrated, even being a hall of fame QB. Graham was incredible.
the fact that these people think Rodgers is better than him makes me violently ill
Troy Aikman

Troy Kenneth Aikman is a former American football quarterback who played for the Dallas Cowboys in the National Football League.
The most accurate quarterback and one of the most completions in nfl history and only played 12 years of football. 3 time Super Bowl winner and over 32,000 yards, 165 Touchdowns, and 2898 completions. Including the bad years when the Cowboys sucked. On his first Super Bowl he completed 22 of 30 passes. He also made 4 touchdowns in the Super Bowl. And the reason why he didn't have the most yards is because he had emmitt smith, the greatest running back of all time
I'm a Steelers fan and should probably be voting for Terry Bradshaw right now, but man this guy is an icon!
Troy is great think he is in the right spot
Shouldn't even be close to top 10.
Randall Cunningham

Randall W. Cunningham is a former American football quarterback in the National Football League and current football coach and pastor.
I love the eagles but Randall Cunningham is way better than the eagles
Very tough fast and he had one of the strongest arms ever.
He was a great rusher and had a good throwing arm too.
Cunningham needs to be in top 10.
Kurt Warner

Kurtis Eugene "Kurt" Warner is a former American football quarterback, a current part-time TV football analyst, and a philanthropist.
He had a late start to his career and then made most of it. I am not saying he is in the top 10 but he did take two historically bad teams to the Stupor Bowl. He played very well in the Bowls he lost. Short career, great stats, great person.
the graetest late bloomer of all time.He went to a small collage.went undrafted was baggin grocerys for a wile gets to the rams, trout gets injured starts leads the greatest show on turf to a super bowl title and should be in the hall of fame one day.
I am a rams fan and I am 9 remember he used to stock shelfes or 5.50 a hour and than he just gets millions from being a great quarter back he should cover brady shoul dbe his numbrer
Kurt Warner belongs at #10. One of the most Underrated Qbs ever
Sammy Baugh
Sammy baugh is the inventor of play action in 1942. Yes, he invented play action and made the league more pass heavy. Was good from his rookie year in 1937 to 1947. One of the goats/evolved the QB position.
Sammy Baugh is the pioneer of vertical passing and could be considered best of all time
Fran Tarkenton
Fran revolutionized the game with his scrambling. He started out playing for the expansion Vikings for 6 years. He was traded to the Giants in 1967. In 1966, the Giants won 1 game. During the next five years he made the Giants exciting and respectable. The 1970 Giants went 9-5 and missed the playoffs by one game. Players on those Giant teams have said that a few of those teams might not have won any games if it wasn't for Fran. Yes, the Vikings of the 70's lost 3 Super Bowls. However, The Vikings were not as good as the Dolphins, Steelers, and Raiders. The main reason why Minnesota lost those 3
Super Bowls was their offensive and defensive lines (for the most part) were blown away. Minnesota could not rush the ball of offense and their defense simply could not stop the run. Fran was not great in those Super Bowls, but he was not the main reason why they lost. Overall, Fran was brilliant at improvising and seeing the whole field. He was a man ahead of his time.
Tarkenton was by far the most intelligent quarterback of all time. His knowledge of the game and ability to read defenses brought his position to a whole new level. He was one of the last quartebacks to actually run the offense, calling the plays from the line of scrimmage and making split second decisions while making complex reads at the line of scrimmage. One needs only to see how successful he has been since retiring to know he has an incredible mind.
The first quarterback to bring out of the pocket passing he got snubbed here
Every time I see him throw a touchdown it's so great
Andrew Luck

Andrew Austen Luck is a former American football quarterback who played his entire career for the Indianapolis Colts of the National Football League.
He's solid but his performances against New England say a lot. He is not at the next level and I don't think he will for a while.
Why the hell is Andrew luck in the top 20 he's not even good. Also his neck beard is ugly
He didn't play well against NE. He sucked. He always does against the Pats.
Will be the best ever when its all said and done and I'm not a colts fan
Alex Smith

Alexander Douglas Smith is an American football quarterback for the Washington Redskins of the National Football League.
Alex Smith is a great qurterback who rarely turns the ball over everyone dissing him are haters.
Worst qb in the league
Haha very funny
The best game managet
Jim Plunkett
He won 2 Super Bowls and won Super Bowl MVP. What more needs to be said?
Brady and Montana have won 4 super bowls with three super vowl MVP's a piece. Your point?
All that work and still not in hall of fame
I'm related to jim he won 2 super bowls and the heisman including mvp of the super bowl probably should replace otto Graham
Joe Namath

Joseph William Namath, nicknamed "Broadway Joe", is a former American football quarterback and actor.
Why is he so low behind all these quarterbacks that are clearly worse than he was
How the hell is Tim Couch, Joe Flacco, Tim Tebow, and RG3 ahead of Broadway Joe
Joe Namath is the second coming of jesus christ
Nick Foles

Nicholas Edward Foles is an American football quarterback for the Chicago Bears of the National Football League. He was named MVP of Super Bowl LII.
Why is Nick Foles even on this list? He's played for like 4 years and has done NOTHING to prove that he's any good
This makes no sense. Hmm... I think there is a guy named benny friedman and another named dan fouts somewhere
This kid is the future of the Eagles organization and the future of the NFL.
Nick Foles being 19th? Come on people he's not awful but seriously?
Warren Moon

Harold Warren Moon is a former American and Canadian football quarterback who played professionally for 23 seasons. He spent the majority of his career with the Houston Oilers of the National Football League and the Edmonton Eskimos of the Canadian Football League.
Warren Moon is among the top 15 quarterbacks easily.
Warren Moon at 47 is a travesty. What an awful list.
RYAN LEAF, TIM TEBOW, AKILI SMITH, LANDRY JONES, MATT FLYNN, MATT SCHAUB, ALEX SMITH! ALL ABOVE WARREN MOON?! ARE YOU KIDDING ME?!
PSearch List