NFL Teams with the Worst Offensive Lines Going Into the 2020 Season
These teams have incredibly poor technique of blocking, and therefore the quarterbacks/runner have tough time gaining much on the field because of the men on the frontline losing the battle in the trenches. These are teams I pray would fix this situation in the future.
The Top Ten
1
Cincinnati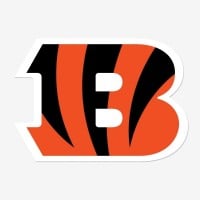 The Cincinnati Bengals are a professional American football franchise based in Cincinnati, Ohio. The Bengals currently compete in the National Football League as a member club of the league's American Football Conference North division.
Finally the Bengals are the overall with offensive lines crew to be behind which means brace yourself Joe Burrow. Sure he'll get Jonah Williams back which should bump them at a smidge of room right? Don't count on it though. Billy Price looks like a bust made of glass. Bobby Hart getting extended is beyond questionable for a guy who is a mediocre right tackle at most. Can Su'a Filo and Michael C. Jordan (as I'll call him to not confuse you with the goat of NBA, and the actor) be a better guarding tandem for Joe Mixon to work with more close up running plays? Unexpectedly I see a rough rookie season for the rookie sensation, and I wouldn't be upset by that at all. Peyton Manning wasn't great immediately. Overtime he got better, and will that be the case here how they handle Burrow in these early stages?
2
Los Angeles (Chargers)

You look at the Chargers last year the reason why they collapse so badly as they did this offensive line is atrocious. Take out Turner who is a good run blocker. You had poor Guard tandems now getting a boost there. You had average always been left tackle now gone Okung and now you have a three headed monster battle at that position... yikes. You do have Bulaga, but that's only he is healthy. If anything you may end up with damaged goods like with what the Lions had with T.J. Lang. He is approaching that age in similar fashion. Yeah I really don't like this line, and from a statistical view. I do not see how there any good on that up font battle. I see them from a clear indicate of a bad up front line for any quarterback to behind whether its Taylor or Herbert to that I say good luck surviving behind this line.
3
Seattle

The Seattle Seahawks are a professional American football franchise based in Seattle, Washington. The Seahawks compete in the National Football League as a member club of the league's National Football Conference West division.
Duane Brown is an ageless wonder, Iupati you could argue as well I guess. How about the rest though? Center is a huge question mark, who wins the battle at Right Guard, and tackle which could be a glaring weakness as well given the player that wins the battle of 1st depth man up. It is also no wonder Russell Wilson has to constantly scramble for his life.
4
New York (Jets)

The New York Jets are a professional American football team located in the New York metropolitan area.
Becton could be good or bad, pray to god he is your Ferguson than a Manadrich type. Every else all next to him is garbage. I mean George Fant was bad in Seattle here he is to a pile of scrubs piled up Jets like to do that so much clearly. Van Roten same deal he wasn't that good in Carolina. Turner was the one who was really the most underappreciated player in that line whereas with this guy was an average blocker, but maybe below now with a new environment walking into. McGovern I thought good signing, but then realized oh wait he was their backup Center essentially... nevermine next.


Brian Winters and Alex Lewis coming back really puts a dagger why the Jets are a joke why they have been this bad for so long in terms of making a team be done right this goes to show. Your team struggled running the football with these two guys blocking for Bell. Now you add Frank Gore to mix enjoy gaining no yards in a pointless effort man I envy why you wanted to come to jersey in first ...more
5
Arizona

The Arizona Cardinals are a professional American football franchise based in the Phoenix metropolitan area.
My one concern for Arizona would be the offensive line is so weak on paper. Marcus Gilbert can be good if he can return to form which I have no confidence that he will. Mason Cole seems like a complete unknown to me as one of the bottom Centers in the league. Maybe Josh Jones gives some hope Murray could have that at least. Kelvin Beachum competing against the rookie oh my is that brutal to see to washed up Pittsburgh lineman end up in the desert huh. Justin Pugh might be the bright spot of the crew as a solid Guard. Not much faith overall though as I see it. Doesn't change my high hope of what this offense could look like however.
6
Houston

The Houston Texans are a professional American football team based in Houston, Texas. The team competes in the National Football League as a member club of the American Football Conference South division.
In a tiny victory the Texans reduced the sacks, but still need to get better reducing that to a maximum of 10 given up. Laremy Tunsil is a step in the right direction. Everywhere else in this line needs some retooling to work with.
7
Carolina

The Carolina Panthers are a professional American football team based in Charlotte, North Carolina, that competes in the National Football League.
I do think they at least picked out a good Center, but other than this Line is still bad in my view. Carolina has always done this and never focus on the trench. They just get shiny toys instead sounds like the Jags team from the early 2010's doesn't it?
8
Washington

This Washington line is the opposite to the other two teams where they had bad pieces. This team has bad tackles to deal with mostly. Up front they are looking decent at the very most. Don't be fooled though if Haskins goes down for the count and gets dropped 10 sacks a game.
9
Miami

The Miami Dolphins are a professional American football franchise located in the Miami metropolitan area.
The O-line that was last season was easily the worst. This time around I see some guys who could improve it just a slight look to that offense. I do like the rise of Austin Jackson, Robert Hunt, and Solomon Kindley. There's something building to get this O-line fixed properly and I can see how Flores wants it to look. There will be one side of this line hurt, but another side could improve greatly if done right.
10
Atlanta

The Atlanta Falcons are a professional American football team based in Atlanta, Georgia. The Falcons compete in the National Football League as a member club of the league's National Football Conference South division.
What use to be a very good O-line form a few years back now is slowly becoming one of the worst. Take away Jake Matthews, and Alex Mack there isn't anything good outside of them. You have a poor Guard tandem that proved no matter who is running the football will struggle often. Right tackle struggled quite a bit getting beaten often by elite pass rushers. I see Matty Ice getting crushed hard more often than ever before.
BAdd New Item