Best NHL Players of 2013-2014
The Top Ten
Alexander Ovechkin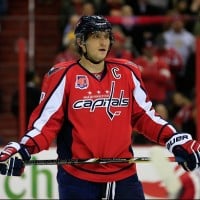 Alexander Mikhailovich "Alex" Ovechkin is a Russian professional ice hockey winger and captain of the Washington Capitals of the National Hockey League.
Shane Doan is better than you because you suck
Sidney Crosby

Sidney Patrick Crosby ONS (born August 7, 1987) is a Canadian professional ice hockey player who currently serves as captain of the Pittsburgh Penguins of the National Hockey League.
How is Ovechkin better? I mean I don't like Crosby at all that much but I disagree. Crosby already has 3 Stanley cup rings won gold like twice 1 World Cup and everything. Ovechkin is just a bunch of stats. I still show a little bit more respect for Ovechkin than Crosby though. Only a little.
HOW IS OVECHKIN BETTER!?
Crosby is CEARLY number 1
Patrick Kane

Patrick Timothy Kane II (born November 19, 1988) is an American professional ice hockey right winger for the Chicago Blackhawks of the National Hockey League (NHL).
Could possibly go down as one of the greatest players of all time by the end of his career. - krist33
I imagine alexander ovechkin and Patrick kane two of the best players of all time
John Tavares

John Tavares is a Canadian professional ice hockey centre and an alternate captain for the Toronto Maple Leafs of the National Hockey League.
I'm an isles fan and that is why my account is gotavares - gotavares
Ryan Getzlaf
His size sets him apart.
Tough as nails. Takes a puck to the face 1st round of the playoffs and he's back the next game with 52 stitches and a weird jaw gaurd. Not only that but he scored two days later and has gotten points pretty much every game since. Getzlafs a champ. Keep it up ducks! Your not my team but I definitely hope you guys make it to the final, you deserve it.
Steven Stamkos
Stamkos had a bronken leg. - katiepery
Jarome Iginla
Evegini Malkin
Rick Nash
Johnathan Teows
The Contenders
Carey Price

Carey Price is a Canadian professional ice hockey goaltender who plays for the Montreal Canadiens of the National Hockey League.
Price is the best goalie in the world hands down
Price carried the habs all year so he deserves to be on here and don't get me started on the olympics
Claude Giroux
Giroux is a very talented hockey player
Corey Perry
Jonathan Toews
Duncan Keith
Andrew Ladd
Greatest player of the modern era, hands down
Teemu Selänne
Marian Gaborik
Patrice Bergeron
Pavel Datsyuk
Anze Kopitar
Tuukka Rask

Tuukka Mikael Rask is a Finnish professional ice hockey goaltender currently playing for the Boston Bruins of the National Hockey League.
Blake Wheeler
Martin St. Louis
Zdeno Chara

Zdeno Chára (born 18 March 1977) is a Slovak professional ice hockey defenseman who serves as captain of the Boston Bruins of the National Hockey League (NHL). He won the James Norris Memorial Trophy while playing for the Bruins in the 2008–09 season. Standing at 6 feet 9 inches (2.06 m) tall, Chára ...read more.
BAdd New Item