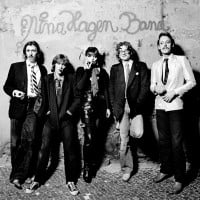 +
Nina Hagen Band
Nina Hagen Band was a German punk rock band consisting of Nina Hagen (vocals), Reinhold Heil (keyboard), Herwig Mitteregger (drums), Bernhard Potschka (guitar) and Manfred Praeker (bass), that formed in 1978 and disbanded in 1979.
Nina Hagen Band released two albums, "Nina Hagen Band" and "Unbehagen", both of which were critical and commercial successes in Germany and Austria. They are generally considered classic German albums retrospectively and are often regarded as the peak of Nina Hagen's musical career. The style of the albums is usually described as punk, but also contains influences of other rock genres such as New Wave. Lyrically, the band was noted for its then-controversial topics such as abortion, homosexuality and female empowerment. Nina Hagen Band is often regarded as one of the most influential German bands of all time and often get credited for having shaped German pop of the 80s, especially the Neue Deutsche Welle genre.
Due to strong creative and personal differences between Hagen and the other band members, the band broke up shortly after the release of their debut album. However, their contract required them to record a second album, which lead to the release of "Unbehagen".
After the disbanding, Nina Hagen pursued a highly successful solo career that still goes on in the 2010s. The other four band members became the punk band Spliff until they also broke up in 1985.
Version History:
Lists Featuring Nina Hagen Band