Top Ten Non-Hip Hop Albums of 2017
Martin_Canine
Okay, we all agree, though for different reasons: 2017 is an amazing year for hip hop. In the US, the genre reached a new level of artfulness that I may not personally be into but many finally got the musicality and intelligence they waited for. For me personally, Cardi B was the most awesome US rapper of the year, bringing in a great level of female dominance and independence along a melodious flow that's much needed in hip hop all around the world. German hip hop has not unlikely its best year since existence. Conscious rap, multisyllabic rap, battle rap, cyber hip hop, trap, indie rap/pop rap, gangsta rap and even more have had some of their strongest releases this year, and hardly before has there been such a variety of successful and perfectly executed subgenres to choose from. I really can't complain.
But with all these amazing albums, I think we kind of overlooked all the other genres, which had some truly masterful records as well. And this is why I created this list, to give works of other styles the attention they deserve.
Regarding the artist Casper:
German artist Casper released an astounding album this year on which he brilliantly deconstructs the European zeitgeist. As I said several times before (most notably on my list about that topic), to me he is not an hip hop artist. His music can be called indie, alternative rock, industrial or even folk, depending on song and album. Only very, very occasionally, hip hop sparks through, and never dominates the sound - but still he is seen as a hip hop artist by a majority of the public because he used to rap in the 2000s (his breakthrough was in 2011).
That's why I didn't add him to the list, even though I feel his "Lang lebe der Tod" album deserves to rank highly on here.
The Top Ten
1
Sturmfahrt - Eisbrecher
Eisbrecher's "Sturmfahrt" arrives with a powerful soundscape of Neue Deutsche Härte riffs and synth effects whose dark thunder echoes in your ear with such a massive roar that it's virtually impossible not to be completely overwhelmed hearing it for the first time. But this has always been the band's strength. While Rammstein moved more and more into melodious, less electronica and techno based rock territories, Eisbrecher always stayed true to the genre's initial trademark sound. That's not to say we don't get a few softer treats as well. But it wouldn't be such a mind blowing experience without the great lyricism. Barely hidden between cryptically poetic passages are hard hitting, uncomfortable lines of criticism: why are people so ignorant and blindfolded to the obvious horrors of the world, and why do we always live to the excess and don't accept the consequences? And in the end, we're all in the same boat. But don't forget your share of burning passion, paranoia and martial ...more - Martin_Canine
2
Coming Home - Falling in Reverse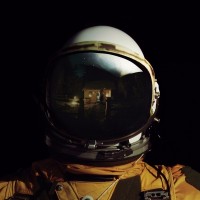 Already having been one of the most fun emo bands before, Falling in Reverse matured and abandoned many of the pop elements in favor of a more rock-ish and slower, emotionally driven and less chart oriented sound. Again, there are both serious and cynical songs, but the delivery is less emo than a much, much more powerful version of indie rock. While "The Drug in Me is You" and "Just Like You" still remain my favorites, this change in style succeeded astoundingly well (unlike their weird techno-hip-hop-rock mix "Fashionably Late"). "Coming Home" shows them more confident than ever, less gimmicky and with a more thought out overall sound, and in fact is what I think emotionally driven rock music should sound like in 2017. - Martin_Canine
3
Lust for Life - Lana Del Rey
With "Lust For Life" Lana Del Rey reached a level of perfection little popular music artists reach today. Maybe it is due to its nostalgic charm, while at the same time having a finger on the pulse of time and capturing the spirit of a generation more indie than mainstream, maybe it is because its singer simply has a voice flowing so gracefully over the gentle, slow instrumentation that the entire music, both sung and played, blends together as one force, or maybe it is because del Rey's lyrics have that certain spark of timeless poetry that the great artists of her beloved hippie generation also had - daring, thought provoking, brilliant. Whatever it is that makes "Lust For Life" so outstanding, it is an album that hits you with maximum impact, crafted by a genius of a songwriter, with music that seems to exist out of time and space. Lana Del Rey always had this immense talent, this unique sound that will make her stand the test of time in the decades to come - ...more - Martin_Canine
4
Feed The Machine - Nickelback

Nickelback is simply an awesome rock band. All of their albums are maximum fun, with plenty of earworms, and just the right mixture of fun and seriousness, heaviness and softness, pop and wildness. Okay, maybe not all. "Here and Now" was just mediocre with little memorable content, and "No Fixed Address" was an even bigger step in the wrong direction - pop throughout, but by a band that has no idea of how pop is supposed to sound like. Now I'm glad to say that "Feed the Machine" is Nickelback as they should be. There are some heavy tracks that more often than not have something to say, some heartfelt ballads, and overall many memorable potential hits to enjoy, several of which are way more bombastic and blockbuster-ish than what the band usually delivers. It has way more complex and well thought out concepts and a much more serious and emotionally driven tone than any of their albums since "The State". The title track ranks among their best songs to date. - Martin_Canine
5
Heaven Upside Down - Marilyn Manson

If there is one music artist that fits the definition of Nietzsche's "Übermensch", it's Marilyn Manson. From the 90s to the early 2000s, his work was one of the most essential to raise a much needed debate about media, that ended up in the conclusion that no, media don't make your teenager child violent, and that the difference between reality and fiction should be clear to the sane mind. Apart from that, he was also an excellent critic of the bigotry, star cult following, religious and social conservatism and out dated morals specifically of the American society, even though certain aspects apply to many other cultures as well. But then times got quieter and Manson's style became more widespread, and he wasn't needed much. He still made very decent and stylish dark music, but lost his commentary. But as we all know, in 2017 there are more than enough risque issues for Manson to become truly active again in the same category he was 15 years ago. "Heaven Upside ...more - Martin_Canine
6
Urn - Ne Obliviscaris

My favorite metal album of 2017 so far (Oct 2017) but there are more metal albums coming out in Nov and Dec - Metal_Treasure
7
Under Stars - Amy MacDonald

Ever since her debut album, ten years ago, Scottish folk and country singer-songwriter Amy MacDonald made it very big in Germany. All four of her albums entered the top three, two of them topped the charts. It's really no wonder: the acoustic guitar driven songs showcase a songwriting talent that blows Taylor Swift away by miles, are full of strong melodies and choruses that fill up the room with positivity and quirkiness, and have a powerful yet very natural and guitar based music instrumentation to support it. To say it with the words of Baron Henry Frankenstein: it's alive. Very much. "Under Stars" simply gives you the feeling of an honest, heartfelt music experience. The single "Dream On" is her best song to date. - Martin_Canine
8
Leitbild - Blutengel

If you think that being part of the dark culture also means being pessimistic, misanthropic and melancholic, you probably don't know Blutengel.

Behind that name (which translates to "Blood Angel") is no heavy rock or metal band, but a dark wave band that offers a more dreamy and electronica based alternative for gothic fans that aren't into all too heavy sounds - but they somehow managed to become successful far beyond their target group. In their own gimmicky and "black" fashion, their music contains very true and beautiful views on life that can appeal to anyone who hears it. While their love for the dark, occult and mythological may not be for everyone, their messages may actually surprise you. The album's singles are about not letting anyone judge you and living the life you always wanted to as "this life belongs only to you". Their tenth album "Leitbild", which like all of their records is bilingual in German and English, is a ...more - Martin_Canine
9
Witness - Katy Perry

Katy Perry may be one of my favorite recent pop artists. She is fun, goofy, catchy, confident, varied, positive, and just perfectly understands her genre. There aren't many artists who push pop to the sweet, pink extremes she does. Almost all of her songs have hit potential, and it always sounds fresh and different. While the artwork for "Witness" makes it appear like Perry aimed for an artpop album in the style of Rihanna's "Anti", Beyoncé's "Lemonade" or Miley Cyrus' "Dead Petz", it actually is her doing what she always did best: delivering addictive pop hit after addictive pop hit. "Chained to the Rhythm" stands out as a song about not blindfolding yourself by drowning out world problems. And yeah, I also really like "Bon Appétit". It's a silly and fun novelty song with maximum catchiness. Don't be such prude bores. - Martin_Canine
10
Will to Power - Arch Enemy

The Contenders
11
Incorruptible - Iced Earth

12
Eurovision Song Contest 2017 Kyiv - Various Artists

This had been a very strong year for the ESC with several great songs that have been selected. We had oriental electronica bliss from Armenia, a magnificent pop/classical crossover ballad from Croatia, emo-ish alternative rock from Ukraine, a flashback to the girlgroups from the early 2000s from The Netherlands, a Swedish Justin Timberlake, a huge vocal talent from UK, and even more. - Martin_Canine
13
Beautiful Trauma - P!nk

When you buy a P!nk album, you have a quality seal that stands for outstanding songwriting craft, an honest and quirky and never clean cut performance, and a maximum of personality. You can call her pop, but she's a kind of pop that has gotten less and less common. While I'm far from hating modern pop in any way, P! nk is one of those artists who aim for more than others. Even though her name guarantees huge sales, she could not care less about what's trending, instead she takes her time writing material that reflects her personality, unfiltered and without any gimmick. Sometimes this means feeling melancholic, sometimes this means becoming poetic and philosophical, and sometimes this is simply a whole lot of fun. After all, P!nk is a cool and badass fella probably fun to hang out with. But like everyone, she's also vulnerable and doesn't try to keep up a certain tough chick persona. She just is who she is, and while calmer as any album before, "Beautiful Trauma" is as much ...more - Martin_Canine
14
Divide - Ed Sheeran

15
In the Passing Light of Day - Pain of Salvation

16
Rainbow - Kesha

17
Melodrama - Lorde

18
Harry Styles - Harry Styles

19
CTRL - Sza

20
Reputation - Taylor Swift

21
The Click - Ajr

22
Loner - Missio

23
Hopeless Fountain Kingdom - Halsey

BAdd New Item
Related Lists

Martin Canine's Favorite German Hip Hop Albums as of June 16th, 2017

Best Non-Hip-Hop Beastie Boys Songs

Best Rap / Hip Hop Songs of 2017

Sexiest Female Hip Hop Artist of 2017
List StatsCreated 27 Oct 2017
Updated 13 Feb 2018
23 listings
2 years, 21 days old

Top Remixes

1. Sturmfahrt - Eisbrecher
2. Coming Home - Falling in Reverse
3. Lust for Life - Lana Del Rey
Martin_Canine
Error Reporting
See a factual error in these listings? Report it
here
.