Top 10 Non-Hybrid Big Cats that Look the Coolest
The Top Ten
Snow Leopard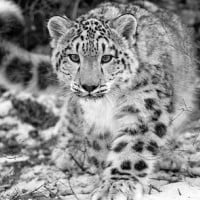 The snow leopard is a large cat native to the mountain ranges of Central and South Asia. The name "Snow Leopard" is due to its white fur, and the black spots dotted over it.
Snow leopards are the best big cat there is. They are beautiful, agile and strong I love these animals so much they are my 2nd favorite animal, (my most favorite is a snake)
These amazing felines are beautiful, elegant, and swift, as well as good-looking!
I LIKE SNOW LEOPARDS!
Thanks LORD! This animal is getting xP so it diservse to be first. stay cool snow leopard
Tiger

The tiger is the largest cat species, most recognizable for their pattern of dark vertical stripes on reddish-orange fur with a lighter underside.
Cheetah

The cheetah, also known as the hunting leopard, is a big cat that occurs mainly in eastern and southern Africa and a few parts of Iran. The cheetah is the fastest land animal, able to run up to 75 mph and can accelerate from 0 to 60 mph in just 3 seconds
My favorites
DEM TEAR STREAKS though
Lion

The lion is one of the big cats in the genus Panthera and a member of the family Felidae. The commonly used term African lion collectively denotes the several subspecies in Africa.
Really, it should be the best!
Jaguar

Leopards

The leopard is one of the five "big cats" in the genus Panthera. It is one of the most adaptable and the most widespread big cat; it's secrets being:well camouflaged fur; its opportunistic hunting behaviour, broad diet, and strength to move heavy carcasses into trees; its ability to adapt to various ...read more.
Cougar

The cougar, also commonly known as the mountain lion, puma, panther, or catamount, is a large felid of the subfamily Felinae native to the Americas.
Lynx

A lynx is any of the four species within the Lynx genus of medium-sized wild cats, which includes the bobcat.
How do these cat not look cool? There babies are absolutely adorable!
Clouded Leopard

Serval

This beautiful cat is so adorable!
The Contenders
Sunda Clouded Leopard
Bobcat

The bobcat is a North American cat that appeared during the Irvingtonian stage of around 1.8 million years ago.
Panther
Siberian Tiger

The Siberian tiger, also known as the Amur tiger, is a tiger population inhabiting mainly the Sikhote Alin mountain region with a small population in southwest Primorye Province in the Russian Far East.
BAdd New Item