Non-Melodic Death Metal Bands that Still Contain Some Melody in a Few of Their Songs
The Top Ten
1
Death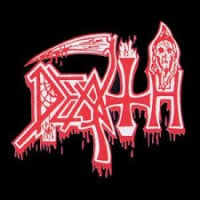 Death was an American death metal band formed in 1983 by Chuck Schuldiner. Death is considered to be one of the most influential bands in heavy metal and a pioneering force in death metal. Its debut album, Scream Bloody Gore, has been widely regarded as the first death metal record, while the band's ...read more.
All of their songs have significant amounts of melody, but some good examples are Evil Dead, Bite the Pain and Crystal Mountain. And if there's still any doubt, their instrumental Voice of the Soul masterfully interweaves melody and metal.
2
Vital Remains

Vital Remains is an American death metal band from Providence, Rhode Island formed in 1988. The band released their first full-length album Let Us Pray in 1992.
This is almost melo-death - DarkDamien
3
Opeth

Opeth is a Swedish progressive death metal band from Stockholm, formed in 1990 by David Isberg, who invited Mikael Akerfeldt into the band as a bassist. Isberg ended up leaving the band, which lead to Mikael becoming the band's vocalist, guitarist, principal songwriter, and driving force. Along with ...read more.
Very melodic - Mikbiter15
4
Gojira

Gojira is a progressive metal band from Bayonne, France. The band was known as Godzilla until 2001. Gojira is composed of Joe Duplantier on vocals and rhythm guitar, his brother Mario Duplantier on drums, Christian Andreu on lead guitar, and Jean-Michel Labadie on bass.
5
Cattle Decapitation

Cattle Decapitation is an American Deathgrind band from San Diego, California formed in 1996. Cattle Decapitation's songs protest the mistreatment and consumption of animals, the abuse of the environment and touch subjects such as misanthropy and genocide of the human race. Much of their music is based ...read more.
A LIVING BREATHING PIECE OF DEFECATING MEAT and Etc. have some sort of melodic screaming noises - Mikbiter15
6
Deicide

Deicide is an American death metal band formed in 1987 by bassist and vocalist Glen Benton and drummer Steve Asheim. They are known for their blasphemous and satanic lyrics which have resulted in bans, lawsuits and criticisms from religious groups and the public. Frontman Glen Benton is also known for ...read more.
7
Vader

Vader is a Polish death metal band from Olsztyn. Formed in 1983, the group was founded by then-bassist Piotr "Peter" Wiwczarek and guitarist Zbigniew "Vika" Wróblewski. Starting as a heavy metal group, Vader eventually went to thrash, speed, and then in the late 1980s became a death metal band. The ...read more.
8
Belphegor

Belphegor is a blackened death metal band from Salzburg, Austria. They originally formed in 1991 under the name Betrayer before changing their name in 1993. They are named after the demon Belphegor.
9
Behemoth

Behemoth is a Polish blackened death metal band from Gdańsk, formed in 1991. They are considered to have played an important role in establishing the Polish extreme metal underground.
10
Beyond Creation

Beyond Creation is a Canadian technical death metal band from Montreal, Quebec. They are currently signed to Season of Mist records.
The Contenders
11
Six Feet Under

Six Feet Under is an American death metal band from Tampa, Florida, formed in 1993. The band consist of four members: founding vocalist Chris Barnes, longtime guitarist Steve Swanson, current bassist Jeff Hughell and recent drummer Marco Pitruzzella.
12
Ne Obliviscaris

Ne Obliviscaris (Latin for "forget not") are an extreme progressive metal band from Melbourne, Australia, formed in 2003.
13
Immolation

The fun fact of this is it's melo-death by the voice (principally the 2 first albums) more than the instrumental - Doomed_God
14
Obscura

Obscura is a technical/progressive death metal band from Germany, founded in 2002. The band became prominent when members of Necrophagist and Pestilence joined Steffen Kummerer to release the critically acclaimed second full-length album, Cosmogenesis. The band was named after the Gorguts album Obscura. ...read more.
15
Spawn of Possession

Spawn of Possession was a technical death metal band from Kalmar, Sweden, founded in 1997. In 2017, the band announced their split up via their Facebook page.
16
Infant Annihilator

Infant Annihilator are an English/American deathcore band based in Hull, East Yorkshire. The band was formed in 2012 by drummer Aaron Kitcher and guitarist Eddie Pickard.
17
Crimson Shadows

18
Nile

Nile is an American technical death metal band from Greenville, South Carolina, United States, formed in 1993. Their music and lyrics are inspired by Ancient Egyptian/Near Eastern mysticism, history, religion, and ancient art, as well as the works of H.P. Lovecraft.
19
Oceans Ate Alaska

20
Septicflesh

Septicflesh are a Greek symphonic death metal band from Athens, founded in 1990. They released their first full-length album Mystic Places of Dawn in April 1994.
21
Oceans of Grief
Doom Death - Doomed_God
22
My Dying Bride

My Dying Bride are an English doom metal band formed in Bradford, England in 1990. To date, My Dying Bride have released twelve full-length studio albums, three EPs, one demo, one box set, four compilation albums, one live album, and one live CD/DVD release.
BAdd New Item