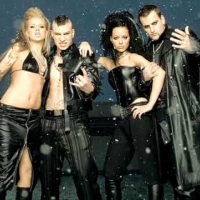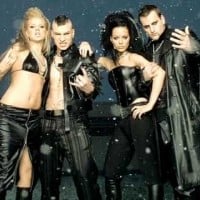 +
Nu Pagadi
Nu Pagadi was a German band consisting of Patrick Boinet, Kristina Dörfer, Markus Grimm and Doreen Steinert, all of which provided vocals, that was formed in 2004 in the German talent search TV show "Popstars", and disbanded after only nine months at the peak of their success, due to creative as well as personal differences.
Unlike all of the other bands that were formed in the show, Nu Pagadi were not a contemporary pop group, but had songs that had a strong nu metal, glam rock and alternative rock resemblance, using heavy distorted guitar riffs, darkly passionate lyrics with a poetic touch, and emotional melodies, and was widely marketed as a metal band. The group sang in both English and German, often alternating throughout the song, which was unusual for a German mainstream project at that time.
Critical reception of Nu Pagadi was not as bad as that of other "Popstars" winners, which were often panned as soulless and not memorable. The decision of a change in genre was commented on favorably, and it was felt that it was solidly, while not perfectly, pulled off. The group was however widely panned and rejected by the metal and rock communities, mostly for being pseudo, not writing the songs themselves and not playing any instruments. Even some of the band members themselves could not identify with the genre they were thought to perform, having expected to sing pop music in case of winning the competition, which ultimately lead to the early disbanding despite the group's success.
Nu Pagadi have only released 2 singles, "Sweetest Poison" and "Dying Words", and one album, "Your Dark Side". The first single as well as the album topped the German charts. After the band broke up, only Doreen Steigert managed to have moderate success and is infrequently seen on German television. Markus Grimm became a songwriter, mostly for children's music.
Version History:
Lists Featuring Nu Pagadi