Top Ten Most Obscure Cartoons
Obscure could be used for either not that popular or not well known and needs more recognition
The Top Ten
1
Duckman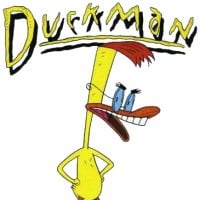 Duckman: Private Dick/Family Man is an American adult animated sitcom that aired on the USA Network from March 5, 1994 to September 6, 1997. It was created and developed by Everett Peck.
Before there was Bojack Horseman there was Duckman a hugely underappreciated cartoon that follows the misadventures of a sleazy and very outspoken douche bag living in crazy modern world. - egnomac
2
Bucky O'Hare and the Toad Wars

3
The Pirates of Dark Water

The Pirates of Dark Water is a fantasy animated series produced by Hanna-Barbera and created by David Kirschner and first aired in 1991.
4
The Raccoons

The Raccoons is a Canadian animated series which was originally broadcast from 1985 to 1992, with three preceding television specials from its inception in 1980, and one direct to video special in 1984. The franchise was created by Kevin Gillis with the co-operation of the Canadian Broadcasting Corporation. ...read more.
Not only obscure, one of THE LAMEST THINGS EVER. - 445956
5
Mummies, Alive!

Mummies Alive! is an American animated series from DIC Entertainment. It originally aired for one season in 1997.
6
Baby Blues

7
Im Land der Dinosaurier
The only reason this show is even slightly known is because of the "Yee" scene. - RalphBob
8
God, the Devil and Bob

God, the Devil and Bob is an animated sitcom which premiered on NBC on March 9, 2000 and ended on March 28, 2000, leaving nine episodes unaired.
9
The Xtacles

10
Au Pays Des Tetes a Claques

The Contenders
11
Mighty Max

Mighty Max is an American animated action/sci-fi television series that aired from 1993 to 1994 to promote the British Mighty Max toys, an outgrowth of the Polly Pocket line, created by Bluebird Toys in 1992. It ran for two seasons, with a total of 40 episodes airing during the show's run.
12 Hubert and Takako
13 King Koopa's Kool Kartoons
14
Duck Dodgers

Duck Dodgers is an American animated television series, based on the 1953 theatrical cartoon short Duck Dodgers in the 24½th Century, produced by Warner Bros.
15 Carlos the Caterpillar
16 Captain Simian & the Space Monkeys
17 Monster Math Squad
18
Pepper Ann

19
Code Lyoko

Code Lyoko is a French animated television series created by Thomas Romain and Tania Palumbo and produced by Moonscoop.
I just had to add this show. It plays a huge role in my childhood. - nintendofan126
20
Catscratch

Catscratch is an American animated television series created by Doug TenNapel (also known for creating Earthworm Jim). It was aired on both Nickelodeon and Nicktoons on July 9, 2005 and ended February 10, 2007. It is an adaptation of TenNapel's graphic novel, Gear, which is also the name of the cats' ...read more.
Criminally underrated cartoon that suffered the same fate as several other Nicktoons that were buried by Nickelodeon's number 1 cash-cow SpongeBob. - egnomac
21 Sharky & George
22 Stone Protectors
23
Space Goofs

Space Goofs is a French animated series produced by Gaumont Multimedia, and Xilam for France 3 that first aired in 1997. It also debuted at the same year in Germany on ProSieben.
24 Auto-B-Good
25 The Mouse and the Monster
PSearch List