Top 10 Old TV Shows (1950-80s)
Most of these shows are pretty good. To clarify what "old" implies, the oldest shows are from the late 1950s and the most recent is from the 80s, I think.
The Top Ten
The Rifleman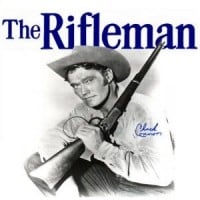 Chuck Connors was just a generally awesome guy and was the first basketball player to break the backboard in the NBA. But as Lucas McCain, he played a likable character and unlike the fathers you see in TV shows these days, was a respectable character with a brain and a heart. Lucas rarely fires that rifle out of pure rage or bad reasoning. Great show if you like cowboys and/or old shows.
Classic wholesome entertainment. Certainly dated, but I still stay tuned whenever I catch it channel surfing.
Wouldn't want Chunk pullin up on you with that lever action uh oh :o
The Twilight Zone

The Twilight Zone is an American anthology television series created and presented by Rod Serling, which ran for five seasons on CBS from 1959 to 1964. Each episode presents a stand-alone story in which characters find themselves dealing with often disturbing or unusual events, an experience described ...read more.
The Twilight Zone is far stranger than The Rifleman or The Andy Griffith Show, but as the circles behind Rod Serling suggest, the show is kind of hypnotic. There is even an episode with the same gist as Infinity War, although I forgot which one it is. - HaiThere
The Andy Griffith Show

A true classic! I'm still fond of this show even today. Too bad many of the later episodes aren't as interesting and funny as the earlier ones.
The Andy Griffith Show has the same overall feeling as The Rifleman but has more comic relief from characters like Gomer Pyle and Barney Fife. Gomer coined the term "Shazam!" long before the superhero was even a thought. There's almost always a moral for each episode, too.
Batman (1966)
A little cheesy sometimes but still can be pretty sick.
But they knew they were cheesy and went all in with it. Gotta respect that.

Very funny show if you get the style - Billyv
Bonanza

Columbo

Columbo is an American television series starring Peter Falk as Columbo, a homicide detective with the Los Angeles Police Department.
Never let your ego convince you will get away with murder in Columbo's jurisdiction. Smart, crafty criminals, but a brilliant homicide detective. The cat and mouse games that always ensue are Columbo's hallmark, coyly gaining the offenders trust (or badgering them to no end), only to paint the killer into an inescapable corner.
How did I forget Columbo?! Peter Falk is hilarious in some episodes and regular funny in the rest. He's just as serious as funny, too. Shame on me for forgetting this classic.
All in the Family

All in the Family is an American sitcom television series that was originally broadcast on the CBS television network for nine seasons.
I'm almost alarmed that I remember so many old TV shows. This is a goofy show and Archie Bunker (the dude who ain't smiling) is actually pretty funny. He and his ditzy wife Edith (the redhead) are the people who made "opposites attract" the well-known phrase it is today. - HaiThere
The Dukes of Hazzard

Gomer Pyle USMC
A spin-off of the Andy Griffith Show, that I actually haven't seen, this is only at #4 because I know what Gomer's like - HaiThere
The Brady Bunch

The Brady Bunch is an American sitcom created by Sherwood Schwartz that aired from September 26, 1969, to March 8, 1974, on ABC.
The Contenders
Little House on the Prairie

Little House on the Prairie is an American western drama television series, starring Michael Landon, Melissa Gilbert, Karen Grassle, and Melissa Sue Anderson, about a family living on a farm in Walnut Grove, Minnesota, in the 1870s and 1880s.
The Lone Ranger

I Dream of Jeannie

I Dream of Jeannie is an American fantasy sitcom television series starring Barbara Eden as a 2,000-year-old genie and Larry Hagman as an astronaut.
I Love Lucy

I Love Lucy is an American television sitcom that originally ran on CBS from October 15, 1951, to May 6, 1957, with a total of 180 half-hour episodes spanning 6 seasons.
Wonder woman

Wonder Woman, known for seasons 2 and 3 as The New Adventures of Wonder Woman, is an American television series based on the DC Comics comic book superhero of the same name.
Watching Lynda Carter beat up nazis means the world to me. - xEliHbkx
M*A*S*H

Family Ties

Family Ties is an American sitcom that aired on NBC for seven seasons, premiering on September 22, 1982, and concluding on May 14, 1989. The series, created by Gary David Goldberg, reflected the move in the United States from the cultural liberalism of the 1960s and 1970s to the conservatism of the ...read more.
The Rockford Files
Gilligan's Island

Jonny Quest

Jonny Quest is an American animated science fiction adventure television series about a boy who accompanies his scientist father on extraordinary adventures.
The Addams Family
The Green Hornet

Highway to Heaven

Gunsmoke
Was the #1 rated show from 1957-1961, and was in the top 5 as late as 1972.
Benson
PSearch List