Top Ten Best Outside Linebackers Going Into the 2020 NFL Season
The Top Ten
Chandler Jones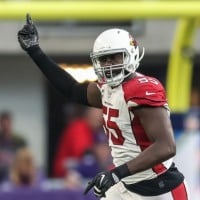 Jones is arguably the best outside linebacker in the NFL, but doesn't get nearly enough of the recognition he deserves, probably because he plays for the Cardinals. He had 19 sacks last season, which amazingly didn't lead the league. He deserves more recognition.
T.J. Watt

Watt has really come a long way since his rookie year. Like his brother, he is a dominant defensive sack master. The Steelers defense is lucky to have him.
Khalil Mack

Khalil Mack is an American football defensive end and outside linebacker for the Chicago Bears of the National Football League.
Mack had kind of a down season last season, but if we're being honest, he is still a dominant outside linebacker. Now with Robert Quinn rushing opposite of him, expect double digit sacks again.
Von Miller

Vonnie B'Vsean Miller Jr. is an American football outside linebacker for the Denver Broncos of the National Football League.
Like Mack, Miller had a down season in 2019, which is why he's ranked lower than usual. Nevertheless, with Bradley Chubb returning this season, expect better production from the future hall of famer.
Shaquil Barrett

Barrett went from Broncos castoff to league leader in sacks with 19.5. The Buccaneers are fortunate to have him playing opposite of Jason Pierre-Paul. He proved last season that he can be a dominant player, even when he wasn't expected to be one.
Za'Darius Smith

Smith came into Green Bay and changed a bad pass rush into a dominant one along with Preston Smith. He not only made his first Pro Bowl, but had 13.5 sacks and was not blockable against the Vikings. He is a great player.
Preston Smith

The other Smith signed in Green Bay. Preston Smith also posted a great season, with a career high 12 sacks and along with Za'Darius Smith, transformed the pass rush and the locker room.
Dee Ford

Make no mistake about it, though Ford's production was down in 2019, he made a huge impact on a league best 49ers defense. He was well worth the trade.
Matthew Judon

The Ravens generally have a decent pass rush, and with Terrell Suggs out, Judon has been leading it, and has done fairly well too.
Robert Quinn

Robert Quinn is an American football defensive end for the Chicago Bears of the National Football League.
Quinn had a good bounce back season with the Cowboys, and the Bears took the opportunity to put him opposite of Khalil Mack.
BAdd New Item