Top 10 Most Overplayed Music Artists of 2018
Music artists, good or bad, who got WAY too much plays on the radio in 2018, up to the point where you would want to rather have a seizure than hear these artists on a regular basis.
The Top Ten
1
Ariana Grande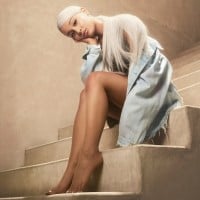 Ariana Grande-Butera, known professionally as Ariana Grande, is an American singer and actress. She was born on June 26th 1993 in Boca Raton, Florida to Joan Grande and Edward Butera. She is best known for her role as Cat Valentine on the Nickelodeon sitcom Victorious and its spin-off show Sam & Cat. ...read more.
Ariana Grande's music is so generic and uninteresting, it's the kind of trite you'd hear in McDonald's. I especially hate that disasterpiece with the name Thank You Next. A LOT. It's so annoying and terrible, yet it's played everywhere!
I should do an experiment where I turn on a radio station for about four hours and see how many times it gets played.
Let me be honest; Ariana Grande is liked for her talent in singing and acting, but she's so overrated. Now her music is just getting crappy and overplayed, it's the same songs I hear on the radio, either it's Thank u, next or Breathin'. The only song I'm just really glad that doesn't play on the radio by her anymore is God Is A Woman, and I'd like to keep it that way. I hated it ever since I first started hearing it. And it's not just God Is A Woman. It's also No Tears Left To Cry and Side To Side. Here's why she's not really my favorite in singing anymore. Her new songs revolve around someone stealing her boyfriend and stuff like that, while her old songs in her 2013 album were actually good. Plus I like her because of her adorable acting as Cat from Victorious.
Ariana Grande was completely and annoyingly overrated in 2018. People argued with me saying that it's cause she was actually good. No she wasn't. 2-3 of her songs were good but oh my gosh why does every single song this woman release have to be printed into the holy bible? People hype her songs way more than they should. A lot of her songs were really uncreative and had really mediocre and boring melodies. I think it's safe to say people were so obsessed with her last year cause she's pretty and cute cause her music really is nothing special.
She isn't my style. I like pop, but some of her songs just aren't pop to me. Some of her songs I do like, but most of them, no.
2
Cardi B

Belcalis Marlenis Almánzar, known professionally as Cardi B, is an American rapper, songwriter, television personality and former stripper.
My least favorite artist. Her music is bland and her lyrics are just are just mean less junk for people who think being rich is a personality trait
She makes amazing songs that can help you feel better after a bad day. Her voice skills are amazing
I swear to god, the more I listen to this woman, the less I like her.
I love her and hoe she imbraces her culture in her music STOP HATING ON TALENT
3
Drake

Aubrey Drake Graham, known professionally as Drake, is a Canadian rapper, singer, songwriter, record producer and actor, born on October 24, 1986 in Toronto, Canada. He started his career on Canadian reality show "Degrassi: The Next Generation".
I don't like ariana grande, but she looks like an angel next to drake. I've hated his music since I was in third grade.
Drake was streamed like mad that year and I kept hearing his voice everywhere. I don't even hate Drake but Scorpion was such an awful album.
I definitely think he was more overplayed that year than Ariana Grande he had 7-8 songs that got big (most of which were pretty boring) Ariana had only 2-3.
Most stuff by Drake after Take Care sucks. But I do like the song Nice for What
4
Post Malone

Austin Richard Post (born July 4, 1995), known professionally as Post Malone, is an American singer, rapper, songwriter, record producer, and guitarist.
The best artist on this list, his songs are fire, but Circles and Goodbyes is way overplayed
Forget everyone else on this list! Post Malone is so overplayed. Not just that, but his songs sound worse every time I hear them. Ariana Grande is also a little overrated, but she isn't painful for me to listen to. PM on the other hand drives me nuts with his heavy autotune, you can't even understand a single word. Please get him to number 1. I swear if I hear better now one more time, I will rip my ears off.
Good singer, but he rarely sings about stuff other then guns n stuff. Definitely has some overplayed songs.
Rockstar, Better Now, Psycho, Congratulations, Jackie Chan, etc are all overplayed. It's like you can't find any radio station that doesn't play his generic music!
5
Taylor Swift

Taylor Alison Swift is an American singer-songwriter. ...read more.
Her old songs are better than her new ones. Love Story and all of her other old songs have a nice, sweet and affectionate meaning and good lyrics about love. But what do her new songs have? The same line all the time, "I dumped my boyfriend" and "He dumped me vice versa to the point where it's just become boring, repetitive and annoying. Shake It Off, Bad Blood, and all those songs from her reputation concert album are SO overplayed. So she's not really overrated, since no one likes her music anymore. I really love her old music. It was nice and sweet plus she had a cute singing voice when she sand love story.
It's the same "I dumped my boyfriend" songs with a victim complex. Maybe you're the problem in those toxic relationships.
Her good albums were her country albums and 1989. Everything else has been going downhill.
Taylor Swift I really don't mind because she has slightly good taste in music but I would like it way better if she still kept making country music. The only song by her that I like that's non country music are her old songs like I Knew You Were Trouble. Other than that, her new songs are just boring
6
Imagine Dragons

Imagine Dragons is an American pop rock band from Las Vegas, Nevada. Imagine Dragons' lineup consists of lead vocalist Dan Reynolds, guitarist Wayne Sermon, bassist Ben McKee, and drummer Daniel Platzman.
This band is amazing, but most people wont know because they are "hate" this band because THE RADIO plays maybe THREE of their songs too much. Well let me say this I NEVER get to hear these guys on the radio and they have Amazing songs(especially the older ones) such as: Bleeding out, its time, amsterdam, fallen, thief, dream, smoke and mirrors, 30 lives, round and round, my fault. Their music means something special unlike most music today. They give good messages (gold is about the dowside of being famous. 30 lives was written for one of their friends/fans that died of cancer. Bleeding out to me means doing anything for someone we love even if it means dying or bleeding out)
Their album Night Visions was good, and it all just went downhill... Demons is still a bop though.
Believer, Thunder, Natural, those are all overplayed songs BUT Imagine Dragons is INCREDIBLE. Their music is so creative and it hypes me up. Not gonna lie though, they have better songs that are older though. (It's Time, Demons, Radioactive, I Bet My Life)
I do not agree with this (in my opinion) Imagine dragons are the best band in my book, I hardly heard them on the radio in 2018. I don't know why these guys get so much hate their lyrics are meaningful and not "my boyfriend broke up with me" unlike most artists on the radio these days their concerts are amazing and send positive messages, so leave these guys alone all you haters
Yeah! When I went to their Evolve concert in 2018, Dan ( the lead singer ) gave a speech on depression and to not give up on ourselves, even through the toughest of times. - IceFoxPlayz
7
Billie Eilish

Billie Eilish Pirate Baird O'Connell, known professionally as Billie Eilish (born December 18, 2001) is an American singer and songwriter, best known for her songs "When the Party's Over", "Bury a Friend" and especially "Bad Guy".
Where to begin with Billie Eilish? She has a creepy singing voice, a creepy face, creepy music videos, even though I've never seen them they just pop up just like that, she also has this obsession with singing about depression, death and other creepy stuff. So I just really hate her.
I have to admit that while she isn't my favorite or something I would listen to everyday, but compared to a lot of the other artists on this list, hearing one of her songs on the radio is a real breath of fresh air. Her songs are way more interesting then your typical pop songs. Even if she's overplayed, it would be better Billie Eilish than Ariana Grande.
I actually really like her music. Please don't hate me, it's just my opinion.
Shes a good artist, but she is sure overrated and overplayed to death. Also, her fanbase can get kinda annoying at times.
8
Ed Sheeran

Edward Christopher "Ed" Sheeran is an English singer-songwriter and musician. He was born in Hebden Bridge in Yorkshire and raised in Framlingham, Suffolk.
The songs just sound very normal and kinda bland, but the lyrics are just stupid
His music has nothing special. They're repetitive and don't have any special parts in them.
Oh good lord. Generic. Boring. Lame. Love songs with no substance that get WAAY too much radio play...
To the people b! tching about Ed Sheeran, YOU do better.
His voice is so clear that the listener can hear every word he sings unlike many, many, many other artists, AND he is EXTREMELY successful.
9
Pink

Alecia Beth Moore known professionally as P!NK, is an American singer, songwriter, dancer and actress.
Pink is queen bro if her music is overplayed its because its gpod unlike grande
Whatabout us, jesus, every 2 hours this is played, and on every single radio show without fail
What About Us, Beautiful Trauma, A Million Dreams were highly overplayed throughout the year, they were so annoying,
Only What About Us was highly overplayed. I only heard the 2nd of those songs a few times and never heard the last one. - allamassal
What about us is like pop music in an airport and the airport is so bad that it can only afford one song that is how overplayed this is. Also a million dreams and beautiful trauma were played tooo much
10
Maroon 5

Maroon 5 is an American pop rock band that originated in Los Angeles, California. Before the current group was established, the original four members, Adam Levine, Jesse Carmichael Mickey Madden and Ryan Dusick, formed a band known as Kara's Flowers in 1994, while they were still in high school.
Question, how do you go from the amazing "Songs About Jane" to the terrible "Red Pill Blues". Answer, you become Adam Levine and do anything for money.
Moves like Jagger? You mean like the old creepy dude from Rolling Stones?
Adam Levine and some random dudes you won't hear in their songs...
Girls Like You is practically their only song being played. Their other songs are never played at all compared to that generic cancer "song". That song makes Taki Taki look like Hotel California
The Newcomers
?
Justin Bieber

Justin Drew Bieber (born March 1, 1994) is a Canadian singer, songwriter, and record producer. He currently resides in Ontario, Canada and is Christian. He is the son of author Pattie Mallette. ...read more.
The Contenders
11
Camila Cabello

Karla Camila Cabello Estrabao, or professionally Camila Cabello (born March 3, 1997) is an American-Cuban musician. Camila was best known for being part of the girl group Fifth Harmony. Fifth Harmony are known for songs like Worth It, Work From Home, All In My Head (Flex), Bo$, and Sledgehammer. Camila ...read more.
Camila tries so hard to look hot and use all these latin beats in her songs, but has a terrible singing voice and such boring songs. I literally heard havana so many times and it just never seems to end. Seriously why did she have to leave Fifth Harmony? She was way better there
Most of her songs are just herself having a stroke every 2 seconds.
Camila was so overhyped and overplayed and for what? Havana oh na na?
This is not whether we like the artist or not, the list is who was overplayed. And Camila was overplayed. I personally don't care for her but my friend HATES her. Says she has a whiny, annoying voice and personality; to a certain extent I see his point but he should rant about her whenever he hears her name mentioned or when Never Be the Same gets played.
Back on topic, she still was overplayed.
12
Katy Perry

Katheryn Elizabeth Hudson, professionally known by her stage name Katy Perry, was born on October 25, 1984 in Santa Barbara, California. She is a singer, songwriter, actress and an ambassador on one of the most popular companies of now, UNICEF. ...read more.
The only new song I know by Katy Perry was Chained To The Rhythm and that was 2017.
Lol why is Katy Perry at 12, did she even have any songs out this year?
I haven't even heard a single song of hers on the radio, except maybe Teenage Dream and California Girls like once. - BMT
Has she even made songs in 2018?
her music is annoying
13
BTS

BTS, also known as the Bangtan Boys, is a seven-member South Korean boy band formed in Seoul in 2013.
Overrated trash
honestly, their music is just amazing and their lyrics are inspirational and carry beautiful messages and personally, it helped me during the tough times.
I see that a lot of you think that they're overrated and I totally respect your opinion, but if you could stop saying that they're gay as it is disrespectful and really offensive to all of their fans.
Also, I'm sorry if some fans may have sounded annoying, it's simply because some people really don't know when they trespassed their limits.
and please let's stay respectful towards BTS (or any artist for that matter) and their work.
I don't care for this group one bit. Not only are they overplayed, but it's also annoying that most BTS fans keep shoving their opinions down your throat (just look at the comments posted on here). Please, just accept the fact that not everyone will like their music.
They have the most annoying fanbase I have ever seen in my life.
14
Panic! at the Disco

Panic! at the Disco is an American pop rock band from Las Vegas, Nevada, formed in 2004 and featuring the current lineup of vocalist Brendon Urie, accompanied on tour by bassist Dallon Weekes, guitarist Kenneth Harris, and drummer Dan Pawlovich.
Panic!, now just The Brendon Urie Show used to have amazing Alternative/ Indie music and even though the new material is not as good, it is quality music that is overplayed. Basically, Panic!'s music is quality, but overplayed.
High Hopes is a great song. But it's getting too overplayed.
Well, I mean, he likes Nickelback. Should we all take him seriously? - ZeroBlaster
Awful band. They made a song, and they auto tuned the ever loving crap outta it.
High Hopes was a great song, but very overplayed. Panic! is great and they have really good older songs, like This Is Gospel, Emperor's New Clothes, and I Write Sins Not Tragedies.
15
Bebe Rexha

I hate Meant To Be, but I love her other songs like I'm A Mess, Name Of Love, and I'm Gonna Show You Crazy. - a_Clever_username
"Meant To Be" sucks, I agree, but "I'm A Mess" and "In the Name of Love" are good songs. - I80
Meant to Be sucks. - B1ueNew
Okay but have any of you heard "I'm a mess"? That's one of her best songs.
16
Beyoncé

Beyoncé Giselle Knowles-Carter, is an American singer and actress, who started out in the popular pop/r&b girl group Destiny's Child. They had multiple top 5 hits such as "No, No, No", "Say My Name", "Bills, Bills, Bills", "Survivor", "Independent Women", "Bootylicious", and "Jumpin', Jumpin" from ...read more.
What has she even released recently? She just doesn't have the songs to live up to the hype.
I think Beyoncé is overrated, because her songs are just not special or something. She got praised once but I could ask 100 people what songs they know of Beyoncé and they would only name songs from the 2010's.
I don't remember hearing any songs by her
I personaly love beyonce
17
Selena Gomez

Selena Marie Gomez is an American actress and singer. She is best known for songs like "Come & Get It", "Good For You", "Same Old Love", and "It Ain't Me". Selena Gomez's voice is mezzo-soprano but she usually sings in alto. She is best known for her role as Alex Russo in Wizards of Waverly Place.
Selena's songs are amazing!
She also has a great personality!
Compared to other music stars, she is so underrated.
Just because she's not a good singer as people like Beyonce or Alicia Keys or Mariah Carey or Christina Aguilera or even Tori Kelly, does NOT mean she's a terrible singer! THINK PEOPLE!
Selena Gomez's music is literal trash, her vocals are almost as bad as her lyrics. I'm sorry if you love her, but I honestly hate her music, hate her, hate her petty, vulgar attitude and I absolutely can't stand her. I can recognize talent but this just isn't it.
I was probably one of her first fans, I always listened to her EARLY music. Ya'll might not believe me, but she used to be amazing. Now it's just embarrassing.
18
NF

Nathan "Nate" John Feuerstein, whose stage name is NF, is an American Christian hip hop rapper, singer and musician from Gladwin, Michigan.
NF is clean and has a passion, he raps about things that we can relate to, If people wanna rap listen to him, If people hate than people hate, There is nothing you can do about it, but Me, he is my Idol.
He is the one artist that will really describe how he is feeling through raps and not hold back. The meaning behind his songs are so amazing and insperational
It is not overplayed I never here song anymore I'm sad because his music IS ACTUALLY GOOD
I love his songs though... Paralyzed, let you down, other ones I can't remember the names off the top of my head... Don't at me please.
19
Halsey

Ashley Nicolette Frangipane, known by her stage name Halsey, is an American singer and songwriter. She was born on September 29, 1994 in New Jersey. She started her career by releasing songs on SoundCloud, and now she is a well-known pop singer with hits like Bad at Love, and Now or Never. She had originated ...read more.
Halsey is cool in my opinion, though some of her songs are overplayed. Her voice is quite unique, and her older songs (Control, Castle, Colors, Sorry) are quite good.
Halsey is so annoying...her vocals are utter trash and she's very unlikable. Heck, I'd rather listen to Cardi B than her and I don't even like Bacardi that much now.
The whole hotel shampoo thing is why I despise people like Halsey, which is way too many. It is so ridiculous, I think I literally face palmed when I saw it. Halsey needs to grow up and find better, reasonable ways to get attention.
Gotta be honest, some of her songs are overplayed, but she isn't as overhyped as Ariana Grande or Cardi B
20
Shakira

Shakira Isabel Mebarak Ripoll is a Colombian-Spanish singer, songwriter, dancer, record producer, choreographer, and model.
people listen to her music u guys could not see talent if it slapped u in the face
She hasn't released anything in a while but I love her music and dancing. - PhoenixAura81
Her music sucks but she is really hot
Shakira has very good songs! 👍
21
Lil Pump

Gazzy Garcia (known professionally as Lil Pump, born August 17th, 2000) is an American rapper, producer and songwriter. Gazzy began his career in 2016 with a collaboration freestyle with Smokepurpp, which was eventually posted in Soundcloud to popular success. He broke out to mainstream the following ...read more.
Ummm, I have never heard any Lil Pump song on the radio except for Gucci Gang and that song doesn't even pop up anymore.
Lil Pump is trash
He is a brilliant soul brought to this Earth to guide us through our darkness. The bringer of happiness, the sharer of spirit, through his divine music.
How is he not higher? Gucci Gang... repeat that in your head all day... then you'll get the song that will slowly but surely drives you mad.
Gucci Gang is probably one of his better songs, he's made way worse songs though haha.
22
Dua Lipa

Dua Lipa (born 22 August 1995) is an English singer and songwriter. Dua Lipa was born in Westminster, London, to Albanian parents.
I agree.
Ew just gross
Ew, God, she's disgusting.
23
AC/DC

AC/DC are a Australian hard rock band, formed in November 1973 by brothers Malcolm and Angus Young, who continued as members until Malcolm's illness and departure in 2014 . They were fronted by Bon Scott until his untimely death due to alcohol poisoning in 1979, after which they hired Brian Johnson ...read more.
These guys are never played on the radio! If so, then they deserve to be played on the radio. Thunderstruck, Highway to Hell, Fly on the wall, all great songs made by a legendary band.
So overplayed in rock stations.
24
Jojo Siwa

Would you even call this an artist?!
I am begging her to take out that ponytail. Even just for a week. I wonder how her hairdresser feels
ALL OF YOU PEOPLE STOP HATING THIS GIRL! she's amazing, she's 16 so she's making a pavement for more of her generation to come forward and make music. Plus, there are not a lot of teenagers in the world who would wear rainbow clothes and bows. She's a unique person we need in the world!
I flipping hate this bratty kid!
25
6ix9ine

Daniel Hernandez, known by his stage name 6ix9ine, also known as Tekashi69 or simply Tekashi, is an American rapper.
He garbage. Him going to prison might be the first time he ever finished a sentence.
Hope he gets life imprisonment for everything he did, on and off stage
Walking skittle
So scary that he/she (I don't know the gender! ) gave me night mares- like momo did...
PSearch List